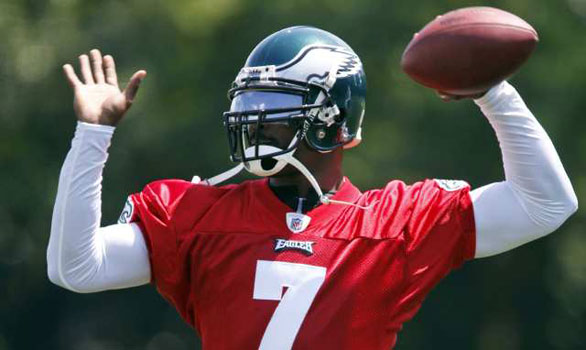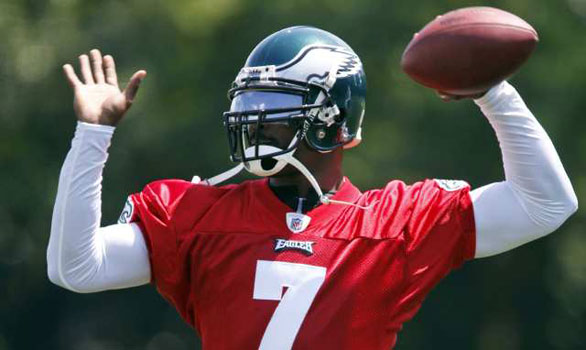 The Eagles got in a practice today at the Nova Care Complex. Of course they're preparing for the first game of the season against the St. Louis Rams in St. Louis. The workout was closed to the media. The Rams are coached by former Eagles linebacker coach Steve Spagnuolo.
I'm sure the Birds offensive line is getting a lot of work against the blitz and different overload shifts which Spags likes to employ.
I like the mindset of the Eagles defensive line. Trent Cole said the Birds defensive line is like a bunch of hungry lions fighting over a piece of meat. That's their attitude with regard to getting to the quarterback.
They must stop Pro Bowl running back Steven Jackson, then get pressure on the Rams outstanding young quarterback Sam Bradford.
I noticed that the Rams signed former Eagles tight end, Stephen Spach, who happens to be a very good run blocker. I would imagine the Rams think establishing a running game would give them a great chance to win this football game.
The two players who agreed to take pay cuts and have their contracts restructured, Winston Justice and Juqua Parker practiced today.
Rookie guard Danny Watkins at first refused to talk to the media, then reconsidered a took some time to talk about preparing for the first game. Obviously the young man is dealing with a lot. He's dealing with more media than he's ever faced and he's got the pressure of learning this offense and blocking his man.
Center Jamaal Jackson said he was okay with being a backup for now.
Safety Nate Allen worked with first team today and split reps with fellow safety Jarrad Page.
Backup quarterback Vince Young didn't practice today and he recovers from the hamstring strain he suffered against the New York Jets.
The Birds signed a tight end Anthony Hill and wide receiver Ronald Johnson to the practice squad.
On a side note: Rob Ryan, who is defensive coordinator for the Dallas Cowboys said this about his brother, Rex's feet controversy, "Hell, I'm freakier than he is. And my wife has nice feet too."