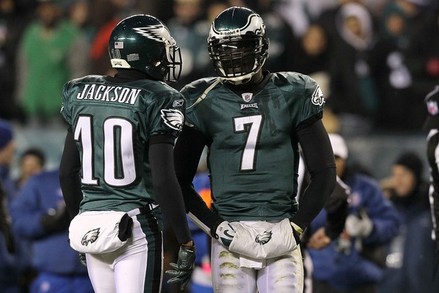 Do you remember back in 2005 when Terrell Owens was publicly attacking Donovan McNabb because the quarterback wasn't fighting for him to get a new contract? It's six years later and we have a similar situation going on here with the Eagles, but the wide receiver isn't making the same demands of his quarterback.
It's a different year and the names have changed on the roster, but there's a similar situation in that the Eagles have a franchise quarterback with a multi-million dollar contract and a star wide receiver, who is unhappy with his deal and he wants a new contract.
Of course the quarterback is Michael Vick now instead of McNabb and the wide receiver is DeSean Jackson rather than Owens. The other thing that is very different, is the fact that the quarterback is challenging the wide receiver to fulfill his responsibilities any way despite the fact that he's not happy with his deal.
Yesterday, Vick was on 94WIP on Ike Reese and Michael Barkann's 10am to 1pm show, which is aptly titled "Mike and Ike". Ike asked him whether he was concerned about the mindset of Jackson going into the first game of the season.
"I'm not concerned at all about DeSean", Vick said. "The last two weeks DeSean had the best practices that I've seen him have in a long time. His attitude is different. He's got a smile on his face. He's dedicated to the sport. It's an opportunity for him to be blessed in his life. He knows he's got to go work for it. He knows everything that comes along with it. How certain things have to be done.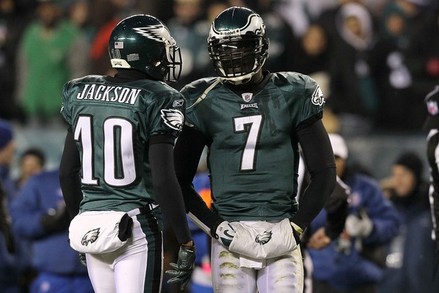 He understands the whole realm of everything now………".
"DeSean is happy now and he put everything on the back burner because he knows that's what's important is taking care of things. Everything will work out for him. I'm happy about where he's at right now, I like his mindset. I look for him to have a great year this year".
Hopefully, the Eagles will get deal done with Jackson before too long.