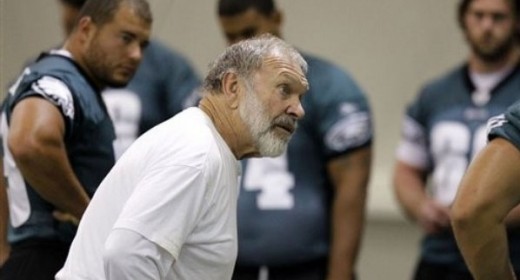 Former Eagles offensive tackle Tra Thomas was on 94WIP at noon today. He made an appearance on the Mike and Ike Show with Ike Reese and Michael Barkann. He delivered a blistering critique of new Birds offensive line coach Howard Mudd and the offensive line, which will take the field on Sunday against the St. Louis Rams.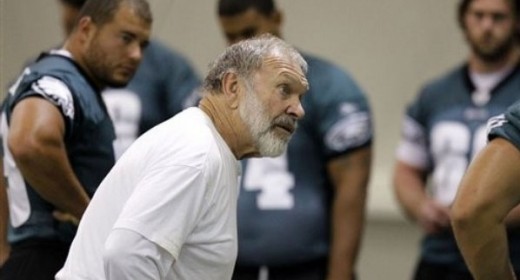 Thomas said the "jump set" technique which Mudd employs is going to be trouble for the Birds this weekend and the rest of the season until they get used to it. The 300-pounder explained the deficiencies of the technique. He said the linemen are asked to attack the pass rushers, which could make them vulnerable to quick double moves and leave big defensive linemen unblocked as they attack Michael Vick.
He believes that the Birds should be having their linemen sitting back and creating a pocket for Vick to throw from. Thomas also believes that they're putting too much responsibility on Vick because of their decision to start rookie Jason Kelce at center.
He thought it was mistake to go with Kelce as the starter at center in a loud dome with no experience whatsoever. Thomas believes it would have been much wiser to begin the season with veteran Jamaal Jackson as the starter. He believes it will force them to put more weight on Vick's back to recognize blitzes and defensive fronts.
Thomas was critical of the way Jackson was benched without being given a chance to compete for his job. He also
thinks it's foolish for the Birds to move Todd Herremans to right tackle without giving him any time to get used to playing the position.
Tra thinks they should have let King Dunlap be the starter at right tackle because he was doing a decent job and it's too much ask Herremans to move at this late date and do a good job over there.
The former Florida State Seminole said the Mudd "jump set" technique was ineffective against the Browns because pass rushers were coming free all over the place. He thinks the Eagles offensive line are headed for a difficult day against James Hall, Chris Long and Fred Robbins.
Tra thinks Steve Spagnuolo is going to have a cake walk drawing up blitzes to confuse the Eagles offense. He believes they will have difficulty blocking with that technique on Sunday against the Rams.
Thomas didn't say he thought the Eagles were going to lose, but he sounded like it.