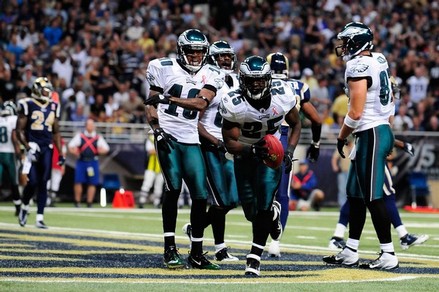 There were quite a few surprises in the first week of meaningful football.
When ranking NFL teams in the preseason, it's very difficult to remove the previous season out of the equation.
Because of that, quite a few teams either jumped up or dropped significantly after Week 1.  While Indianapolis and Kansas City took huge nose dives, Buffalo made the biggest jump.
One area that hasn't changed is the Top 2 teams.  The previous ranking is in parenthesis.
(1)Green Bay Packers; 1-0: If I could raise them even higher than No. 1, I would.  Aaron Rodgers was brilliant in his QB duel with Drew Brees.
(2)New England Patriots; 1-0: So what their defense gave up almost 500 yards?  When your MVP leads the offense to over 600 yards, you're not going to lose.
(8)Baltimore Ravens; 1-0: The Ravens had the most impressive win of the weekend.  Talk about Lucky Seven!!  That's how many points they allowed and how many turnovers they forced against a veteran, arch rival Steelers squad.
(11)Chicago Bears; 1-0:  Chicago played as if they're still upset over comments regarding Jay Cutler's toughness.  They completely embarrassed a fellow division champion.
(3)New Orleans Saints; 0-1:  An early turnover and some questionable play calls forced the Saints in a game of catch up against the Super Bowl Champs.  Against most other teams, they would've still won.
(5)New York Jets; 1-0: While many are pointing fingers at Tony Romo, give the Jets credit for taking advantage of his miscues.
(4)Pittsburgh Steelers; 0-1: Even if you're not a Steelers fan, you can't help but be disappointed in their Week 1 performance in Baltimore.
(6)Philadelphia Eagles; 1-0: Impressive win over the Rams when you consider this is the first time this O-line played together
(9)San Diego Chargers; 1-0: The Chargers got the "W", but when your time of possession is over 37 minutes and you hold the opposing QB to 39 yards passing, one would think the margin of victory would be more than one TD.
(16)Houston Texans; 1-0: The Texans smelled blood the moment they found out Manning wasn't playing and took full advantage.
(15)Detroit Lions; 1-0: Very impressive road win by the Lions.  The best part is Matthew Stafford walked off the field.
(13)Dallas Cowboys; 0-1: The Cowboys were one yard away from securing an impressive road win against the Jets.  Unfortunately, Tony Romo's 4th quarter performance was Lebron-esque.
(7)Atlanta Falcons; 0-1: I tried to give them the benefit of the doubt after a 13-3 season in 2010.  How does this offense manage to be kept out the end zone??
(30)Buffalo Bills; 1-0: Are the Bills really this good??  Regardless of the opponent, nothing can discount a 34 point victory on the road.
(23)Washington Redskins; 1-0: Rex Grossman was impressive playing mistake free football.  The Redskins defense wasn't half bad either.
(14)Tampa Bay Buccaneers; 0-1: If you're a young, up and coming team, you have to take care of the other young, up and coming teams if you want a chance to challenge the big dogs in January.  Especially when playing at home.
(19)Arizona Cardinals; 1-0: Kevin Kolb and Beanie Wells were impressive in their win, but who wants to be the team that allowed the record for most passing yards in a rookie's debut??
(20)Oakland Raiders; 1-0: The Raiders have decided to rebel against the fact that the NFL is a passing league.  The held on to a close win over their division rival in Denver.
(12)New York Giants; 0-1:  With the amount of injuries the Giants suffered in the preseason, the last thing they could afford was an Eli Manning turnover deep in their own territory.
(17)St. Louis Rams; 0-1:  Losing to the Eagles wasn't as big as losing both Steven Jackson and Danny Amendola.
(10)Indianapolis Colts; 0-1:  Even if Peyton Manning was available, I don't think the Colts would've overcome the Texans.  With him possibly being out for the season, Manning's eventual replacement could very well be Andrew Luck.
(22)San Francisco 49ers; 1-0: The 49ers got the win, but their offense is going to have to get more than one TD in the future.  They can't keep relying on David Akers and Tedd Ginn, Jr.
(26)Miami Dolphins; 0-1: Chad Henne and Miami's offense played well enough to win most games.  Too bad the Dolphin's gave up record numbers to the Patriots.
(21)Minnesota Vikings; 0-1: If Donovan McNabb continues to play like he did Sunday, Christian Ponder will be starting before this month is over.
(29)Jacksonville Jaguars; 1-0: The Jaguars defeated Tennessee by dominating on the ground and controlling the clock.  Luke McCown's job was to simply not mess up.
(31)Carolina Panthers; 0-1: Cam Newton was excellent in his first NFL game.  Unfortunately, moral victories don't count in Power Rankings.
(25)Denver Broncos; 0-1: Right now, Miami has to happy their trade for Kyle Orton never happened.
(28)Tennessee Titans; 0-1: The Titan's loss wasn't nearly as close as the final score.  24 yards rushing from Chris Johnson isn't going to produce many victories.
(32)Cincinnati Bengals; 1-0:  With their 3rd string QB, the Bengals took advantage of unprepared Cleveland defense to take the lead.  Let's see how long their luck lasts.
(18)Kansas City Chiefs; 0-1:  I don't care how improved Buffalo is.  There's no explanation for losing 41-7 at home.
(24)Cleveland Browns; 0-1: When you're home playing the so-called worst team in the NFL which happens to be a division rival, you can't afford to blow a 4th quarter lead to their backup QB.
(27)Seattle Seahawks; 0-1: Seattle lost by 16 to the 49ers and that's one of their easier opponents this year.