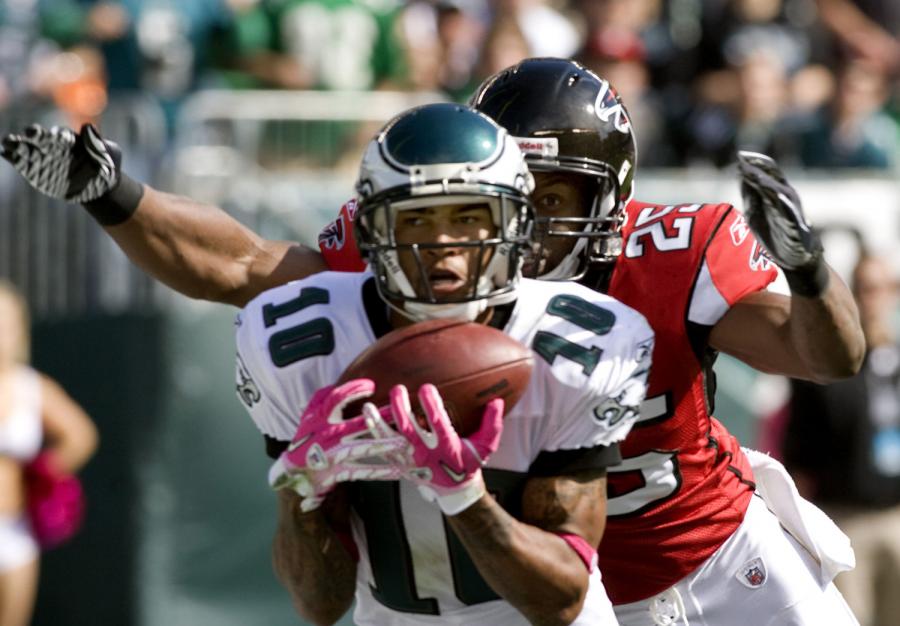 The last couple of years the Eagles have had little trouble beating the Atlanta Falcons. One of the reasons is because of the Birds speed at the wide receiver position and the Falcons lack of skilled coverage people in their secondary.
Dunta Robinson is their best corner and he's not a great man-to-man cover guy. Brent Grimes has good quickness and coverage ability but he lacks good size and can't run with DeSean Jackson. There's a huge drop off when the Falcons go to nickel. Expect the Eagles to go after them with big plays when they go nickel.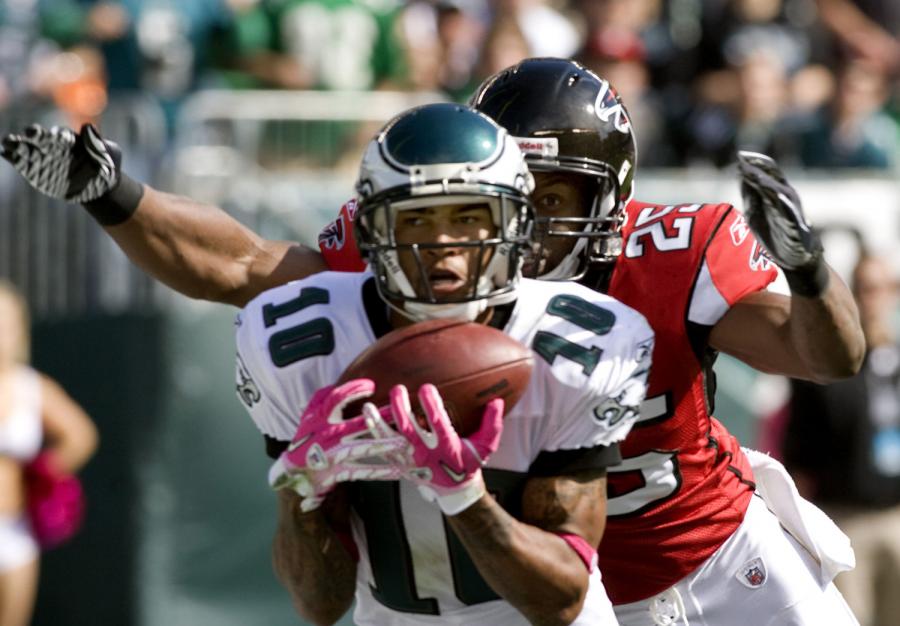 The Birds wide receivers have a huge advantage in that matchup. The Falcons like to stay away from man-to-man coverages but rely on zone coverages. They love to play Cover Two in the secondary with the safeties deep and the corners rolled up and trying to jam the receivers when they come off the line.
You can't live in Cover Two unless your pass rush are putting consistent pressure on the quarterback.
Last year with Michael Vick down with an injury, Kevin Kolb picked them apart as the offensive line gave him plenty of time and he got the ball deep to DeSean Jackson and Jeremy Maclin. I remember how the Birds put Jackson in the slot and the Falcons foolishly didn't jam him. They let Jackson get off the line and he got deep down the middle.
In two deep coverages, the way you beat it is by getting three receivers deep. Usually the guy working the middle is a tight end or running back. At times you might get a slot receiver down the middle in three wide receiver sets, but the defense will always have somebody jam him when he comes off the line.
The Eagles slipped Jackson into the slot and he got deep on the Falcons down the seam before Atlanta knew what
hit them. The safeties were occupied by the outside receivers and were shocked to see Jackson going into the end zone with the football.
On another play, Maclin ran a double move against the Falcons. The Eagles ran this play after one of the Falcons starting cornerback Dunta Robinson had that collision with DeSean Jackson. Maclin ran a curl route on the Eagles left side. The cornerback swallowed Maclin's fake and Kolb's punt fake, hook, line and sinker.
Kolb hit Maclin in stride and he took it into the end zone on a seventy-plus yard touchdown.
At the beginning of the game, the Eagles took advantage of Atlanta's speed and desire to get to the football. Andy
Reid and Marty Mornhnweg ran a reverse in their first offensive series and Jackson took it about forty-yards for a touchdown.
I'm sure the Eagles are to going to try misdirection plays to take advantage of the Falcons tendency to over pursue. A misdirection play will also keep them honest.