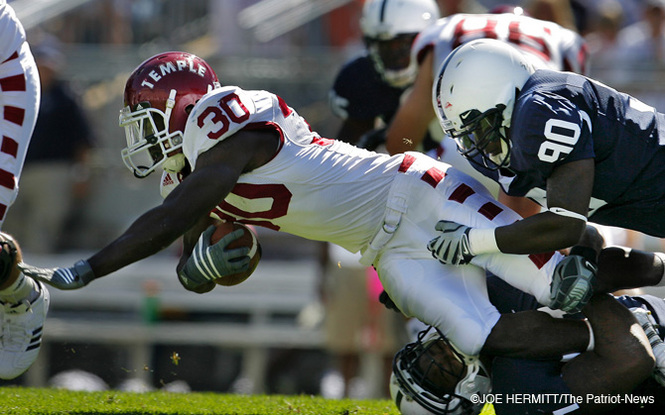 The Temple Owls host the two-quarterbacked Penn State Nittany Lions at Lincoln Financial Field this Saturday at noon. Joe Paterno has stated that this year's Temple team is the best he has ever seen. Will they prove to be stronger than last year's team which gave Penn State all it could handle? Several factors may work in the Owls' favor and put them over the top.
First, Penn State still has not settled on a starting quarterback, which I believe slowed their offense last week against Alabama. Alabama's defense did not need any help, but Temple's defense, while not too shabby in its own right, will gladly accept any assistance from the Penn State coaching staff. The less rhythm Matt McGloin or Rob Bolden can gain, the more the Nittany Lions' offense will be one-dimensional. Silas Redd is more than capable of carrying the load for Penn State's offense, but will he be enough? Or will Penn State's QB duo be forced to put the ball in the air against Temple's ballhawking secondary?
On the offensive side, Temple brings a veteran offensive line to go with one of the most underrated running backs in the country, Bernard Pierce. The senior ball carrier has the ideal size (6'1", 218 lbs.), patience, quickness and vision to succeed at the next level. His ability to slide and pick the soft spot in a defense allows him to make plays even when his blocking breaks down at the point of attack.
Those attributes allowed Pierce to rack up 42 yards and 2 touchdowns on 10 carries last year at Penn State in less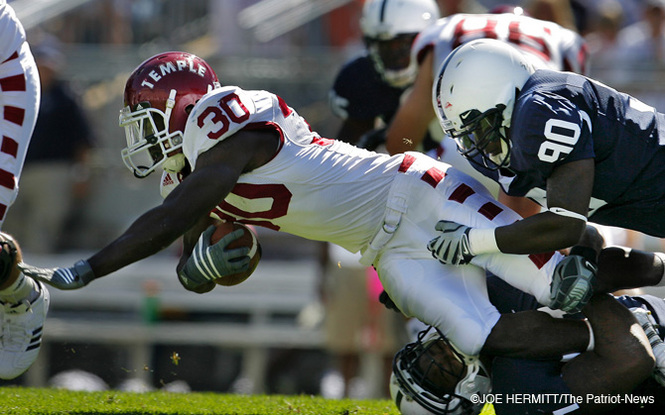 than a half of play. He was forced to exit the game due to an ankle injury, leaving his team with a 13-6 lead over the Lions. The absence of Pierce combined with for Temple turnovers did the Owls in as they fell 22-13. If Temple has a health Pierce for four quarters and can manage to hold on to the ball at home, Penn State will surely be in for a fight.
I look for Penn State to pull this one out in the end, as they will likely be able to establish Redd early. But if Redd is slowed and their quarterbacks are forced to put the ball up, Temple could come away with the home upset.
Week 3 Six Pack/Other Games of Note
Last Week's Results 3-2-1 (Overall 7-4-1*)
Fresno St. +28 over NEBRASKA W
WESTERN KENTUCKY +10 over Navy L
Texas Christian -1.5 over AIR FORCE W
ARIZONA ST. -8 over Missouri L
Utah -9 over SOUTHERN CALIFORNIA W/Push*
San Jose State +21 over UCLA W
*(Pay outs were available for those who took Utah +9 despite the late score adjustment.)
MISSISSIPPI STATE +3.5 over Lsu (Thursday)
LSU is bound to slip up once or twice in conference play, because they are not a complete team. The quarterback play is suspect, and I believe MSU's offense is good enough to put points on the board and not turn the ball over like Oregon did in the opener. Plus, the Bulldogs will be looking to bounce back from last week's loss at Auburn which was one of several chances that they have to establish themselves as a force in the SEC west.
Eastern Michigan +30 over MICHIGAN
The Wolverines might as well have had the shamrocks on their helmets last Saturday instead of the Irish. Virtually every big break went their way in the fourth quarter, from DRob's touchdown fumble recovery, to Notre Dame QB Tommy Rees' inexplicable red zone fumble, to how quickly Notre Dame was able to score, leaving ample time for Michigan to mount its final, game-winning drive. I think an inconsistent offense and a porous defense, overlooked thanks to Michigan's good fortune, will be on full display and prevent them from covering against their in-state foes.
TOLEDO +20.5 over Boise State (Friday)
It is always tough to bet against Boise State quarterback Kellen Moore. His decision making and accuracy are off the charts. However, Toledo looks to me to be an undervalued team, especially after they gave Ohio State all they could handle in the Horseshoe last weekend. Boise State should win this game fairly comfortably, but Toledo's confidence, passing game and home crowd will keep the end margin under 3 touchdowns.
Arizona State +1.5 over ILLINOIS
Illinois can be attacked through the air, and Arizona State will be tough for the Illini to run on with All
American LB Vontaze Burfict roaming the middle of the field. Last Friday against Missouri, ASU quarterback Brock Osweiler looked like he's in the top half of PAC-12 QBs, which says a lot given the presence of Andrew Luck (Stanford), Nick Foles (Arizona), Darron Thomas (Oregon) and Matt Barkley (USC).
Other picks:
MARYLAND -1 over West Virginia
Danny O'Brien is the best quarterback in the ACC. The Terps can make a statement with a win over a strong non-conference opponent.
Oklahoma -3 over FLORIDA STATE
Florida State is on its way back to regaining its old form, but the program is not there yet. Oklahoma is about to provide the evidence.