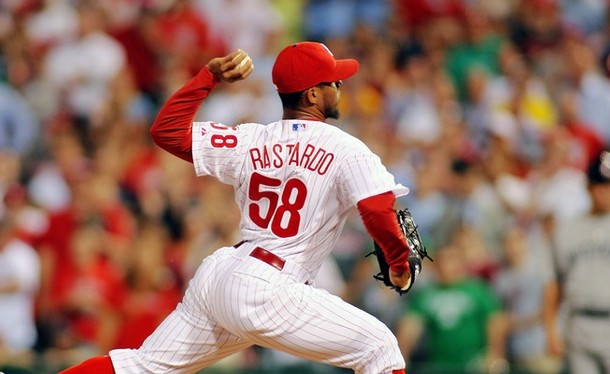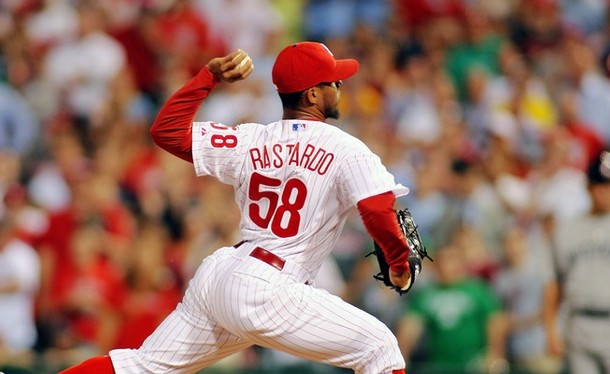 A disturbing trend in recent weeks for the Phillies has been the effectiveness of reliever Antonio Bastardo. The young lefthander has been spectacular for most of the season, but it seems as though his workload is beginning to catch up with him, and take its toll on his effectiveness.
Bastardo entered the game in the eighth inning of Friday's game with the score tied at 1-1. He made it through the inning, but allowed a solo homerun to give the Cardinals the lead.
It was the sixth run Bastardo has given up in his last 10 appearances. He had given up just seven earned runs in his first 51 games. In those last 10 games, the rookie has an ERA of 6.75, giving up five hits, and walking eight. The walks are particularly concerning for the setup man, if he is struggling with his control and consistently walking batters, he'll be as useful out of the bullpen as J.C. Romero has been in recent years.
His ERA for the season (which has been below 1.50 for most of the season) has now shot up to 2.10.
How concerned should the Phillies be about their eighth inning man? The team has certainly used Bastardo a lot this season, only Ryan Madson has seen as much work as Bastardo out of the bullpen this season. Perhaps he's simply going through a bit of a dead arm period, or maybe teams are beginning to adjust and catch up to him a bit after getting a long look at him throughout the season.
Luckily the Phillies still have several weeks to work with Bastardo, and get him back on track in time for the playoffs. Its still a little too soon to be seriously concerned about the shape he'll be in for October, but its definitely something to keep an eye on moving forward. He's been such a key member of the pitching staff all season, the Phillies need him in top form so that they can be confident in him in October.