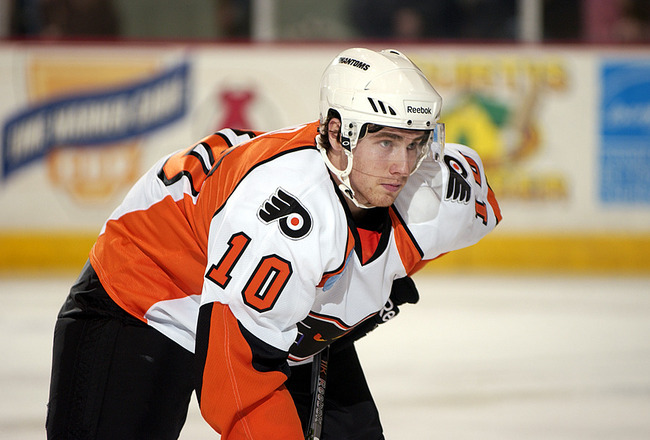 Matt Read will have a chance to silence the critics as he faces his first test in orange tonight when the Flyers make their preseason debut against the Toronto Maple Leafs.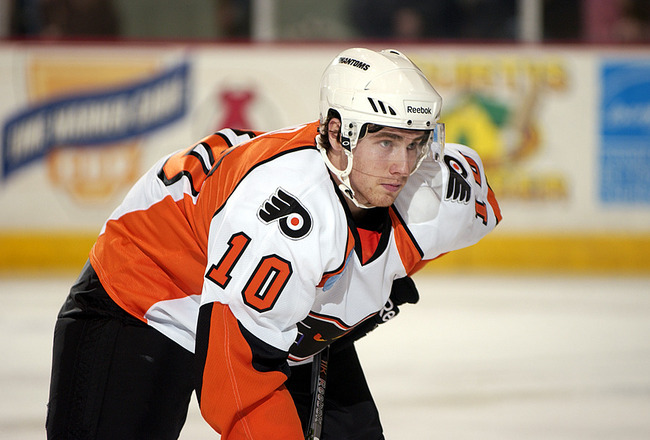 During training camp, Read saw playing time on the left wing with Danny Briere and Jaromir Jagr. Despite being awe-stricken, the rookie didn't have a horrible practice and looks solid going into tonight's game.
Even though he saw time on Briere's line during camp, it is highly unlikely that he will be taking that shift when the season starts; especially with Wayne Simmonds, who has a tremendous upside, eyeing the spot as well.
But there are several forward spots up for grabs and Read is a very competent two-way player, who should be able to start the year in the NHL. He is built like Mike Richards and has the same defense-first mentality as the former captain. This versatile player can fill a lot of Philly's holes, especially on the penalty kill, and his grinder mentality will make him a great addition to the Flyers' third or fourth line.
There is one main thing that makes Read stand out from the rest of this rookie class, when the clock struck midnight Tuesday morning, the former college hero turned 25-years-old. Twenty-five. Let's face it, he clearly isn't a kid; Read is an NHL ready player and just about to reach his peak.
The unique rookie signed a one-way contract with the Flyers, paying the highly scouted prospect $2.7 million over three years. He dominated the college game averaging nearly a point in every contest he played in (141 points in 147 games), but he started playing when he was 21 not 18.
The age mismatch clearly worked in Read's favor, who after a spectacular sophomore season led the Bemidji State Beavers to the Frozen Four and eventually into college hockey's top conference.
Leadership is the right quality to describe the Beavers' former captain, regardless of his age. The kid who wasn't good enough to play junior hockey in Canada, wore a C on his jersey in college and was assigned to the Phantoms at the end of last season.
It would be nice to see his numbers after a full season in the AHL, but he played solid during his stint in the Adirondacks. Despite playing in only 11 games, Read put up 13 points with a plus nine rating. Eleven games is nothing to go nuts over, but the 5'10" forward's early success shows his ability to quickly adapt to the AHL's more physical style of play.
When it comes down to it the chippy, defensive-minded forward is more developed than the other Flyers' rookies and can work wonders on a penalty kill, that lost their quarterback, Richards, this offseason.
Looking at Read's raw talent makes me think Peter Laviolette would be crazy to keep this gritty, two-way player off of Philadelphia's roster….But then again, I guess we will see what all the hype is about tonight in Toronto.