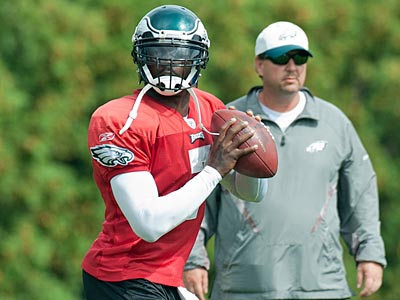 Eagles quarterback Michael Vick is going to play on Sunday. He's coming off a game in which he was knocked out of the game because he sustained a concussion in the third quarter.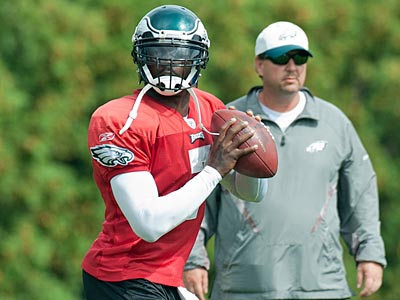 Another good hit on him could sideline him again. Last year the New York Giants defense had success against Vick and the Eagles when they put pressure on him with the blitz. One of the keys to their blitz strategy was blitzing from his left and forcing him to roll to his right.
Forcing him to roll to his right was a way of taking his options away from him because it's much more difficult for a lefthanded quarterback to throw the football when he's rolling to his right as compared to rolling to his left.
In the season's first two games, Vick has made two touchdown throws while rolling to his left. He hit DeSean Jackson in the first game with a great touch throw while rolling to his left. In addition he connected with Jeremy Maclin after rolling to his left, then retreating to buy more time with a blitzing safety in his face and he delivered the ball to Maclin as went across the field wide open.
Vick and the Eagles must expect the pressure to come from his left and they should provide the quarterback with quick targets, so he can get rid of the football and avoid taking hits from pass rushers.
Vick did hurt the Giants a year ago with his legs by getting outside of contain and blazing down the sideline. I still
believe the Giants are going to come after Vick with the blitz. They have to feel good about a game plan of hitting Vick and making it impossible for him to set his feet and throw downfield from the pocket.
I don't think the New York secondary can cover DeSean Jackson, Jeremy Maclin, Steve Smith and the rest of the Eagles wide receivers without giving up some big plays.
Vick needs to go into this game with a mentality of getting the football out of his hands. He can't hold the ball waiting for big plays downfield. The lefthander should take the short gains, while knowing that taking the short gains will keep them out of 3rd and longs.
Offensive tackles Jason Peters and Todd Herremans will have their hands full blocking New York pass rushers Jason Pierre-Paul and Justin Tuck. Peters may be the best offensive linemen in the league. Herremans has demonstrated the last couple of weeks that he can be an outstanding right tackle in his own right.
I also like the job center Jason Kelce is doing. He does a great job on the move on screen and draws. This youngster gets out in front of LeSean McCoy and the two can work some magic out in the open field.
Giants defensive end Osi Umenyiora hasn't practiced yet this week and it doesn't look like he's going to play.