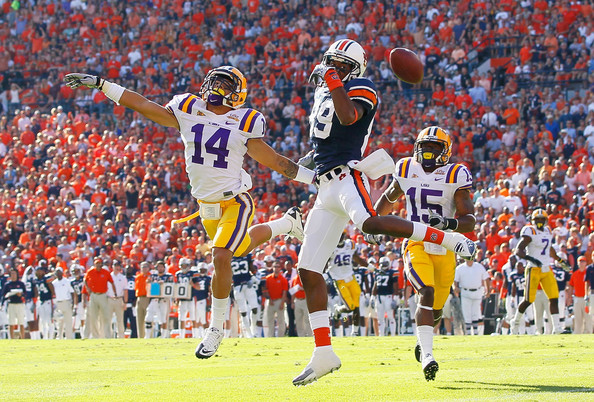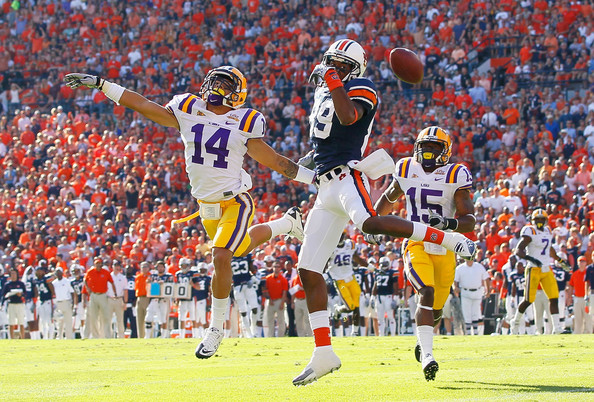 After dominating performances in their first three games, heaps of praise have been piled on the LSU defense. They have shut down opposing offenses and caused huge turnovers in each of their wins this season, two of those coming against ranked opponents – Oregon and Mississippi State.
Having dispatched two of the top rushing attacks in college football, LSU now faces one of the top passing teams in West Virginia and their quarterback Geno Smith. In three games, Smith has already thrown for over 1000 yards to go along with seven touchdowns and only one interception.
LSU defensive backs Tyrann Mathieu and Eric Reid will look to add to Smith's interception total, and the Tigers' vaunted front four rotation is likely to pad its run defense stats versus an inconsistent Mountaineer running game.
However, as is the question in all of LSU's games, can the offense produce enough to get the win? Quarterback Jarrett Lee has been solid but definitely not spectacular in his first three games.
The biggest positives from his performance thus far are that he has made plays when called upon and has not lived up to his reputation as a "walking Pick 6". As long as Lee protects the football, LSU should be able to score enough points to win in a tough road environment against a ranked West Virginia Mountaineers team.
Week 4 Six Pack (Last Week's Results 2-4; 9-8-1 overall)
SAN JOSE ST. -10 over New Mexico St.
ARIZONA +16.5 over Oregon – The Ducks will put points on the board, but do they have enough of a pass rush to defeat the Wildcats on the road by three scores?
Notre Dame -7 over PITTSBURGH – If the Irish hang on to the ball, they will win comfortably. In the more likely scenario that they don't hang on to the ball, they will still win by more than a touchdown.
San Diego St. +10 over MICHIGAN – Michigan's defense and offense are both overrated thanks to a highly visible gift of a win from Notre Dame.
Georgia -10 over OLE MISS – Neither one of these teams are very good right now, but Georgia has much more talent than the Rebels and should win this one fairly easily.
SOUTH CAROLINA -16 over Vanderbilt – The turnover fest orchestrated by Ole Miss last week will not be repeated by the Gamecocks and the Old Ball Coach. Marcus Lattimore and Alshon Jeffery will bring Vandy down to earth after a great 3-0 start.