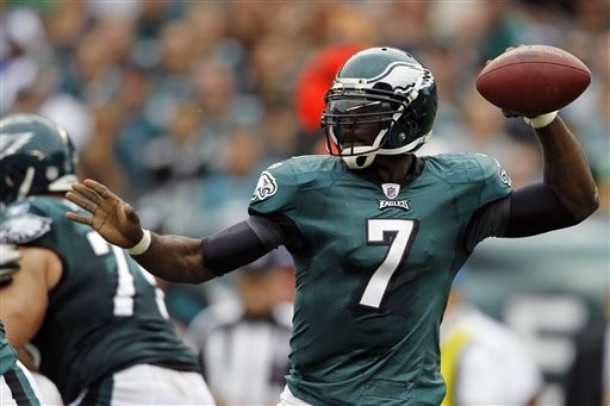 I know Michael Vick took all the tests and he passed them last week, but there's no way in the world anybody can tell me that he wasn't "mentally foggy" during part of that game yesterday. He just didn't seem to be himself during part of the game.
He was hit in the head a number of times and got up slow after some of those hits. I know he's a warrior and wouldn't want to come out of the game even if he knew he wasn't all there mentally, but he didn't seem like himself at times during the game.
One of the hits came after the interception by cornerback Aaron Ross in the first quarter. Vick was popped by Giants defensive end Dave Tollefson as the quarterback tried to put himself in position to make the tackle.
Jason Pierre-Paul got a good hit on Vick when sacked him in the first half. Vick eluded Pierre-Paul initially then the big fella got another shot at him and he didn't miss the second time. Pierre-Paul dropped his head and drilled Vick.
Giants defensive tackle Chris Canty got the hit on Vick which broke his right hand. I thought it was a helmet-to-helmet hit.
With no timeouts left and the clock running out at the end of the half, Brent Celek had to tell Vick to get off the field and physically push toward the sidelines so that the Birds can kick a field goal without the clock running out.
This was a definite alarm about concussion symptoms. Here you've got a quarterback on the field who can't decipher what situation he's facing. which could have been taken as a sign of that concussion lingering.
What was the deal with those quarterback sneaks with a quarterback who is just getting back from a concussion? I have even said anything about that quarterback sweep. What was the deal with that?
Can Vick play the game without getting hit every play?
I've played with a concussion before and I know that some how you go into autopilot. When you've played the game so much that many things you're able to do from muscle-memory. It seemed that Vick was playing some of the game yesterday on "Autopilot".
Unfortunately, the details of the game are lost to anybody who is playing the game on "Autopilot".