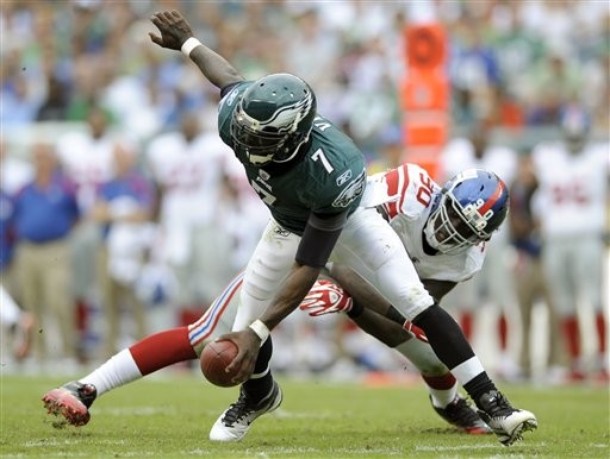 It seems that after each week of the NFL season, the Eagles 2010 and 2011 drafts look worse. The top pick a year ago Brandon Graham was watching yesterday's game on the sidelines.
The second round pick, Nate Allen, was in the game, but he got abused by Giants running back Ahmad Bradshaw. The running back grabbed Allen and threw him on his back. Yes with one-hand, he slammed on his back.
They cut the third round pick Daniel Te'o Nesheim and no other NFL teams were interested in him, so they signed him to the practice squad.
Their top three picks in 2011, Danny Watkins, Jaiquawn jarrett and Curtis Marsh were all inactive yesterday. The fourth round pick Casey Matthews was out there on the field getting abused.
Remember when we heard all that talk about how great the Eagles did in the draft in 2010 when they took defensive end Brandon Graham and the Giants took defensive end Jason Pierre-Paul. According to the Eagles, the talent of Graham and Pierre-Paul wasn't even close. Graham was supposed to be far better than Pierre-Paul.
For some reason, the Eagles always believe the smaller guy is the better football player. Pierre-Paul is a big defensive end, standing 6'5″ weighing 280 pounds, while Graham is an undersized defensive end, stands about 6'2″ and weighs about 265.
After looking at the game once, then checking out it out again, I think Pierre-Paul was the best defensive player on the field for the Giants, yesterday. He had five solo tackles and two sacks against the Eagles best offensive lineman Jason Peters.
To put it simply, the dude is a beast. He's in only his second season, but he's already one of the best defensive ends I've seen thus far this year. I saw Graham standing over on the sideline checking things out as Pierre-Paul was having a great game.
I know Osi Umenyiora is supposed to be the starter at that position, but I don't see him taking Pierre-Paul's job any time soon. Pierre-Paul plays the run better than Umenyiora, but he's not quite as fast as Osi. I don't see any way they take him out of the lineup.