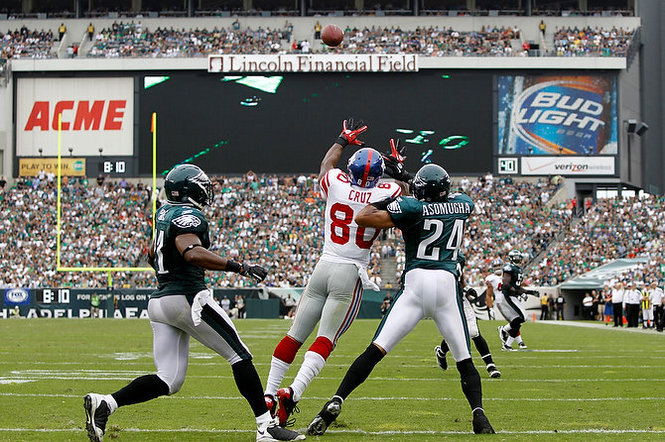 Eagles defensive coordinator Juan Castillo isn't ready to panic because his defense has given up eight touchdown passes in the last two games. They're on a pace to break the team's record for most touchdown passes surrendered in a season.
This is his first year on the job and he's under fire because he has a defense that stacked with Pro Bowlers yet they have surrendered leads in the fourth quarter of the last two games.
"I have a job to do, right? I'm going to succeed, for Coach Reid, for the city, for my family", Castillo told CSNPhilly.com's Reuben Frank. "This is an opportunity, this is a challenge, this is a job. We're all men. We all have had challenges before. So, come on, let's go. You work harder. You lead by example. You don't panic. You have a plan. We believe in our plan."
They're not giving out any championship trophies after week three so the Birds do have time to get themselves together. They've got to have their Pro Bowl players play at the level they're capable of playing at.
Nmandi Asomugha who stands 6'3″ can't be outjumped for a pass by Giants 6'0″ foot wide receiver Victor Cruz.
The fact that Eli Manning would throw the ball up for grabs to Cruz against Asomugha is quite a statement. Not only was Asumugha there on the coverage, Eagles safety Jarrad Page was also battling Cruz, yet the second-year receiver came down with the football.
On the play if Asomugha had turned around and attacked the ball at its highest point, he would have had an easy interception. Instead he and Page let Cruz be the aggressor and came down with the football.
When asked about Asomugha's poor play, Castillo responded, "Nnam's gonna make plays. Y'all will see that. Nnam will make some plays."
Safety Kurt Coleman let Cruz break his tackle twice on the 74-yard catch and run for a touchdown. Coleman has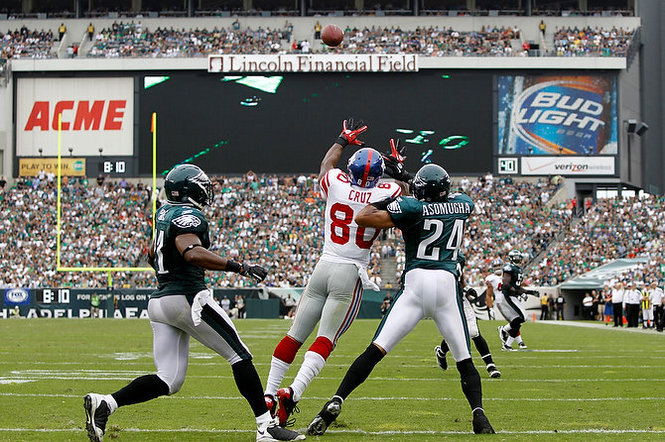 got to be able to make an open field tackle, as well as Asomugha, who missed the tackle as well. He's got to attack the ball carrier, wrap him up and take him down. That's why Castillo says that they're going to continue to stress the fundamentals.
"We've played some good series; now we've just got to continue to keep hammering away", Castillo said. "We all get tested. I think we've all been there, where we get tested to see what we're made out of. I think it's good for the players, because they want to see how I react. Does he really have a plan, does he believe in his plan, how's he going to handle the meetings? Does he have confidence in himself? I think all those things are important, and that the players will see, that we do have a plan."
The Eagles defense has been playing well for the middle quarters of the last two games, but in the first and fourth
quarters they have been getting beaten on big plays.
On Sunday it was the 40 yard pass to Brandon Jacobs for a touchdown, which was a breakdown by rookie linebacker Casey Matthews, who bit for a fake as Jacobs ran a wheel route down the right sideline.
On the next series Manning hit Cruz for the 74-yard score, when he read an Eagles blitz. Coleman could get the powerfully built Cruz to the ground despite having two chances to tackle him. The Giants wide receiver broke
threw tackles and took the pass the distance down the same sideline which Jacobs had traveled.
The Giants went two quarters without scoring any points, but in the fourth quarter, Manning threw the ball up for grabs despite the Eagles having two defenders guarding Cruz.
On the final touchdown pass by Manning, he dropped a screen pass to Ahmad Bradshaw and the Eagles were blitzing and free safety Nate Allen failed to do his assignment which was to cover Bradshaw. He got suckered into trying to sack Manning.
Bradshaw caught the ball and went untouched into the end zone.
Although Giants offensive coordinator had a good game plan to attack the Eagles defense, quite a few times it wasn't the defensive call, it was a matter of the Eagles players not doing their jobs. That's one of the reasons Castillo wants to emphasize fundamentals.
If the Eagles are going to get to where they want to go, Castillo's defense will need to start playing great football as the season continues.