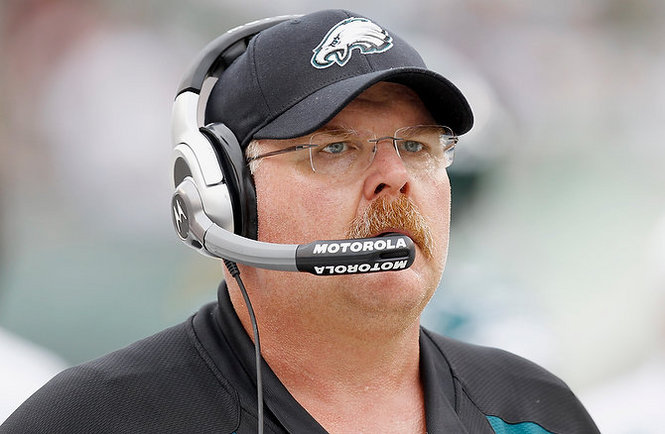 In October of 2010 former Minnesota Vikings wide receiver Randy Moss was fined $25,000 for not cooperating with the media. "I don't have any questions or answers for you, man," Moss would tell the media during his three week media boycott Moss in the fall of 2010.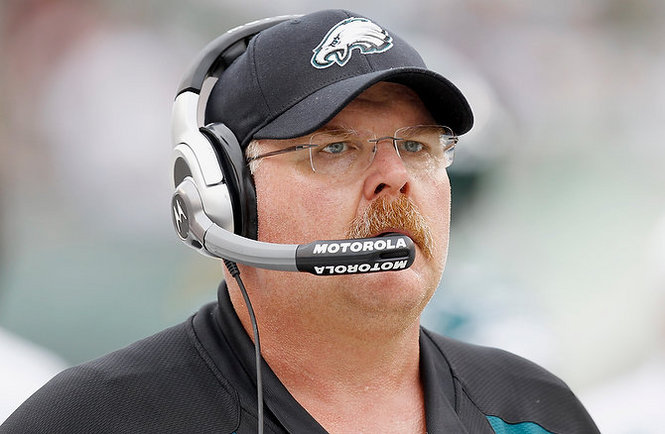 Monday, Andy Reid was no better than Randy Moss was last October; Reid did anything but cooperate with the media during his day after press conference. "That's not for you to worry about," "I'm probably not going to go there with you on it," and "Come on, I mean you guys are killing me. Please."
Those quotes were all responses from Andy Reid to reporters Monday. How are his answers any different than Randy Moss saying "I don't have any questions or answers for you man"?
On Monday reporters asked Andy Reid 33 questions, Reid answered 18 of the questions. Which means Reid answered only 55 percent of questions asked by reporters. I understand for competitive reasons there are certain questions that NFL coaches cannot answer, however, anything outside of that should have an answer, and it should be a professional response to reporters. The NFL expects its players to act like professionals, but not its coaches?
Roger Goodell is tough on the players but a total wimp when it comes to his coaches, just ask ex-Raider head coach Tom Cable.
Eagles Head Coach Andy Reid was anything but professional during his news conference on Monday. The
Philadelphia media was only asking the questions that concerned Eagles fans. Andy Reid has a duty to answer questions.
How is it fair to fine Randy Moss for saying I have no questions or answers for you, but not Andy Reid for saying "That's not for you to worry about". Newsflash Coach Reid, it is the job of the Eagles beat writer to be concerned about the Eagles, just like it is Andy Reid's job to represent the Philadelphia Eagles in a professional manner after tough losses, something he failed to do Monday.
Part of being an NFL head coach is answering questions from reporters if Andy Reid does not want to do that, there are plenty of high schools that will gladly hire him.
Andy Reid's press conferences are a bore, I day dream when I am bored, and a thought I had while day dreaming was this-is Andy Reid a good head coach? Or was Jim Johnson that good of a defensive coordinator. Andy Reid has zero playoff wins since the death of Jim Johnson.'
GCobb.com readers, the time's yours.