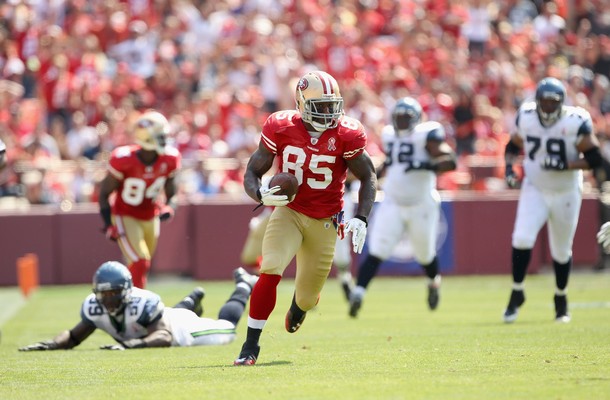 With running back Frank Gore ailing with a sore ankle, the San Francisco 49ers have one outstanding weapon on their offense and he's their tight end, Vernon Davis, 6'4″ 250 pounds. Davis is a freak of nature who ran under a 4.4 yard forty-yard dash at the NFL Combine while weighing well over 250 pounds. He's the 49ers deep threat.
The Eagles can't have their linebackers trying to cover Davis. They must matchup Nmandi Asomugha on him. They should put the cornerback on Davis in every passing situation. The former Oakland cornerback doesn't have the size to muscle Davis, but he's got the height and quickness to shadow him step for step.
"He's fast, he's got good hands, he runs good routes, and they use him in that way, they use him as a third wide receiver", Eagles defensive coordinator Juan Castillo said yesterday. "So he's very explosive."
Every chance they get they've got to match either Asomugha or Dominique Rodgers-Cromartie against Davis. I would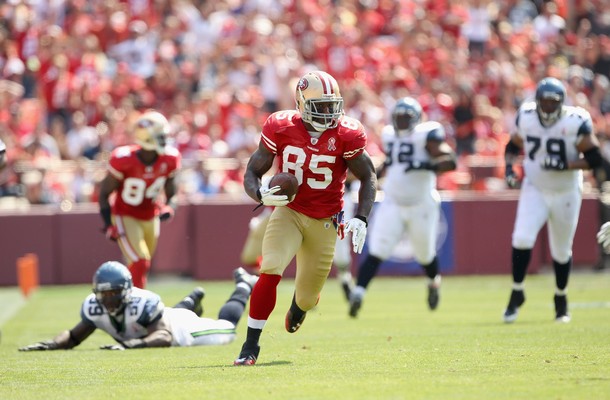 rather have Davis outmuscling the Eagles cornerbacks for catches in the short area rather than have him beating the Eagles linebackers and safeties deep for big plays.
This defense has been getting beaten by big plays and that must stop. There's no way they should let San Francisco's inept offense move the ball on them.
The Birds have been torched by quality tight ends for years now. The Eagles defense must do everything they can to keep the ball out of Davis' hands because he's the only offensive weapon on the Niners that can beat them.