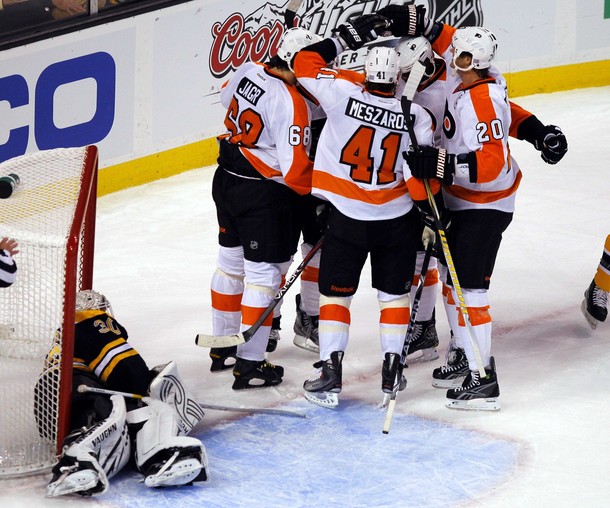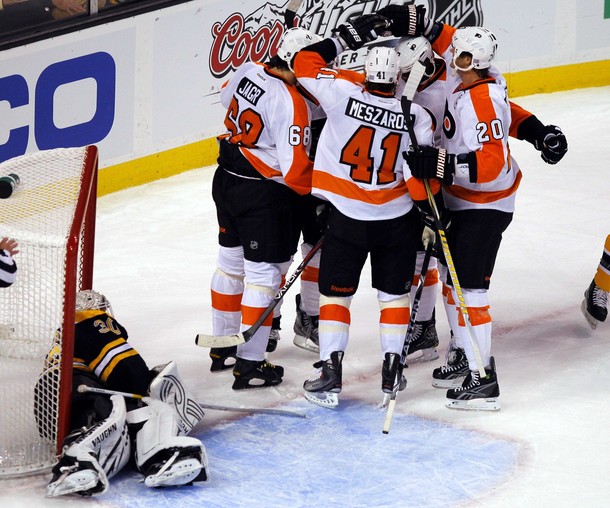 After an unnecessarily long banner-raising ceremony for the Boston Bruins, the Flyers took to the ice in game 1 of the 2011-12 season. I had the same jitters that I had a year ago when Sergei Bobrovsky, fresh off of a handful of preseason games, was given the start against the Pittsburgh Penguins. With so many new faces, by what guage could anyone guess how this team would look?
It turns out, they look alright.
The first half of the first period was a complete mess, as the Flyers could not keep the puck out of the defensive end if their careers depended on it. Coach Peter Laviolette seemed determined to use rookie Sean Couturier heavily on the penalty kill, and he was out of place as Brad Marchand buried an early powerplay marker. Couturier's game would pick up as his nerves calmed.
During a powerplay with less than one minute remaining in the first, Claude Giroux weaved around four Bruins and deked past goaltender Tim Thomas to tie the game. Jaromir Jagr was given the assist on the play to break Ray Bourque's record of most points earned in season openers (now 31).
Jakub Voracek grabbed the lead 47 seconds later with a Ville Leino-patented spinarama goal. The biggest knock on his game thus far is that he passes too much, so it can be taken as a good sign that he scored in the first game of the season.
Arguably the biggest issue tonight was the parade to the penalty box. You could sneeze, look up and catch the Bruins on yet another powerplay. It wasn't any one individual being irresponsible, but rather the whole team. The only forgivable offenses were Wayne Simmonds' weak holding call and James Van Riemsdyk's roughing call, awarded after he took on Zdeno Chara for tossing Claude Giroux into the boards.
The Flyers' defense and goaltending absolutely crushed it tonight. Kimmo Timonen and Ilya Bryzgalov were the best players on the ice, and were both responsible for bailing out their teammates on multiple occasions. I've never been fond of the suggestion that having Bryzgalov in net means it's OK for the forwards to be less talented defensively, but he really did make the difference.
Max Talbot was also a pleasant surprise. Many have written that the Flyers hoped he would be the next Ian Laperriere in terms of his roleplaying and character when they signed him. The fact that he was sliding across the ice to block shots with his body in the first game of the season deserves praise, showing that he is sacrificing himself for the greater good right from the start.
The 2011-12 Flyers still need more work to be a complete hockey team, but a road win against the Bruins is a solid way to start the season. They next travel to Newark to open the New Jersey Devils' season on Saturday.