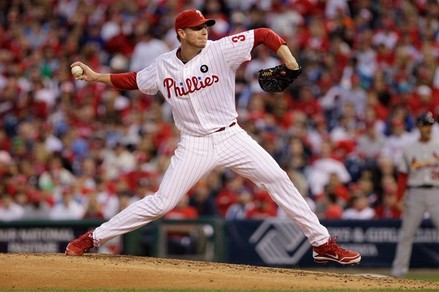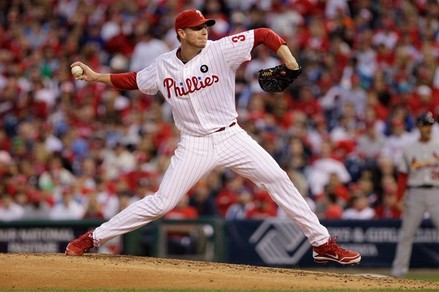 If you listen to any Phillies players speak to the media regarding Game 5 of the NLDS, you get a sense that they're very confident about their chances in the decisive game of the series. The reason for that sense of confidence? Their starting pitcher, Roy Halladay.
"If we're going to have one guy to get you a win, Doc Halladay's a pretty good guy to do it," said former closer Brad Lidge.
In his short time in Philadelphia, Halladay has compiled some remarkable achievements. He's thrown a perfect game during the 2010 regular season, a no-hitter in the first game of last year's NLDS, and won a Cy Young Award, all while compiling a 40-16 record in two regular seasons with the team.
After witnessing some special performances from the ace in the last two seasons, it's no wonder why his teammates are feeling good about their chances in the series finale on Friday night. Halladay is the model of consistency, and every time he takes the mound his team knows they have a pretty good chance to win. Having an elite pitcher with such a great track record making a stand on the hill is a luxury that few teams have.
In this year's playoffs, he put the team in an instant 3-0 hole after the first inning, but was able to pick himself up and recover in a big way, retiring 21 straight batters to finish his Game 1 effort, which ended in a Phillies victory. It wasn't an ideal start, but it was certainly more than enough to earn a win on that night.
Game 5 will be an opportunity to add another remarkable achievement to his collection, and to enlarge his ever growing legacy in Philadelphia. It could be a defining moment in his Philadelphia career. Only so many pitchers get the chance to stand tall for their team in a decisive final game of the series. It will be interesting to see how Halladay responds to such an opportunity. The individual accomplishments of no-hit efforts and Cy Young Awards are all special in their own way, but they would mean so much more if one of his great efforts became the catalyst in paving the way towards a championship.
How will Halladay perform with all of the chips down? Will he meet the lofty expectations (of both fans and teammates), and be able to control the Cardinals hitters as he did in his final seven innings of work in Game 1? Or will Albert Pujols and the other veterans in the St. Louis lineup be able to make enough adjustments to do some damage against one of the best pitchers in all of baseball? The season hangs in the balance, with absolutely no margin for error. If the righthander comes through with another stellar performance, in an absolute must-win situation, it's going to make his star shine brighter than it ever has before.