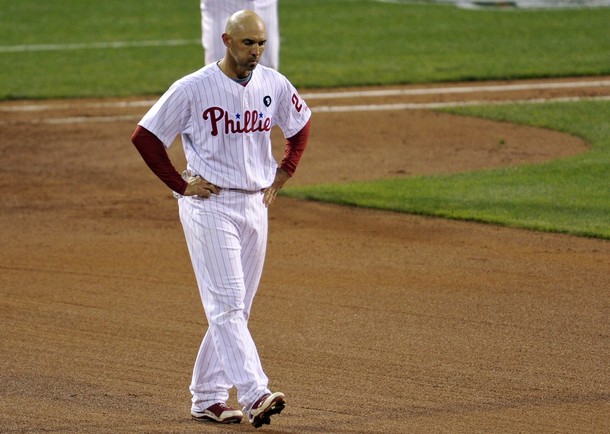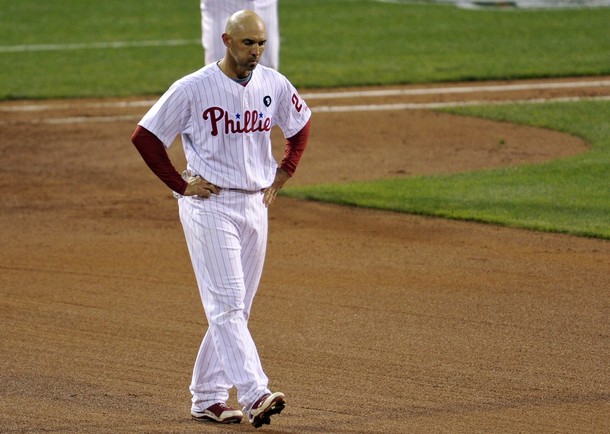 The 2011 Phillies  won a franchise record 102 games in the regular season. They finished the regular season with the best record in baseball. They assembled one of the strongest pitching staffs in modern history. They even pulled off a blockbuster trade at the July deadline to acquire the righthanded power bat that their offense badly needed.
They couldn't score one run in Game 5 of the NLDS, at home, with Roy Halladay tossing an eight-inning gem, to save their season. All they could muster was three measly hits. Red October lasted all of seven days this year.
Everything this team has accomplished since April is all for nothing now. They'll go down as one of the most disappointing teams in Philadelphia sports history. What they'll be remembered for is how small they came up when it mattered most. Collectively, this team just flat out failed. Maybe they just expected the World Series title to be handed to them, and something like an NLDS victory was simply a given.
Most disappointing was the failures of the offense. The lineup as its currently constructed just isn't good enough to win a World Series. Two years in a row now, they've let down in the postseason. As a group, they have such a feeble, undisciplined approach to every at-bat. They swing at terrible pitches, and they rarely make a pitcher work.
In the fourth inning, Chris Carpenter began the frame by hitting Chase Utley with a pitch. Two pitches later, the St. Louis ace had two outs. Hunter Pence swung at the first pitch, and nearly grounded into a double play. Ryan Howard followed Pence with a soft lineout, again swinging at the first pitch.
Look at these batting averages in the postseason.
Hunter Pence (.211)
Ryan Howard (.105)
Raul Ibanez (.200)
Placido Polanco (.105)
Carlos Ruiz (.059)
The Cardinals had only one of their regular players, Lance Berkman, hit less than .200 in the series. And Berkman still managed to have a significant impact on the series, driving in four runs.
The lineup needs either develop a dramatically different, much more patient plate approach next season,  a major shakeup, or possibly both. The last two years have been difficult to watch. The way the lineup is currently constructed just isn't working, and they're the biggest reason for the team's failures in the last two seasons. Something has to change.