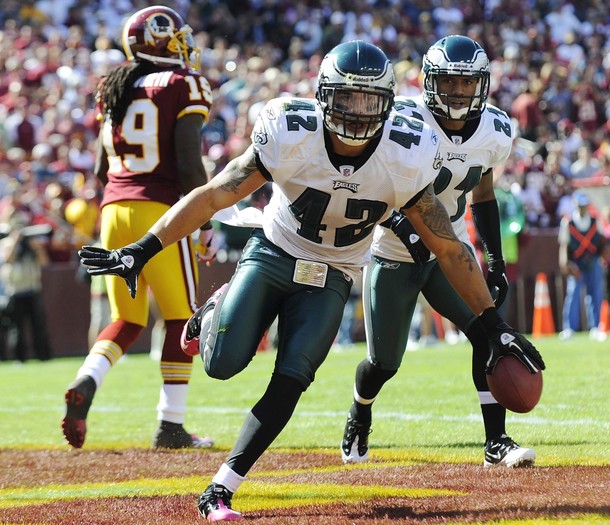 In what was a major change in production by the Eagles defense. They did a great job against the Washington Redskins running game. Juan Castillo and company came into the game with the goal of shutting down the Skins rushing attack and forcing quarterback Rex Grossman to beat them.
They did an amazing job of shutting down the running game. Castillo and his coaches made the adjustment of playing the "Wide Nine" on passing downs and moved their ends inside on running downs. Running downs are 1st down and ten, second down and four or less, and third down and two or less. Passing downs are second and six or more and third down and more than three yards.
The adjustment helped the Eagles hold Washington to only 42 yards rushing on only 14 carries. The success of the offense in controlling the ball in the first half and the way the defense was successful in getting off the field on third downs, limited what the Skins could do offensively. They barely had the football in the first half.
I thought the defensive linemen and linebackers were tremendous in maintaining the gaps which they were responsible for on running plays. Eagles linebackers Jamar Chaney, Brian Rolle and Moise Fokou attacked the line of scrimmage. They were reading their keys and getting to the football.
Numerous times, the Skins running backs had no chance to make it to the line of scrimmage. They were either gobbled up the penetration of the defensive line or tackled by the backers.
It was the game of a lifetime for Eagles safety Kurt Coleman, who picked off three passes. On the first interception,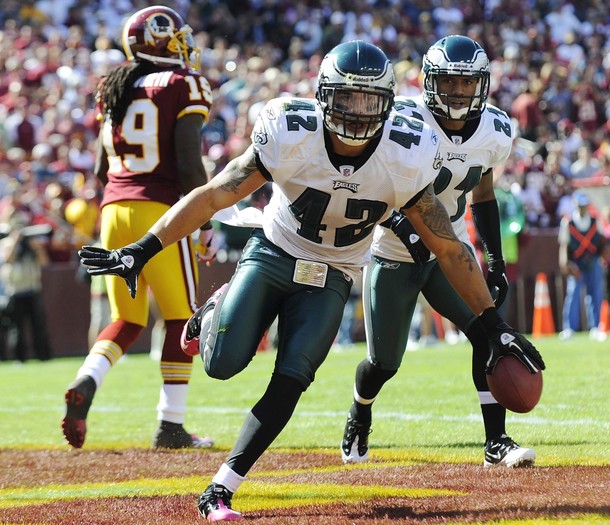 he made a great play by attacking the ball at its highest point. Redskins quarterback Rex Grossman was trying to get the ball to tight end Fred Davis, who was matched on middle linebacker Jamar Chaney going down the middle,
On the second throw, Grossman was throwing the ball underneath the coverage on a crossing, but Coleman read Grossman's eyse and broke on the football. Normally you don't see a safety making that play underneath.
The final interception was on a broken play, where Coleman was covering one of the tight ends. Grossman broke contain and rolled out to his left. It looked like he might run out of bounds or throw the ball away, but instead he threw the ball at the last second and Coleman was all over the throw.
Coleman's fellow safety Nate Allen also had a pick. He intercepted a deep pass by Grossman, which was underthrown. Coleman, Allen and their teammates did a good of tackling in the open field, which was like night and day in comparison to the way the team had tackled in previous games.