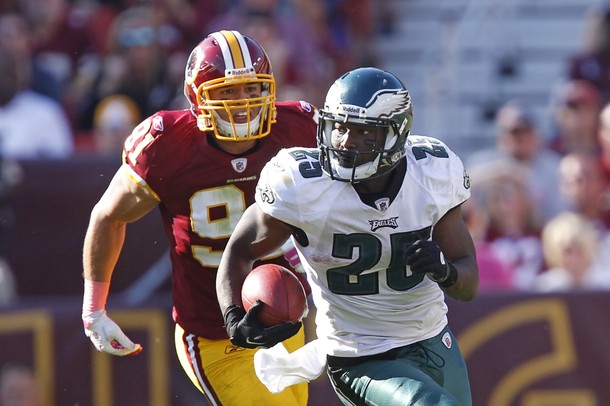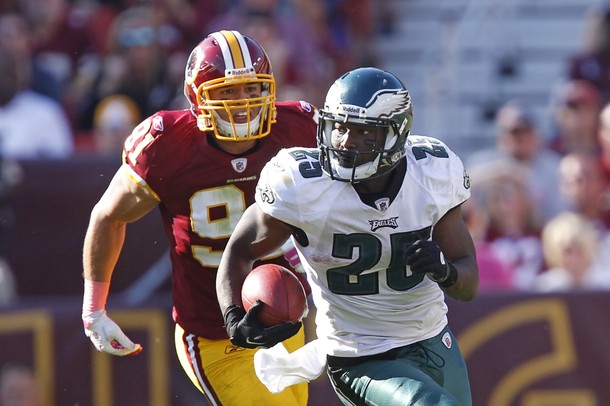 We definitely saw some good things in the Eagles 20-13 win over the Washington Redskins on Sunday, but we saw some familiar problems pop up as well. But, for a team with this much talent, you just hope to hang around and collect some wins so you're still relevant if and when you do fully right the ship as the season gets older. As horrific as the Eagles have been so far this season, they are still only two games out of first place. Yes, the NFC East is that bad. So, let's look at the game:
What I liked…
-You have to like the 28 carries for LeSean McCoy. I also liked the 126 yards and 4.5 yards per carry that came with it. While I've been singing McCoy's praises all season, I still wish he'd be a bit better at knowing when it just ain't happenin'. Sometimes, you just have to fall forward for a yard and like it. Tough to fault him though when his filthy cuts get him out of trouble so often. I've never been able to run like that so I can't pretend to know what it's like. But, 28 carries is horse-like and he's been able to stay on the field (knock on wood).
-Credit to Andy Reid for dialing up 28 runs for him.
-Of course there is love for Kurt Coleman. Most seventh-round draft picks don't see the light of day in the NFL, let alone earn a starting spot and pick off three passes in a single game. Last time it happened? Sure you've heard. Joe Scarpati did it in 1966. Unlike Jody Mac (who I do like) on the radio last night, I knew that Scarpati was also the holder on Tom Dempsey's 63-yard record field goal. Have a loudmouth in the office that thinks he knows everything about football? Ask him that one.
-And while we're at it, two other guys have made 63-yard field goals (unless I'm forgetting someone and I don't think I am). Jason Elam did it in 1998…who was his holder? Sebastian Janikowski did it in 2011…who was his holder? Tom Rouen and Shane Lechler respectively. Seriously, this is the kind of crap that I think about during the day. But it's great trivia.
-Sorry for the tangent.
-I have to give some credit to Nate Allen. Yes, he had the one interception and probably could have had another. But he was just around the ball more. We saw this from him at times last year before he got hurt. No, he probably won't knock you into next week or impress you with run support, but if he's flying around the ball and making plays in the passing game, I can live with that. Excellent game from the safeties.
-Great hit by Sheldon Brown on Chris Cooley. No. 24 knows how to lay the wood. Seriously though, great tackle Nnamdi.
-How about that catch by Brent Celek? I give him a ton of credit for having the concentration (I don't give out plaudits like others who say "give him credit for sticking with the play." Like Chris Rock says about people bragging about paying their bills…"You're supposed to!") to haul in that pass. However, my enthusiasm is mitigated by the fact that he put himself in that position. It was a terrible first effort that he was able to salvage. It reminded me a lot of some of Aaron Rowand's spectacular catches that he's made in his career. Yeah, you made a brilliant catch because you had to make up for the bad break that you initially made on the ball. Still, Brent, that's highlight stuff. And overall, it was a bounce-back day for Celek, who has been missing in action all season.
-Thanks to the Eagles for making me look stupid on my Fantasy Football Advice Facebook page. Every time there is a sure thing, it doesn't happen. Ryan Torain had the juiciest matchup imaginable facing this Eagles run defense. And what happens? They not only do a good job shutting him down, but they jump out to a 20-0 lead, forcing the Redskins to throw and abandon the run. Thanks.
–This is how this team was designed. This is how they are supposed to operate. The offense, with all of their magic and weapons, jumps out to a quick and commanding lead. This forces you to throw into the teeth of the defense against Nnamdi, Asante and DRC (more on him later). Turnovers ensue.
-Was that Mike Patterson I saw busting through the line a few times? Where has he been?
-Have to give some credit to a much-maligned offensive line. No, they weren't perfect, but consider the circumstances. They were on their third left tackle this season. Third. Todd Herremans has been amazing. For those that think it's easy to move around on the o-line, you're out of your mind. He was a left guard his entire career. This year? Right tackle. Oh wait, now we need you to play left tackle. This is not easy to do. Then you throw a rookie center in there next to a rookie right guard. Your right tackle hasn't played football at all this year. Add all of that up and they did an admirable job.
…and not so much…
-Watching the Raiders and the Browns reminded me of why the Eagles could be in so much trouble this season. Did anyone see the play where Jason Campbell broke his collarbone after running up the field? He dove head first into some defenders and now he's done for the year. It was a carbon copy of how Vick "slides" when he runs. The next play could be the end of the season for the Philadelphia Eagles. I watch guys like Aaron Rodgers throw their leg forward, tuck the underneath their bum and slide safely with no contact after running. Are you going to tell me that Rodgers has some magic powers? That he possesses some athleticism that Vick doesn't? That Vick – as he claims – isn't capable of sliding because he doesn't know how? You're lying to our faces Michael, all in the name of bravado. Because that's "how I play the game." Well, then maybe you aren't the guy to lead Philly to the promised land. Forget playing the position of quarterback, you aren't even smart enough to take care of your body because it carries the hopes and dreams of so many others (and I'm not even talking about fans; I'm just talking about teammates). It's beyond selfish.
-Because we saw what happened when Vince Young had to be on the field for as little as three minutes. He made a terrible decision to try to throw deep in his own territory while being tackled. Oh, and Jeremy Maclin wasn't anywhere near being open. It's probably mostly due to him not being on the field for so long, but still, you got a glimpse of what the Eagles will look like the next time Vick gets Jason Campbell'ed.
-A 20-0 lead in the first half is great. But…again…not one point in the second half? What is the problem here? The Eagles won this game because Rex Grossman saw to it that they did. His decision making with the football was absolutely terrible. Sure, give the Eagles defense credit for playing better, but Grossman should get a Christmas card from Andy. If the Redskins remotely get competent quarterback play, the Eagles are 1-5.
-I'm not ready to let Juan Castillo off the hook by any means.
-What was that first five minutes all about? Glad they settled down, but that was a joke. Vick was barely outside the tackle box and could have easily been called for intentional grounding. I think the roughing the passer call was correct though. They did give him the business.
-What does DRC do? He made a decent play on a deep ball at the goal line, but I could argue that ball should have been caught. I'm not saying that this is the case, but does anyone else get the feeling based on looking at him that he'd rather be doing something else? He should have had an INT to take to the house, but he dropped it. That second-round pick looks like the star of the Kolb trade.
-At what point do we stop blaming the Dion Lewis's and Jorrick Calvin's and start looking at Bobby April's kick coverages/blocking. This team cannot return a kickoff to save their life. Sure, there are new rules in place, but Brandon Banks found some room yesterday. The Eagles couldn't return a kick before the new rules were instituted. This is a big problem for me. Your offense is at an immediate disadvantage from the jump. And it goes back to even McNabb's time in Philly. In 2009, when they were getting mopped up by Dallas at the end of the season, so many of their drives started around the 10-yard line. This has to stop. It's so easy to blame Andy and Juan for this team's problems (it really is), but when does April's name get brought up? What's he done?
-Brian Billick had a bad day on Sunday. Does he know any of the players' names? He fumbled all over himself during the broadcast.
-One would have to think that the Redskins are not heading in the right direction. Rex Grossman isn't as bad as people make him out to be, but he was as-advertised on Sunday. 9/22 with 4 INT's? Yowzer. And if they think John Beck is taking them anywhere?
Okay, that's all for now. The Eagles got a win and head into their bye week with two weeks to prepare for the Dallas Cowboys. Another division win would go a long way. I still have major issues with this team, but we can kind of/sort of relax…for now.