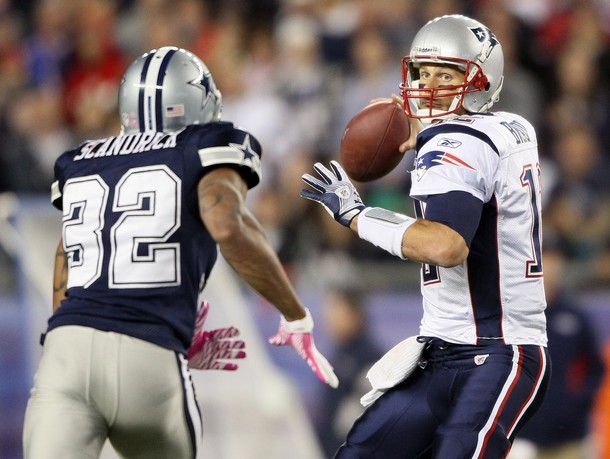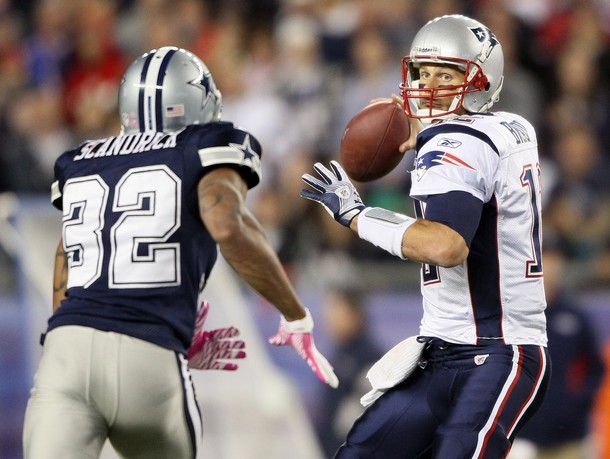 Last Week: 9-4
Overall: 59-31
Washington @ Carolina
It's amazing how quickly fortunes can change in the NFL. A week ago, the Redskins were sitting on top of the NFC East with a 3-1 record, and though they weren't winning pretty, they were still finding ways to pull off tough victories. A week later, while still at the top of the division, the team looks like they're in trouble. Washington has made a change at quarterback after Rex Grossman buried the team against the Eagles in Week 6 with four interceptions. The team will now turn things over to John Beck, who will make his first start since 2007. If this team has no stability at quarterback, they'll quickly plummet to where everyone thought they would be, the cellar of the NFC East.
Cam Newton has been great so far for the Panthers, but last week was a game that he'd like to forget. The rookie was short on electricity and big plays last week, and went through some growing pains, throwing three interceptions in a loss to the Falcons. Carolina still managed to lead Atlanta at the start of the fourth quarter, but allowed the Falcons to score 17 unanswered points.
I'm surprised that the Redskins pulled the plug on Grossman so soon. While he wasn't playing great, he still played well enough to get them to an impressive 3-1 start. He isn't the long-term solution, but he gives them the best chance to win right now. It's a strange move to go to Beck so soon, especially with the team still sitting on top of the standings. I think Cam Newton rebounds this week, while Beck struggles.
Pick: Carolina
Seattle @ Cleveland
The Seahawks went into their bye on a high note with a 36-25 road win over the New York Giants, fueled by a strong effort from the defense, which forced five turnovers. They also turned in a respectable effort the week before in a losing effort to the Falcons in which they put up 28 points. Seattle's offense has been noticeably stronger since Sidney Rice has returned from his injury.
The Browns fell to 2-3 last week with a 24-17 road loss to the Raiders. Colt McCoy threw for over 200 yards and two touchdowns, but the Browns left several special teams breakdowns doom them. They allowed Jacoby Ford to return a kickoff for a touchdown, and allowed the Raiders to score a touchdown on a fake field goal late in the game.
I don't think Seattle is capable of sustaining the efforts that they put up in their last two games. If not for a slew of Giant turnovers, the Seahawks would have had no business competing with New York last week. I think the Browns put together a solid effort at home to get back to the .500 mark.
Pick: Cleveland
Atlanta @ Detroit
The Falcons were in desperate need of a win last week, and they put on a 17-point fourth quarter rally to get past the Carolina Panthers. Michael Turner pounded the Panther defense for 139 yards and two touchdowns, and the Falcon defense did their part by forcing Cam Newton into three interceptions. The bad news for the Falcons is that once again they weren't able to get much out of Matt Ryan. He threw for only 163 yards, and continues to have a disappointing season.
The powerful Lion offense sputtered for the first time all season, and only managed to score 19 points in a surprising home loss to the San Francisco 49ers. Running back Jahvid Best was knocked out of the game with a concussion, and is expected to miss some significant playing time, which is bad news for the playoff hopeful Lions. Calvin Johnson was also held without a touchdown for the first time all season.
It's going to be challenging for the Lions to succeed without Best. Teams will now be able to take their attention away from the Detroit running game, and put all of their efforts into shutting down Johnson. The Falcons get the first crack at the wounded Lions, and the opportunity to beat one of the stronger teams in the NFC would go a long way towards building the confidence of an Atlanta team that has struggled against quality opponents. Even though the Lions will be without Best, I don't think Matt Ryan is playing well enough to win this game, and I don't think the Falcons secondary can limit the damage that will be done by the Detroit air attack.
Pick: Detroit
Denver @ Miami
Denver fans are finally getting their wish. Tim Tebow is getting his crack at the starting job, and he'll make his first start in the state where he enjoyed an extremely successful college career with the Florida Gators. In a strange sort of irony, the Dolphins will be even be putting on a ceremony at halftime to honor the Gator Championship team that Tebow led several years back. The Broncos haven't made things any easier on Tebow by trading away one of his starting receivers, Brandon Lloyd.
The Dolphins are just a train wreck of a team right now. They've lost their starting quarterback, there's been speculation that coach Tony Sparano could be fired as soon as Monday, and there just isn't much that has gone right for this team in 2011. New starter Matt Moore threw for just 204 yards and threw two interceptions in his first start of the season against the Jets last week.
I think that if the Dolphins are going to get a win this season, this has got to be the game. Denver enters with a new starter at quarterback, and they've just dealt away one of his best weapons. The Bronco defense is still very poor, so Moore should be able to move the ball and put up points as long he keeps his mistakes to a minimum.
Pick: Miami
San Diego @ New York Jets
Record wise, the Chargers have avoided another slow start. They're 4-1, and for the first time in several years aren't trying to dig themselves out of an early season hole. However, they haven't exactly been winning in dominating fashion. They've struggled in the last few weeks to put away teams like the Broncos and Chiefs, and even had some trouble in their season opener against the Vikings. Winning ugly is better than not winning at all though, and this is a team that typically gets stronger as the year goes on.
The Jets are a team that would love to have a couple of ugly wins after some of the struggles they've been through over the last month. They went through a rough stretch, losing to the Raiders, Ravens, and Patriots, and have been getting noticeably poor play from quarterback Mark Sanchez. Even in last week's win against Miami, Sanchez was only able to put up pedestrian numbers, 201 yards and one touchdown. With a lack of support from the running game, the Jet offense is having trouble putting up points.
I expect the Jets to really bounce back this week and deliver a strong performance. They need to beat a quality opponent to get themselves right, and the Chargers are a team that they've matched up well against in recent years. With San Diego not playing particularly well themselves, I think they're due for a bit of a let down performance, and I think the Jets win at home.
Pick: New York
Chicago @ Tampa Bay
The Bears were in a must-win situation last week against Minnesota, and they came through with a strong performance, taking down the Vikings 39-10. Jay Cutler threw for over 250 yards and two touchdowns, his best performance since Week 1, and the Chicago defense shut down Adrian Peterson, limiting the star running back to just 39 yards on 12 carries.
A week after getting humiliated by the San Francisco 49ers in a 48-3 loss, Tampa Bay rebounded with a huge upset victory over the New Orleans Saints 26-20. Josh Freeman came back from a terrible effort in San Francisco to play one of the stronger games in his career, putting up 302 passing yards and two touchdowns. Running back Earnest Graham stepped up and filled the void left by the injured LeGarrette Blount, and rushed for over 100 yards. It was an impressive, and badly needed for victory for the Bucs against a contender.
I think that last week's win over the Saints was a bit of an anomaly. While Tampa Bay is certainly good enough to jump up and surprise a team like that on any given week, they aren't talented enough to do so on a regular basis. They'll face a much stronger defense this week, and if Jay Cutler can turn in another strong performance like he did a week ago, I like the Bears in this game.
Pick: Chicago
Houston @ Tennessee
The Texans have hit a rough spot in their schedule. They've now lost two in a row, and are still without their elite wide receiver Andre Johnson. Matt Schaub has struggled a bit in the last three weeks, throwing for under 250 yards in two of the last three games. Last week Houston's offense was completely overmatched against the defense of the Baltimore Ravens. Not only did they have trouble with the air attack, but they also struggled to get anything going on the ground. They'll now battle a division opponent, the Tennessee Titans, who are fresh off of their bye week.
When the Titans were last seen, they were taking a pounding at the hands of the Pittsburgh Steelers. Chris Johnson was once again held to under 100 yards rushing, and has only 250 rushing yards for the season. Quarterback Matt Hasselbeck's play has been what has made the Titans relevant so far. He's thrown for over 1,400 yards and nine touchdowns in five games, and has brought a sense of stability to the offense.
The stakes are pretty high for both teams. This game will have a major say in the outcome of the AFC South. Both teams haven't been playing well entering the game, but the Titans have just had their bye week to sit back and prepare for this game. I think the Texans are really missing Andre Johnson, and their defense is going to miss Mario Williams as well. Both teams will play well in this one, but I give the edge to the rested Titans at home.
Pick: Tennessee
Pittsburgh @ Arizona
The Steelers were able to sneak past the Jacksonville Jaguars last week with a 17-13 win at home. Pittsburgh jumped out to a 17-0 lead in the first half, and then went on cruise control, just barely hanging on as the Jaguars did their best to make things interesting. The good news for the Steelers last week was that running back Rashard Mendenhall finally broke out of his season-long slump, and put up 146 rushing yards and a touchdown.
Things haven't been going well for the Arizona Cardinals. Through six weeks, they are 1-4, already three games behind the San Francisco 49ers. Quarterback Kevin Kolb seems to be getting worse each week. He began the season with a 300-yard, two touchdown effort, but since then he's thrown just three touchdown passes and six interceptions. Now he'll have to face one of the toughest defenses in the league.
Things aren't going to get any better for the Cardinals this week. Facing the strong defense of the Steelers will be too much for Kolb to handle. He'll make more mistakes, and the Cardinals will plummet to 1-5.
Pick: Pittsburgh
Kansas City @ Oakland
The Chiefs have quietly played much better football after being blown away in the first two weeks of the season. In their last game, Kansas City rallied from a 17-0 hole in the first half to take down the Colts 28-24 on the road. Matt Cassel played what was easily his best game of the season, throwing for 257 yards and four touchdowns.
It's the beginning of a new era in Oakland. The team pulled off a shocking trade this week, landing former Bengals quarterback Carson Palmer. The former top draft pick has been out of football all season, refusing to continue his career with the Bengals organization. He's expected to step in immediately and take over as the team's starting quarterback. Last week the Raiders pulled off of gutsy victory, finding a way to defeat the Browns at home. Special teams played a crucial role in the win, the Raiders scored touchdowns on a kick return and a fake field goal.
Palmer is going to start, but he's going to be rusty after spending the whole season away from the game. However, a rusty Palmer is still a far better option than Kyle Boller. Even though the Chiefs have been playing better as of late, I think the Raiders have a lot of momentum and energy on their side right now, and I think they find a way to pull off another tight victory.
Pick: Oakland
St. Louis @ Dallas
The Rams have to me one of the most demoralized teams in the league right now. They've been placed in to such a deep hole because of their injuries and the insane difficulty of their schedule. This week they'll go on the road to face another team that just vastly outclasses them.
Dallas put up a great effort against the Patriots last week. Their defense played one of their stronger games of the year, limiting the Patriots to just 20 points, but they did fall victim to a Tom Brady game-winning drive in the fourth quarter.
Dallas should be able to roll to a victory without much trouble this week. The Rams have been battered and beaten by their schedule, and aren't in any position to win this game.
Pick: Dallas
Green Bay @ Minnesota
Another week, another dominating effort from Aaron Rodgers and the Green Bay Packers. The only remaining undefeated team in the league handled the hapless Rams with minimal effort last week, 24-3. Rodgers threw three quick touchdown passes in the first half, and that was enough to take St. Louis out of the game.
After another embarrassing loss, the Vikings have decided to pull the plug on veteran quarterback Donovan McNabb, and turn things over to rookie Christian Ponder. Things got ugly fast for the Vikings in last week's 39-10 loss to the Bears. Adrian Peterson was only able to rush for 39 yards, and McNabb continued to perform at a mediocre level, leading to a benching in the second half.
Ponder is being thrown to the wolves here. It's a lot to ask of a rookie to come in and perform well against an undefeated team at the level of the Packers. Green Bay shouldn't have trouble getting to 7-0.
Pick: Green Bay
Indianapolis @ New Orleans
The Colts took another loss last week, falling in Cincinnati 27-17. Curtis Painter and the offense struggled against the tough Bengals defense. Painter threw for only 188 yards, and also threw an interception.
The Saints went into let down mode last week, allowing Tampa Bay to outplay them in a 26-20 loss. It was the second loss of the season for the Saints, and they allowed things to tighten up in what is now a three-team race for the division title between themselves, Tampa Bay, and Atlanta.
The Saints completely overmatch the Colts on paper, and coming off of a bad loss, they'll come out in this game with a purpose. Indianapolis has given respectable efforts since Painter took over for Kerry Collins, but they just aren't anywhere near explosive enough to contend with the Saints.
Pick: New Orleans
Baltimore @ Jacksonville
The old Ravens defense is back. This unit is playing at such a high level right now, its reminiscent of the 2000 Super Bowl team. They're capable of shutting down high powered offenses, and winning games on their own, making the Ravens a very dangerous team. Last week they shutdown Matt Schaub and the Houston Texans in 29-14 win.
The Jaguars hung tough against the Steelers last week, and even though it was a lazy effort from the Steelers offensively, you have to give credit to Jacksonville for making it a four-point game. Blaine Gabbert threw for just 109 yards in the loss.
Gabbert is going to have his hands full against what might be the best defense in the league. The Jaguars won't be able to put up many points against this defense, and this should be a game that Joe Flacco and the offense breaks out.
Pick: Baltimore