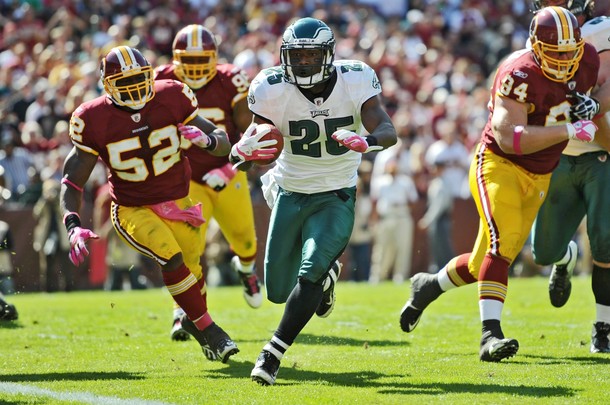 The Philadelphia Eagles won a football game this past Sunday. Six weeks ago, that sentence was supposed to be something of commonplace in the city of Philadelphia during the 2011 season. Unfortunately, this hasn't been the case.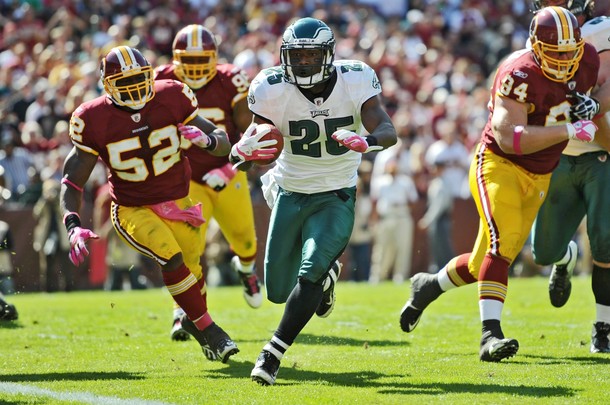 The Eagles, for all their talent and off season acquisitions, have failed to live up to the preseason hype given to them from pundits both locally and nationwide. Even their own backup quarterback deemed this to be a "Dream Team" long before they ever suited up to play a meaningful game together.
Since then, we've seen a new defensive scheme that must have the late great Jim Johnson turning in his grave. The responsibility of planning and executing this new scheme was given to a guy who hadn't coached on the defensive side of the ball since he was a high school football coach during the Reagan Administration.
Needless to say it's mostly been a disaster. Nnamdi Asomugha, easily the cream of this year's free agent crop, has been asked to occasionally play away from his strengths. People were expecting him to settle in as the next in a long line of stellar defensive backs with names such as Vincent, Allen, and Taylor. Instead, he's looked more like Izel "Toast" Jenkins at times while being forced to play a style of defense that isn't particularly his strong point.
When the new defensive coordinator, Juan Castillo, was asked about this, he stated that Asomugha could see his playing time reduced until he fully learned the new defense. The Eagles defenses of the past lived on pressuring the quarterback through a variety of blitzes. This year, they are relying on an alignment known as the "Wide Nine". It's a philosophy that can work, but only when your defense has strong linebackers who can help stop the run.
If there's one thing we've learned during the Andy Reid era, it's that, more often than not, the team's linebackers will not be one of its strong points. As a result, opponents have had tremendous success running the ball against the Eagles. Two weeks ago against the 49ers, a banged up Frank Gore tore through the Birds front seven to the tune of 15 carries for 127 yards and a touchdown. Fred Jackson of the Buffalo Bills followed that up last week with 26 carries for 111 yards and a score. The Eagles made adjustments last Sunday against the Redskins and did a great job overall stopping the run. In order for them to be successful after the bye week, they must build on the solid defensive play they produced yesterday.
Offensively, the Eagles have pretty much been what everyone expected. They are an explosive unit, which sometimes can be more of a detriment than an asset. At times this team has relied on the big play too much and it has resulted in quick three and outs or costly turnovers.
Earlier this week against Washington, however, the offense was as balanced as it's been in years. They controlled the ball for 38:08, which was the longest an Eagles offense held the ball in a game since the 2001 season. It shouldn't come as a surprise that this impressive attack was led by LeSean McCoy's 28 carries and 126 yards. When #25 gets the ball good things happen.
McCoy has shown early in the year that he is on his way to being one of the top 5 running backs in the entire NFL. He can run the ball, catch the ball, and do everything necessary to give Brian Westbrook a run for his money as the best all around running back in franchise history. Andy Reid has never been in love with the ground game, but in order for this offense to be successful, he has to realize that giving the ball to McCoy is the way to go. Michael Vick has struggled at times with his accuracy and turnovers. In the red zone, the Eagles don't have that big,
Plaxico-esque big guy to throw the ball to. So if they want to be consistent in scoring touchdowns, giving the ball to Shady is a must. It also remains to be seen how the offensive line holds up the rest of the season. Coming in, this group was a huge question mark, but in recent weeks they have done much better at protecting MV7. The return of Winston Justice was huge yesterday as he held Redskins linebacker Ryan Kerrigan in check for most of the day. If Howard Mudd can continue to get his unit to improve and play at a high level, the rest of the offense will flourish.
The first six weeks of the Eagles season was a disappointment. Going into the bye, it's important to get healthy and to continue to build on Sunday's 20-13 road win at Washington. October 30th brings Dallas to town and if Andy wants to keep getting back into the good graces of the Philly faithful, he must have his team ready to play. History has shown that Andy Reid is really good when he's given two weeks to prepare for an opponent. His teams' also generally play their best football in November and December. If these trends continue, the first six weeks of this 2011 season could end up being an afterthought in what may still be a "dream" season.
Hey Andy, times yours……..to turn this thing around.