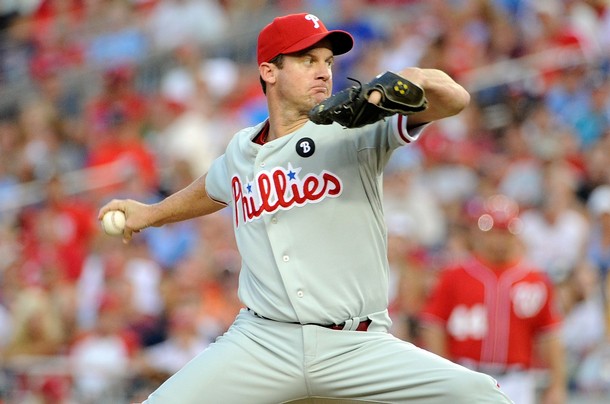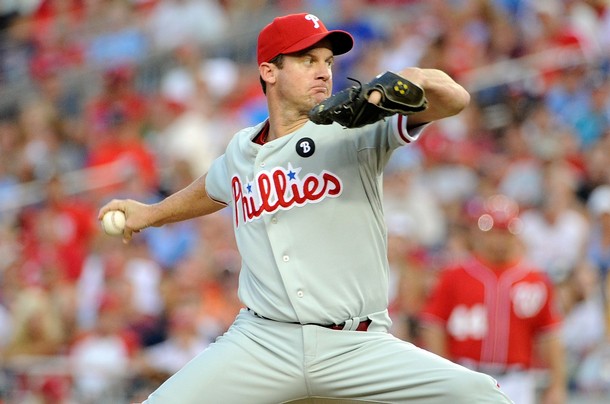 The Phillies made their first significant moves of their offseason today, declining club options on starting pitcher Roy Oswalt and reliever Brad Lidge.
Oswalt was due to make $16 million, and Lidge was set to take in $12.5 million. The Phillies will instead pay the two former Astros buyouts of $2 million and $1.5 million respectively. Neither move comes as a big surprise. Both pitchers have seen their skills decline significantly, and the team needs all of the payroll flexibility they can get.
Acquired from Houston at the 2010 trade deadline, Oswalt went 7-1 with a 1.74 ERA in 12 starts in first season with the Phillies, and also went 1-1 with 2.75 ERA in three postseason starts. However, the 2011 season wasn't kind to the veteran. Nagging back problems kept him out of the rotation and on the disabled list for most of the regular season. He still finished the season with decent numbers (9-10 record, 3.69 ERA), but clearly wasn't as effective or reliable as he had been in 2010. His lone 2011 playoff start went poorly, giving up five earned runs in six innings and taking a loss.
It could be the end of the line for Oswalt. There was talk before the season that he may decide to retire after one more run at a championship, and after experiencing what he went through with his back, it wouldn't be shock if he calls it a career. He's still effective enough to go somewhere and be an effective member of a rotation, but his days of being considered an ace are behind him.
Brad Lidge will forever be remembered for his incredible 2008 season, converting all 48 of his save opportunities (regular and postseason combined), and for being the man who famously struck out Eric Hinske to end to officially end the championship drought in Philadelphia. After 2008, he average at best, struggling to overcome injuries and mechanical issues, while also learning how to pitch effectively despite losing significant velocity on his fastball. After recording 48 saves in 2008, he earned a total of 68 saves in the following three seasons combined.
Despite losing his closer's role to Ryan Madson, Lidge proved he could still be an effective reliever in 2011. He posted an ERA of 1.40 in 25 appearances, giving up just three earned runs in 19 innings. He should be able to find himself a spot in a bullpen somewhere in the majors, perhaps even back in Philadelphia for the right price.