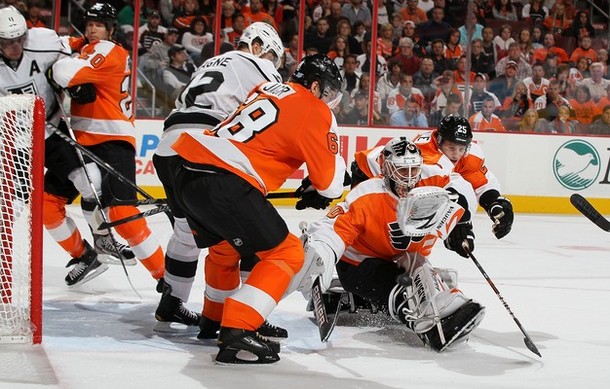 Many of us were excited for the Flyers season to begin in order to see what the team would look like with a new core of players and a new bonafide goaltender. Many of us were nervous for the Flyers season to begin because we thought the lack of Mike Richards and Jeff Carter made for a long season that would end in April and the team would have to build toward next year.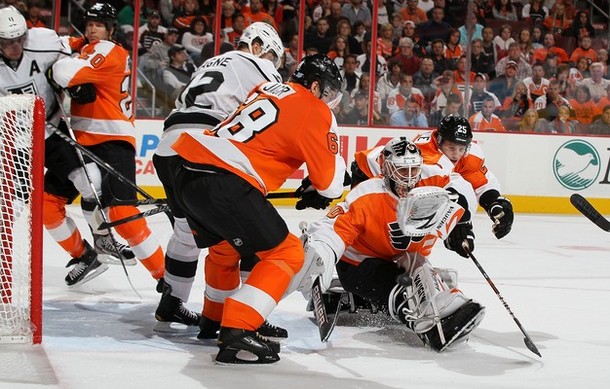 I think many of us are surprised right now. At this point, the Flyers are 5-2-1 with 11 points. Not exactly terrible, right? They started off the season with a win in Boston, something none of us really expected. But the Bruins have struggled to start the year, so we could be overemphasizing that win, even though it was in Boston. The Flyers also had their first shutout since May 2010 when Ilya Bryzgalov blanked the Devils 3-0.
A good start to the year took a not-so-desirable turn when Mike Richards assisted on a game-winning goal for the LA Kings in overtime that gave the Flyers their first defeat of the season. After a 7-2 win against a pathetic Senators
team, the Flyers played probably their two most boring games thus far of the early 2011-2012 season. I wasn't happy with their effort against the streaking Washington Capitals, who are 7-0 for the first time in franchise history, as they lost a brutal third period and got blown out 5-2.
Then, they played the most uninspired game of hockey I've seen them play since the playoffs against Boston, losing 4-2 to the Blues. This was concerning to me only because we didn't have Mike Richards or Jeff Carter on this team. Without those guys, I thought this team would be hungry every game and try to win every game. The uninspired effort last Saturday night left a sour taste in my mouth.
Then I sat back and recapped their season after seven games. They were 4-2-1, definitely not a bad start. After a 3-0 start, I think a lot of us expected the chemistry was already there, the goaltending was back, and the Flyers were going to streak early and be a frontrunner for the Eastern Conference, much like they were last
season.
But after two bad losses in a row, I was a little bit relieved. I didn't want to get caught up with this team this early.

It's going to take months before this team gets going on all cylinders. Bryzgalov not being on the same page with his defensemen is proof of that. He's going to need time to adjust and not become a Vezina candidate right away.
The best part of the struggle is the time of year it's happening. It's almost written that it needs to go this way. Struggle early in the season, find the chemistry, go on a run into the playoffs. Of course, at 5-2-1, that's not much struggling. But in those two regulation losses, there left a lot to be desired. We know the goaltending communication with the defense is going to take time. Sergei Bobrovsky seemingly worked out his communication issues that he had last year with the defense, and has been brilliant thus far. However, with $51 million invested in Ilya Bryzgalov, I doubt we'll be seeing a goaltender controversy this early in the season.
I wrote yesterday that Chris Pronger would likely get injured this year, and that meant the defense had to step up in his absence. Pretty crazy timing, right? Seeing Pronger get hit in the eye with a stick and then screaming in pain as blood streamed down his hands on his face while skating straight to the locker room, the Wells Fargo Center
got deathly quiet. A pin drop was heard. It even took the Flyers some time to get their legs back, as they took
control of the game in the second period. I, as well as others, feared that Pronger's career was definitely in jeopardy, especially recalling Barry Ashby and Bryan Berard's injuries. Luckily, Pronger is expected to return in two to three weeks, and will wear a visor. I had a similar injury in high school after being kicked in the eye with a kickball. Yeah, stupid.
But this is better that it's happening in October, right? Jaromir Jagr and Scott Hartnell found their goal-scoring last night, scoring a pair each. Jagr had three breakways, scoring on two of them, then doing his patented Jagr salute. I couldn't help but smile and think that this was going to be a good year. The Stanley Cup might not come
to Philadelphia. But it might. One thing for sure about this team, the chemistry will be different, and we won't know how far the chemistry will take us until June.