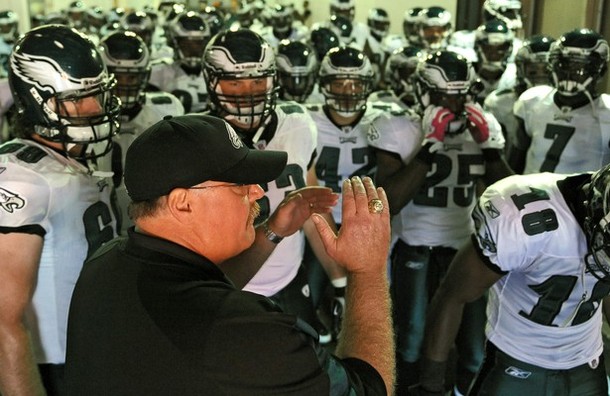 Is Andy Reid really a terrible coach? Does he really not understand winning football? Can he take the Eagles to an eventual Super Bowl championship?
No, no, and yes.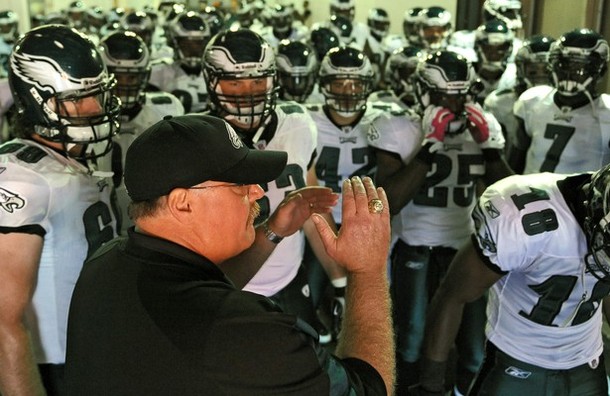 As much as we criticize Andy Reid for his game-day coaching, his lack of running the football, and his constant playoff failures in recent years, there is one thing many of us overlook simply because we all don't care about it. But Reid's players are loyal. Reid is always loyal to his players while dealing with the media, but when a move is made like Ronnie Brown being traded weeks after a pass option fail, we all know Reid isn't exactly blind to stupidity.
Does he need to put his players in a better position to succeed? Yes, every coach does. If they did, we would have more Saints-like offensive games with 60+ points being scored if every coach put each of their offensive skilled players in a better position to succeed.
But us fans don't like what he doesn't tell us. Andy Reid after the game, his day-after press conference, and his coach's show on 94WIP all return the same message to the media and the fans– nothing. And I'm OK with that. I realize what Andy Reid is doing by not saying anything.
It just doesn't work in a city like Philadelphia. The Eagles are the last team in the city to not have a championship. The NFL Championships from the 40's and 60's don't count apparently, although I don't know why. But an Eagles Super Bowl championship is the final hurdle of this city, and Reid has been here 13 years and failed to win one. So naturally, his attitude is what the fans are getting sick of and calling for his firing.
But Jon Gruden isn't the answer. Tony Dungy isn't the answer. Bill Cowher isn't the answer. The answer is simply,
better game-day coaching. Better players. After 13 years, I think Reid has lost some of his power within the organization because of his failures in recent years. I don't think that's a good thing. Howie Roseman making personnel decisions is scary. His last two drafts have been absolutely unremarkable. And I don't think that's Andy's fault.
I admire Reid for taking on all the criticism by the fans and media because he wants his players focused and not worried about the outside world. That's admirable. But at the same time, I think he lost his courteous side and doesn't care what the media or fans think about him. I don't think that's the right attitude to have in this town.
There's a way to say a lot by not saying anything, just look to Ruben Amaro, Jr. Andy is smart enough to know what's going on, I just think he cares about winning and when he doesn't win, we get the short end. If we weren't sensitive, maybe we'd look past it.
If Reid wins a Super Bowl, he can act any way he wants. I don't have to like it. But winning breeds good feelings. The Eagles haven't won a playoff game since 2009. They lost to the eventual Super Bowl champions last season and
played them closer than any other NFC team. Things like that stick in the crawl. We can be good enough if the
coaching is prepared on game day. And if the coaching continues to fall on game day, that's what the fans will continue to harp on.
We all know Andy is a good coach. His track record proves that. But if we can't win on Sunday or in the playoffs, it's ultimately the head coach who comes into question. The players are good enough to get them into the playoffs. The coaching should be good enough to keep them there.
If the players love Reid, they will leave everything they have out on the field. I want a coach like that to run my team. It may not have worked in 13 years, but if the players are good enough, and I believe that they are, they can win Reid his first Super Bowl.
Can Reid treat us better? Of course. He stood out in line and gave out coffee and doughnuts to us. Many media people tell us how great of a guy he is. I firmly believe that. But losing gets to him just as much as it gets to us. We should admire that. He doesn't want to tell us anything if he wins, and especially if he loses. As long as
he can become a better coach and win games, everything will be fine. I don't remember a game that Andy Reid single-handedly won. That's what fans realize. Is he good enough to get over the hump?
He has to be. He isn't going anywhere. He will leave on his own time. And I don't believe he will leave us a loser.