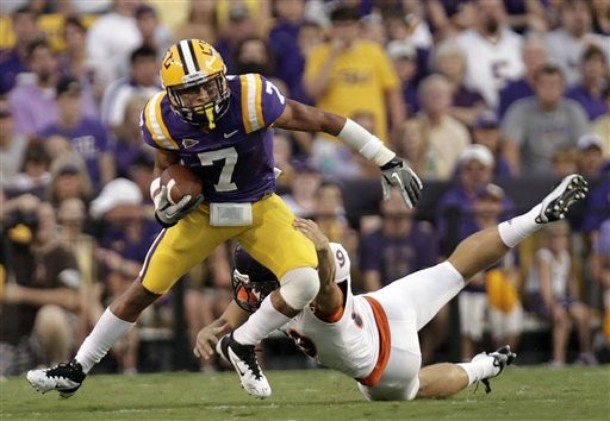 I know the Top 25 list keeps many college football teams alive and active. It's great for keeping up the interest in the sport. But in my opinion there are only a few teams that have a legitimate shot to win this season's BCS Championship. As you would expect, it's not a large list and the SEC is very well represented.
1) LSU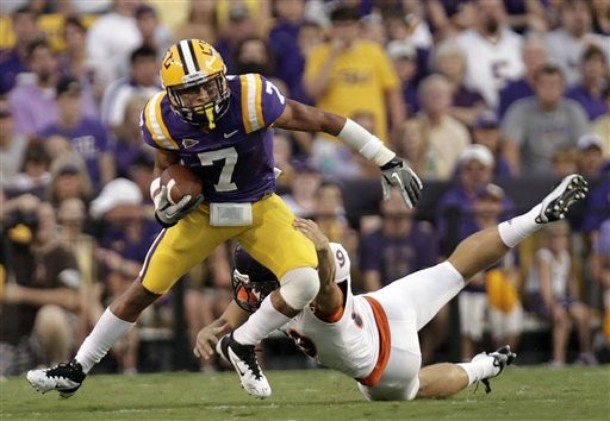 Suspend three key starters, no problem. Freshman Kenny Hillard brought a new look power attack in Spencer Ware's absence. Corner back Ron Brooks showed he can make plays without Honey Badger, Tyrann Mathieu. Mathieu was on some peoples Heisman watch list as a defensive back until the suspension. It appears at least that the quarterbacks are embracing the new two QB system. Lee hasn't looked real sharp his last two games and I can't help but think it is do to Jefferson looking over his shoulder. This team has destroyed 5 top 25 teams already. I don't think people realize this is one of the best teams we have ever seen. It all comes down to Nov 5th's showdown with Alabama. One of the biggest games in the last five years. I have LSU winning that one in case you haven't figured it out yet. They are just awesome.
2) Alabama
It seems like Nick Saban's half time tirade did the trick and Bama's offense looked sluggish against a very game
Tennessee squad. The Vol's stacked 8 men in the box and it had the Bama signal called a bit perplexed in the first half. But A.J. Mccarron made solid adjustments and the tide rolled in the second half. Next up #1 LSU Nov 5th
3) Clemson
Even at # 3 this team could STILL be underrated. They are so talented at the skilled positions. Currently the most dynamic offense in all of college football. Tajh Boyd ( QB ), Andre Ellington ( TB ) and Sammy Watkins ( WR ) are the best 1,2,3 combo I have seen in a very long time. They are by far my favorite team to watch. With three Top 25 wins already, they have four very tough games remaining and a probable rematch with Virginia tech in the ACC Championship. What a match up it would be to see Clemson LSU in the BCS Championship. That's my wish. And Luck may win the Heisman, but Watkins would be my choice .
4) Oklahoma State
Justin Blackmon is a beast. One of the top 10 best players in the college game. Brandon Weeden was just named as
a finalist for the Davey Obrien award as the top collegiate QB. Shawn Lewis is a monster at LB. There real test is coming December 3rd in Stillwater against the Sooners. Win out and they just may jump Clemson in the polls. Perhaps this is why we need a playoff ??
Best of the rest; Doesn't matter your national championship winner is above……
Key Games this week:
12:00 – Saturday Michigan State @ Nebraska ( -4 )
Michigan State has had an impressive last three weeks defeating Ohio State, Michigan and Wisconsin. Are they a legit top 10 team and will the magic continue this week.. UMMMM NO and NO. The Huskers will be too much in Lincoln. Black Shirts win and easily cover the Vegas line of -4 31-17 Nebraska
Baylor @ OklahomaState ( -16 )
The Baylor Bears visit Stillwater with something to prove. Many "experts say Robert Griffin ( 22td's 2 Int ) is the best QB in college football. I say WHATTTTTTTT Jesus no he isn't. Baylor has an impressive win on its Resume over TCU early in the season in one of the most exciting games all year. They also played a very good KansasState team down to the wire and lost 36-35. Griffin and the Bears are saying they have something to prove. My advice, wait a week and try that somewhere else. Oak State big …….. 55-31
Clemson ( -4 ) @ Georgia Tech
Paul Johnson's squad comes limping home after an embarrassing loss to the convicts of Miami. What can I say the Hurricanes dominated from start to finish. The play calling was just awful by Johnson. He was as predictable as Oprah Winfrey crushing the buffet at Sizzler. Georgia Tech came out of the gates firing and had a top 10 ranking just a few weeks ago. But as the Monkeys sing it so well" That was then This is Now" Look for Boyd, Ellington and Watkins to have a field day again this week. Vegas has the game being extremely tight. Vegas, I need some of that weed you are smoking. I actually thought about renting a brinks truck and driving across country to the Wynn Sports Book to unload my game of the year. We will see if it gets that status on Friday when my official picks are released. Clemson 58-G Tech 31
Stanford ( -9 ) @ USC
I have to say how impressed I was by Matt Barkley last week against Notre Dame. I have been hearing by the Buster Poindexter of college football Mel Kiper Junior and also someone who writes a local daily article that Barkley's pocket presence is weak. Let me tell you nothing is further fro the truth. I saw a QB who's eyes were always downfield going through his progressions and whose footwork was solid.
I didn't expect to like him as much as I did but I gotta tell ya minor man crush ( strictly on his football ability don't go get all excited my gay friends ) I am still playing for the home team but that's for another blog so I'll keep it to football. We could talk about Stanford's defense but lets face it, this game is Luck vs. Barkley. I know everyone has already put Andrew Luck in Canton but I'm just not that easy I need to see more. I do see him winning this rather easily though. Stanford 45 USC 24
Finally my Heisman Trophy Update:
Again I think this award is a joke. It never goes to the best player. The one thing I promise you is I always give you my own opinions. I do not rely on others or just go by stats. So with this award, its flat out who I think are the best players having a superb year:
1) Sammy Watkins WR Clemson
2) Alshon Jeffery WR South Carolina
3) Andrew Luck QB Stanford
4) Justin Blackmon WR OakState
5) Matt Barkley QB USC
Pro Blog tomorrow. Thanks to all who comment. The list has gone from 20 or so to start to over 600 reading this every week.