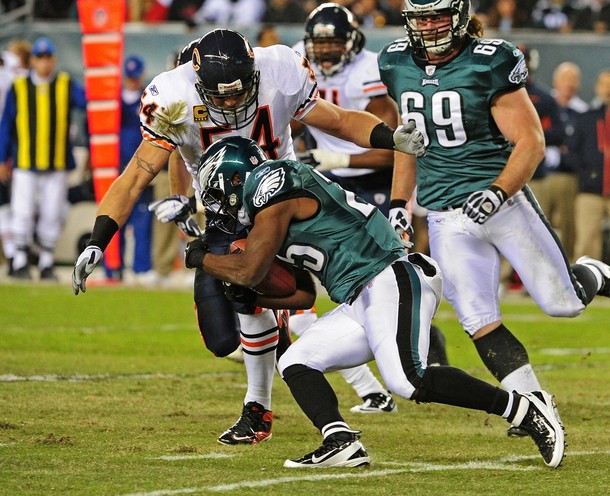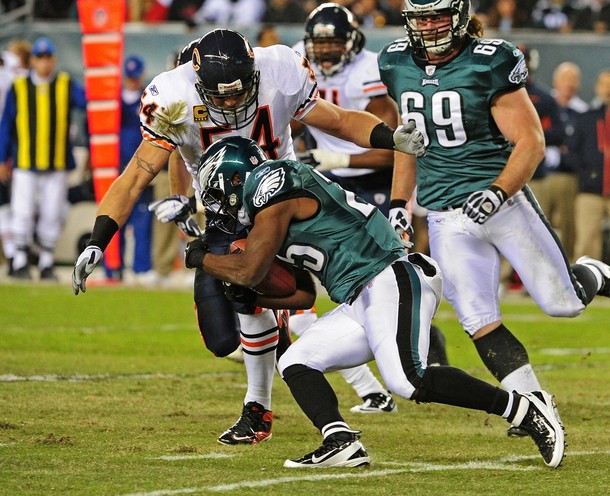 This Eagles loss would not have been nearly as bad if the New York Giants would have just done what they were supposed to and lost to the New England Patriots on Sunday. But, they won and so the Eagles now find themselves three games back in the division and in really poor shape in the overall playoff picture. This one was a signature 2011 loss for the Eagles: 4th quarter lead and plenty of finger pointing to go around. So, let's look at the game:
What I liked…
-LeSean McCoy was strong again. You get this guy a little space and he is absolute murder. Is he a top-five back in the NFL? It's easy to say yes right off the bat, but there is some stiff competition at the top when you start comparing the players individually. A.P.? He's No. 1. You have to also consider Darren McFadden (when healthy of course, that's why I give Shady the edge on him), Matt Forte, Ray Rice, MJD, Arian Foster, any-other-year Chris Johnson, and yes, even Fred Jackson. Where do you rank him?
-Hey! They even gave it to him on fourth and inches and he picked up the yardage with ease. They handed the ball off the right way (for once) in that situation, but we'll still give credit where it's due.
-I have to give this offensive line credit. The guy who was starting over Danny Watkins through the first few games was released, so that tells you something about Watkins' development. Jason Peters played very well. Todd Herremans might be this team's MVP when you consider where he's been asked to play and how he's performed. And he absolutely leveled Urlacher last night on a play where even Urlacher had to give him a fist bump. Considering how god awful this unit was starting the season, they've really picked it up.
-You have to love Matt Forte. I can't decide who is better between him and LeSean McCoy. Shady has the jaw-dropping moves, but Forte can drag people four yards before going down. Different skill sets, both are phenomenal.
-Excellent, excellent job on Devin Hester in the return game. They were better than touchbacks. Short, high kicks that let the coverage get there and nail him inside the 15-yard line a few times. Great job. Lofty job (had to get a little Peter King in there). Blueprint for the NFL-type job.
-Modern Warfare 3 comes out today. Have to like that.
-Nice to have Brent Celek return as an offensive weapon. Missed you, Brent.
-I liked the fake punt call. I did. It's a genius/idiot move. If you make it you're a genius, if you don't you're a moron. But, the fact that the play didn't execute didn't take away from the fact that I thought it was a good, gutsy call in a game that was a typical Eagles/Bears oddball game.
-Brandon Graham got close a few times. I'll give him credit. Hasn't played in forever.
-I like Mike Tirico. He doesn't have the great play-by-play voice of a Pat Summerall or Al Michaels, but he is locked into the game. One word I think of when I think of Tirico is "astute." He's paying attention, and I don't feel like all broadcasters do that. I remember in 2008 when DeSean Jackson crossed the goal line in Dallas on what would have been his first NFL touchdown, I instantly thought, "oh man I don't think he crossed the goal line with that." A split second later Tirico said something to the effect of, "did he have possession when he crossed the goal line?!" We know how that turned out. But, while I like Tirico a lot…
…and not so much…
-I realized a couple of weeks ago that I absolutely cannot stand to listen to Ron Jaworski and Jon Gruden. These two are absolutely horrific. "You want to talk about a big play in the National Football League, this guy makes big plays in the National Football League. Watch here as…" We're watching! I have the television set on and I'm watching. I promise. Like they went to the Paul McGuire School of Broadcasting. After every play, he'd let out a chuckle as if he was in on some sort of information that the rest of us didn't have and say, "I wantchu to watch sumpin' right here…watchiss….watch as he…." Sweet holy Moses. I can't stand it. And I've always respected Jaws' opinion, he's a very bright guy. But he seems to have Gruden rubbing off on him. They sound like the same guy and that same guy is just terrible. No insight whatsoever. I thought they were dating Lance Briggs for a while last night.
-Soooooo….where was the pass rush? They didn't get to Cutler once? It's easy to blame the secondary on some of those passes to pedestrian receivers (at best), but no NFL corner can run around with an NFL receiver for too long. Just can't happen. And how long do you need to see the pass rush not happening from the front four before you mix it up with some blitzes? I'm no defensive genius, Juan.
-DRC is a turd. He has enormous talent, but who cares? Did anyone else notice that he gave up a first-down pass and then stood there and sulked in the first half while everyone else brought him to the ground? My buddy EJ in Arizona was right when he texted me after the trade: "He's great…if you can get him to play hard." Well, he's not. I've seen him walking numerous times during plays this season. The good news is the Cardinals aren't exactly tap dancing about what they got either. At least the Eagles have that second-round pick to waste on an undersized defensive player who went to a no-name school and can't get off blocks. So yeah, there's that.
-I watched last night's game with a couple friends that know the game well. Numerous times after big Bears completions, we'd immediately complain about Nnamdi. Then we'd see the replay….that damn zone! This is my main complaint about Andy Reid and the Eagles. It's this! You brought in Nnamdi why? Oh, because he's an insane shutdown, man-to-man corner. And you are playing him in unfamiliar territory, which is the zone scheme. This is what I can't stand and I complain about it every week. You acquire a player because you like what he does and then you have him not do what he does. This make any sense to anyone else? I must be the dumbest person on the planet, because I cannot, for the life of me, figure this out. This is one of the biggest reasons for the Eagles year-in and year-out shortcomings. Greg Lewis never returned punts before. He'll be fine! Chris Gocong had 22 1/2 sacks at Cal Poly last year. Stand up and cover tight ends! Brandon Graham is probably a 3-4 linebacker at the NFL level. Let's trade up and make him a 4-3 end! What could go wrong!?
-Well, Juan, it was a quiet three weeks for you with a win, a bye and a win. Again, I don't blame you, buddy. You were an offensive line coach who some part-time moron (I say part-time because Andy is extremely intelligent in many areas. That's why he's so frustrating) made a defensive coordinator. I seriously have no clue what you are doing over there and by the looks of it, your players don't either.
-I mentioned the pass rush before, right? Good.
-How about that first drive? Andy Reid should send Mike Martz a Christmas card for being so insanely stupid. Why would you ever throw a pass after Matt Forte just trampled the Eagles defense in a way that Rush Limbaugh dreams about doing to the Occupy Wall Street protesters? How could Martz get away from that? I've spoken to a few players who played for Martz and their opinion is far from glowing. You know why Martz has an offensive coordinator position in the NFL? He gave Lovie Smith his first defensive coordinator position with the Rams when he was the head coach. I've spoken with people in the league that have confirmed that that's the only reason he has that job. He was out of the league before that.
-So yeah, the Eagles can't stop the run. At all. They stopped DeMarco Murray last week because the score got out of hand. The Eagles explosive offense is the only way they can stop the run. Why is that? Is it scheme? Nope, don't think so. Could it possibly have something to do with the fact that almost the entire front seven is undersized? Oh do tell!
-Soooo….when you scrap the Wide 9, Jason Babin goes back to being the Jason Babin that the Eagles had here two years ago? Let's remember that first-round pick Gabe Carimi was out and this Bears line is pretty awful. Just wanted to add that in there.
-Overall team tackling is just terrible. And I'm sorry, that isn't coaching. You're in the NFL. You got here for a reason. That's just poor.
-DeSean Jackson wants to get paid. Well, I want a pony. Is it me or is this guy regressing? Safeties playing deep are taking away the deep shot. So, what is he then? I mean besides a guy that is too lazy to secure the football on a punt return. If he muffed it, I'd understand. You didn't secure the football. Does he room with Maclin?
-Michael Vick is loads of fun to watch and has skills that 99.9% of athletes on the planet can only dream about. But, I don't know that he's the guy that will take the Eagles to the promised land. Reminds me a lot of Allen Iverson, who I was a huge fan of. On any given day, you have a chance to beat anyone with this guy on your team. He's that good. But, are they the guy to really get it done? I don't think Vick is.
-I read a very interesting piece a few weeks ago about why any offensive line is going to be poor with Vick on their team, regardless of how they are playing as a unit. Most of the article was typical stuff that we all know, reading defenses and such. But, they raised one point that I had not previously thought of: Watch Vick drop back 30 times and he'll do it at a different speed every time. The offensive line needs to get a feel for where their QB is, and scrambling aside, Vick doesn't help from the word "go." Sometimes he starts slow and then speeds up. Sometimes he just goes slow. Sometimes he sprints immediately and then slows down. He's all over the place. These little things don't get noticed as much because his athleticism covers up so much.
-So, I noticed that in a goal-to-go situation, Casey Matthews was in there. On a night when you can't stop anyone from running? Do we have an explanation for that?
-Awful call on Jason Babin for roughing the passer. He was clearly shoved into Cutler. That umm…kind of mattered.
This Eagles season isn't technically over, but it's on life support. They would have to go on a tear (entirely possible. No one thought they could do it in 2008 after the Ravens game) and the Giants would have to start losing games. That's also entirely possible, because as much as everyone wants to laud them for beating the Patriots on the road, this was the same team that almost lost to the Dolphins at home the week before. The good news is, for all the Andy Reid haters, this might be the season that gets him booted finally. I don't know that that's the answer as a couple in the front office (I'm talking about you, Howie Roseman, whatever it is you actually do) should go too. It'll be interesting to say the least.
For more nonsense, you can follow me on Twitter @OTRSportsonline. Or check OTR itself for more inappropriate stuff that gets me called on the carpet by Michael Irvin.