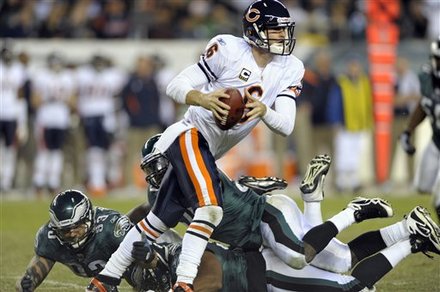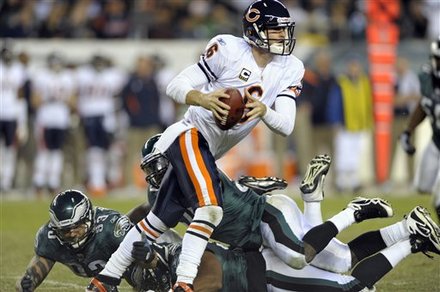 After back-to-back good games, Juan Castillo went back to his game planning and play calling from early in the season. One phrase resonated throughout the entire week STOP MATT FORTE! This was an obvious thing going into the game because Forte contributes 46% of the offensive output.
Rather than moving linebackers down to help stop the running attack, Castillo decided to keep them off the line and hope they can stop when Forte and Marion Barber passed the initial line. With poor receivers and an inconsistent QB, you would think that blitzing and pressure would come from all angles.
Castillo's key defensive players let him down on Monday night. He should have been able to trust his three Pro Bowl corners on the Bears mediocre receivers, but they couldn't cover anybody on Monday night.
With Cutler and a poor offensive line, sacks should have happened regularly. He had been sacked 21 times in seven games, but none occurred in the game which is a big reason why the Birds lost the game. The Bears double-teamed the Eagles defensive ends and were able to block their defensive tackles one-on-one.
It was the first game in which Jason Babin and Trent Cole played together in which they failed to register a sack. When they got through to Cutler, they attacked him in an out of control fashion and were unable to bring him down when they got there.
"Well you know, they were pretty smart [and] I have to tip my cap to them about that", Babin said. "I mean, there's times where they kept eight guys in, seven guys most of the time, chipping and max protecting. So they obviously put a big emphasis on listen, 'We're not going to let these guys put in work.' So it's tough when it's seven on four [or] eight on four."
Although Forte fumbled twice, which is a rarity in itself, the Eagles did a horrible job in consistently stopping his running attempts. He gained 133 yards on 24 carries. Cutler was somewhat proficient going 18 for 32, 208 yards, 2 touchdowns, and most importantly no interceptions.
Recently injured wide receiver Earl Bennett came back tonight as well and burned the Eagles on all-night long on key third downs. He beat every cornerback that the Eagles put on him, Nmandi Asomugha, Asante Samuel, Dominique Rodgers-Cromartie and Joselio Hanson. He finished the night with 5 catches for 95 yards and he caught one touchdown.
"Basically it came down to third down", Rodgers-Cromartie. "We couldn't get them off the field. It seemed like they made it every time they needed a play whether it was a run or a pass. In every phase of the game we got outplayed."
All of the five catches were for first downs and most of them occurred on third downs which allowed the Bears to hang onto the ball and advance to touchdowns.His impact on the game can't be over-emphasized.
After taking strides forward, Castillo has taken a few steps backward in this game because his stars let him down. We all knew that Forte was the key to stopping the Bears and putting pressure on Cutler would equal an easy win. Neither was done and now at 3-5 every game for the Eagles is a must win situation.
Next week against the Cardinals is a huge week for not only the team but for the defense to get back to the previous two games.