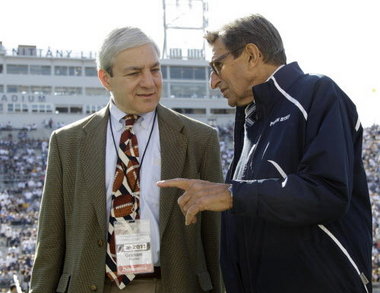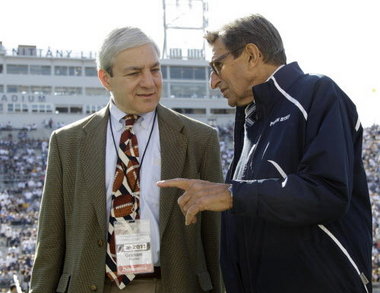 A source from the Penn State Board of Trustees told the Lehigh Valley Express Times that Penn State President Graham Spanier will resign or be fired by the end of the day.
Of course Spanier was informed in 2002 that a Graduate Assistant had seen former defensive coordinator Jerry Sandusky sexually assaulting a ten-year old boy, but he didn't inform the police about the assault. There's no way somebody who would make that type of decision should be sitting in a position of authority over a university.
Likewise, I don't think Joe Paterno shouldn't be allowed to coach on Saturday. He should be fired immediately. Their moral irresponsibility cannot and should not be tolerated. If Joe coaches on Saturday it will leave a stain on Penn State that will never be erased. He must not be allowed to coach on Saturday.
Not only did Spanier know about the sexual assault of a ten-year old boy, he had been informed of it by school officials who had been made aware of it by Paterno. Nobody went to the police. Sandusky was not stopped from continuing to sexually assault these youngsters.
I've heard that as many as 20 youngsters have contacted the police and are in the midst of being interviewed about the sexual assaults of Sandusky. The Grand Jury had eight victims in its report, but that list is increasing.
How can Paterno coach the football team after it's surfaced that he was so irresponsible that he didn't make sure that the proper authorities knew about the crimes that Sandusky was committing? Paterno sat quietly by and failed to make sure that the police were notified of rape of the 10-year old boy, as Sandusky continued to use his Second Mile program to provide him assess to youngsters which he could sexually molest.
This Second-Mile program which was Penn State supported was supposed to be helping "at-risk" youngsters. Instead it was being used to provide Sandusky with youngsters to molest. Paterno and Spanier knowingly allowed it to continue.
JOE PATERNO SHOULD BE TERMINATED BEFORE THIS SATURDAY'S GAME.