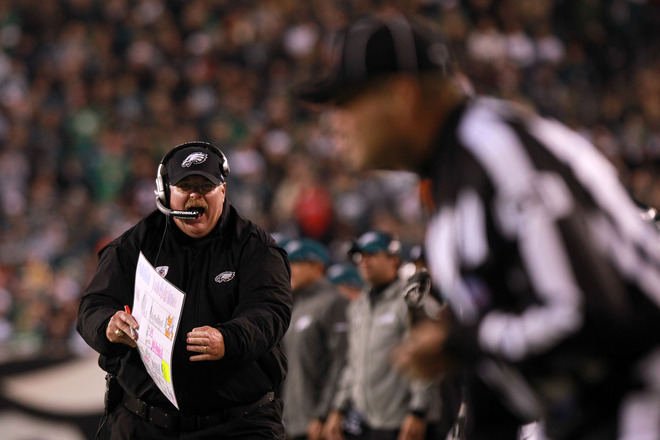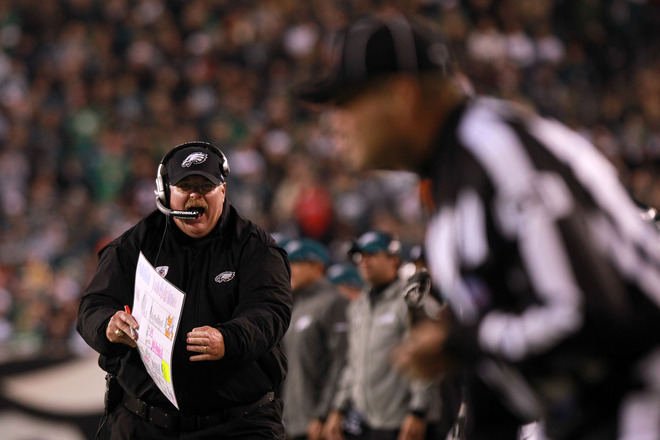 The Philadelphia Eagles had everything it took to be labeled a playoff contender: The hype, the players and a qualified head coach. Offseason acquisitions like Nnamdi Asomugha, Dominique Rodgers-Cromartie and Steve Smith led many to believe that talent was in the right place and the Eagles were ready for yet another playoff run.
That was on paper.
Through eight games they Eagles have a lousy 3-5 record with their playoff sights waning by the week. Reid blames many pieces to this convoluted puzzle. "Some of it's penalties, putting ourselves in a bad situation, and other parts are making sure that we get the right plays in to allow the players to execute. It's a team effort," he said Tuesday afternoon.
The culmination of under performance and unstable coaching by new defensive coordinator Juan Castillo has led to second half collapses. Through the first five games, the Birds only scored seven points in the fourth quarter. In order to close out a game, contending teams must run the football and keep the opposing offense off the field.
They didn't do either. Philadelphia failed to score in the fourth quarter in each of the first 5 games besides their first win of the season versus the St. Louis Rams. "We've got to do a better job in the fourth quarter," Reid said.
Reid blames not one player, but the whole team. "I've told you," he said. "It's turnovers, it's penalties. I don't feel people are necessarily stopping us, that we're stopping ourselves, and we've got to take care of that. Right now that's what you can control, and so you go to work and make sure that you get that taken care of."
Quarterback Michael Vick's thoughts parallel. "We beat ourselves. I think when certain things happen in a game, we kind of, it's like we go into a panic, and we can't do that. We've got to keep pushing forward, [and] keep that edge and attitude," he said.
Reid continues to appoint himself the blame yet the Eagles continue to fall – most recently versus the Chicago Bears on Monday Night Football, 30-24.
The Eagles now have to jump three teams to reach a Wild Card spot. The Bears, Dallas Cowboys, and Tampa Bay Buccaneers all trump the Eagles' record; leaving Philadelphia in a limited, clear position. Win. "It's hard from a standpoint that we're not living up to our potential," wide receiver Jason Avant. "We won't go out and act like we are playing well. We are not playing up to our potential. We can win and you saw that in the Dallas game that we can play. We need to do that consistently."
With eight weeks to go, the Eagles opponents' combined record is 28-36. Their hardest tests will be from the AFC East. They will play Tom Brady and the New England Patriots (5-3) on week 12 and the New York Jets (5-3) on week 15. There are plenty of opportunities for the Eagles to make a push, but, again, the Eagles must rectify their own problems first.
"Listen, we can all do better. I'm telling you, we can all do better. We can put guys in different positions to make plays on both sides of the ball and special teams, and we've got to do that," Reid said.