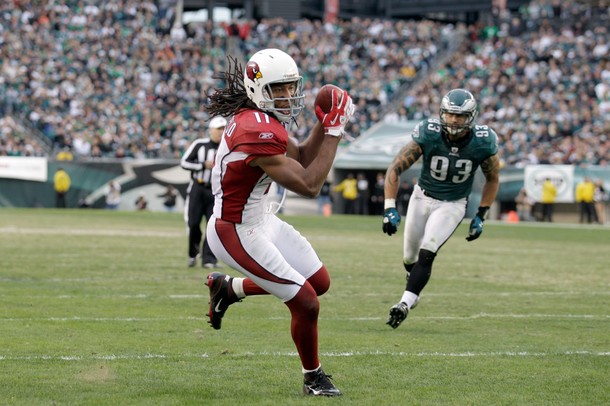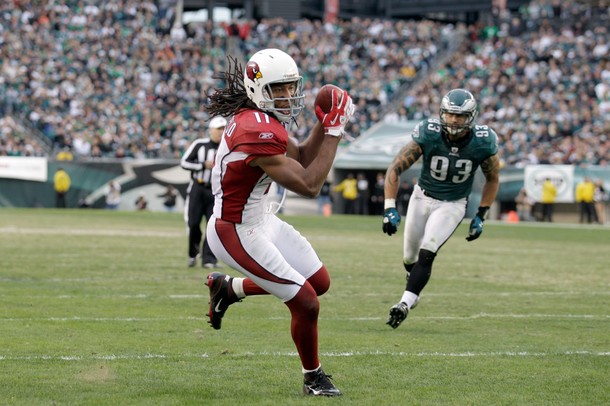 As bad as the loss was to the Bears last Monday night, we at least knew that the lowly Arizona Cardinals would be coming to town the following week. The awful Cardinals with a poor starting quarterback, who was going to miss this game. And if the 49ers were to take out the Giants, the Eagles would then be looking at facing the Giants for a chance to be one game back in the division. Good thing there was no way this awful Cardinals team could be them. So, let's look at the game:
What I liked…
-LeSean McCoy was very good again, even if Andy Reid the play caller didn't notice.
-Impressive special teams kick coverage again on another brilliant return man. I'm a huge Colt Anderson fan. You will never see his jersey hanging in Modell's, but such is the life of a gritty special teamer.
-How can you not love Larry Fitzgerald? It's funny that he gets paid elite wide receiver money and that's the neighborhood DeSean is looking for. It's funny how he showed what a true stud does (even with an awful QB) and DeSean couldn't even be on the field to show what he could do, because he's been lazy and behaving like a petulant child.
…and not so much…
-A game against the terrible Cardinals and there are only three things I liked from the game and one of them was a player on the other team. Wretched.
-Yes, Michael Vick has a couple busted ribs and they are very painful. I'm going to go ahead and hope that his miserable play was because of those ribs. He has just not been very good lately. How many open receivers did he miss? And he continues to not slide and now he's hurt and we saw this all coming. Great. Thanks, Michael.
-His receivers could have actually helped by catching the ball. This team looks lazy and undisciplined. We saw it last week when Jackson couldn't hold on to the punt. We saw it with Avant's fumble. We saw it with Maclin's fumble and a drop against Atlanta. Sloppy, sloppy, sloppy.
-Jason Babin did absolutely nothing. The less they use the Wide 9, the less effective he is.
-Could someone please explain to me why Nnamdi Asomugha wasn't shadowing Larry Fitzgerald all day? Another example of an incompetent defensive coordinator who is smarter than everyone else. They have one playmaker outside. One. Wouldn't it be a great idea to close him off completely? No, we are going to move everyone around and play some zones.
-Speaking of coverage, I saw Jaiquawn Jarrett covering Fitz way too often. I don't know what plays were being run, but if the end result i Jarrett on Fitz, then I hate it. It's like there is a high school coach running the defense. Actually, that's an insult to high school coaches. Again, I don't blame Juan, it's Andy's fault for putting him in that position.
-Steve Smith stinks. I have no idea why, because this guy was an excellent player for the New York Giants. But, he's awful now. He can't catch and I have no clue what he was doing going to the ground instead of going upfield to get that first down. Shameful.
-So, DeSean is that important, huh? I know what he does to defenses, but let's not pretend that there isn't enough talent on this offense without him to score more than one TD against the awful Cardinals.
-Vick is a turnover machine. All the people that hated McNabb and thought he was awful…this is awful. Turnovers are killers and Vick really should have thrown three picks yesterday. Donovan didn't turn the ball over, which is crucial when you have throw-happy Andy, who wants to air it out 50+ times a game. Also, check Vick's record lately. Donovan destroys him in terms of wins. Yet, this city loves Vick and couldn't stand Donovan. I don't get it. Vick is capable of playing at a very high level. Yes, is upside is higher than Donovan's was. But, we haven't seen that upside in a long time.
-Someone please explain to me why Casey Matthews is in goal line packages. "We really need to tighten our belts in this short-yardage situation! Get me the undersized linebacker who gets run over constantly…now!" I mean…this has to be a joke, right?
-Every day that goes by, DeSean's value gets lower and lower. It's to the point now where many people are openly wondering whether he'll even be on this team next year. I couldn't have imagined that talk a year ago.
-Nnamdi, you can't press a receiver that's off the line of scrimmage like that. They have something called a neutral zone and the refs get very pissy when you stand in it.
-Another fourth quarter lead blown! Hooray! It's absolutely mind boggling how awful this team is in the fourth quarter. Offense and defense.
-You think this team is bad now, wait until we get a look at it with Vince Young.
-What was with that awful throw by Vick to end the game? Looked like it was out of frustration.
-So, if this terrible season does lead to roster/staff blow up, is that a good thing? Yes, I'm sick of the poor decisions with defensive personnel and the terrible coaching decisions made with said defensive personnel. But say what you want, Andy gets the most out of quarterbacks (he has a lot of other good qualities too). What would Vick become with someone else running the show? Is it a reason to keep Andy? No, but it's one of the many side effects that we might see should Andy get the boot. I think it's time for Andy to go, but there will most certainly be some negatives that come with that.
The Giants are next. How frustrated will you be if they find a way to win that?