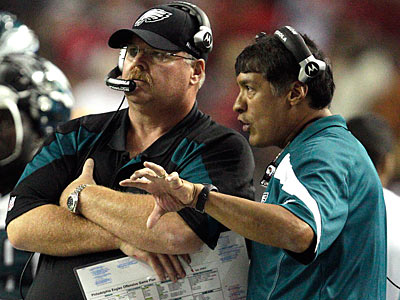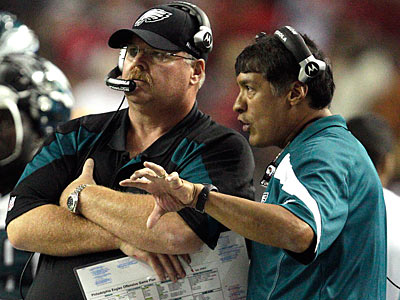 Yet another fourth quarter meltdown for the Eagles defense can only leave us to wonder is Juan the right man for the job. Other than the Cowboy game, where he called a brilliant game every other game has been a complete mystery.
I don't think there's any question that defensive coordinator Juan Castillo has been incompetent in his performance this season.  The fact that he remains in place without any changes says to me that Reid is willing to suffer this year, figuring that he, Castillo will do a much better job next season. That would mean that Reid has been assured that he will be back.
Or maybe Reid has decided that he's ready to move on after this season and is willing to give Castillo, a long-time assistant for him some experience so that he, Castillo will be prepared to get a job some where else in the future.
Why was a rookie safety, Jaiquawn Jarrett matched up with one of the best receivers in the game, Larry Fitzgerald with the game on the line? Andy defended the reason by saying this, "We had a pressure there and we were trying to blitz them, so that is the match-up."
They did Cardinals head coach and play caller Ken Whisenhunt a favor by making it easy for him to get the matchup, he wanted Jarrett on Fitzgerald.
With a Cardinals team who is struggling to win on the road and with out their starting quarterback and former Eagle Kevin Kolb there is no excuse for the poor defensive performance that this 'dream team' put out on the field yesterday.  Kolb has played poorly and backup John Skelton is even worse.
Not only did the defense play poorly they were on the field entirely too long. Arizona called 73 offensive plays. They also converted 6 of 16 third down conversions which most NFL games come down too.
Skelton had himself a career game passing for 315 yards and completing 21 of 40 passes while throwing 3 touchdown passes two of which went to Fitzgerald who caught 7 passes for 146 yards. Although the rush defense did improve in this game, the pass defense was nowhere to be found in clutch situations.
This team has a lot to change if they want to at least salvage this season but time is quickly running out on not only this season but maybe on Andy and Juan's jobs.
Yesterday at his Monday news conference, Reid was asked a number of questions about Castillo.
Was the hiring of defensive coordinator Juan Castillo a long term project:
"No. I feel comfortable with Juan."
Will Castillo continue to be the defensive coordinator:
"Yeah."
Will Castillo continue to call the defenses:
"Yes."