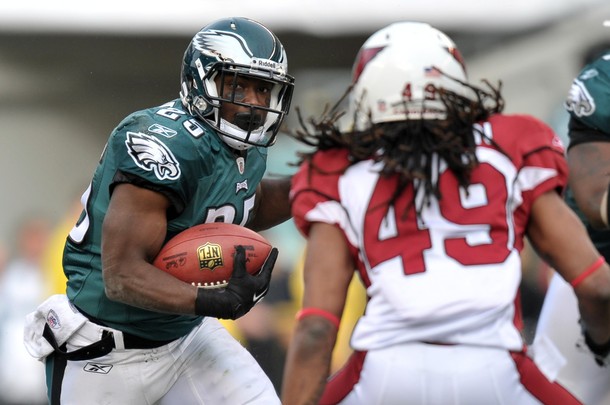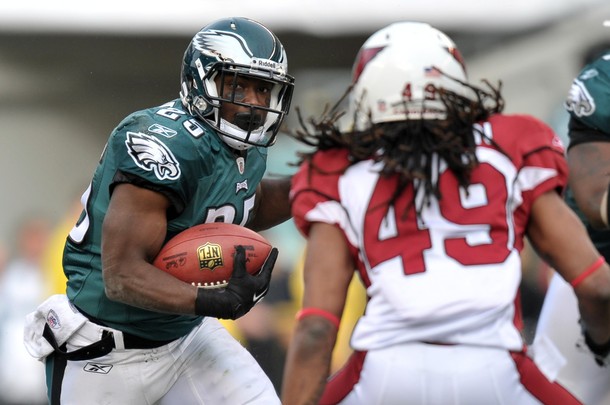 LeSean McCoy is the best running back in the NFC. An opinion statement that is backed up by indisputable statistical evidence.
Despite the many misfortunes of the Philadelphia Eagles,  McCoy is taking the league by storm and making his case for being named with players like Adrian Peterson, Matt Forte, and Michael Turner.
However, in almost all statistical categories, McCoy is head and shoulders above the NFC's top running backs.
The Eagles running back, possibly the most talented player on a talent-filled team, is leading the NFC in rushing yards. He has 906 yards through nine games, making him the only NFC running back with over 900 yards. His 906 yards is 37 yards better than his closest competition.
After setting Eagles' franchise records, McCoy is becoming known around the league as a touchdown scorer. With ten rushing touchdowns on the year, he is tied for first with the Vikings' Adrian Peterson. By adding two receiving touchdowns, he is number one in the league in total touchdowns. His second quarter touchdown in Sunday's loss to the Cardinals gave his sole ownership of the lead by passing Lions' wide receiver Calvin Johnson.
The former second round pick is often criticized for his loose style of carrying the football. However, he has yet to put the ball on the ground yet this season, making him the only running back out of the top 11 NFC rushers in the league to not have a fumble. He is also the only NFC running back with more than 5 touchdowns and no fumbles.
Out of the NFC running backs with more than 150 carries, McCoy is first in yards per carry with 5.5.  He is only behind NFC East rival running back DeMarco Murray in yards per carry from running backs with at least 100 carries. Just to put that into perspective – hand Shady the ball twice, you get a first down. Maybe Andy Reid needs to think about that statistic just for a split second.
His 57 first downs are also ahead of his peers by a wide margin. He also has more first downs than the team's two top receivers, Jeremy Maclin with 28 and Jason Avant with 19, combined. With 34.5 percent of his carries going for first downs, he leads the NFC among all non-quarterbacks.
The rising star is the only back in the NFC still holding a 100+ yards per game average, and one of only two in the league. Keep in mind that he is doing all of this with fewer carries per game than Adrian Peterson, Michael Turner, and Matt Forte.
Peterson and McCoy have both played against the tough Chicago Bears defense. McCoy came out bruised and battered, as Peterson, but performed better than AP. On 12 carries, Peterson gained just 39 yards (3.25 average) and got into the endzone once. McCoy was able to gain 71 yards on just four more carries and also got into the endzone. Against Brian Urlacher and Lance Briggs, Shady averaged over a yard more than AP did.
The Eagles have also faced a mutual opponent that the Bears squared off against in week one, the Falcons. Matt Forte was very successful through the air against the Falcons defense but not so much on the ground. With 68 rushing yards on 16 attempts (4.25 average) Forte failed to get a rushing touchdown against the defense. The running back who lined up behind Michael Vick was able to get into the endzone twice while also piling up 95 yards on his 18 carries (5.27 average).
Given the match-ups in which McCoy has played a mutual defense with his NFC running back peers, McCoy is clearly given the edge, as he has had the entire season. The remaining teams on Philadelphia's schedule are not exactly "shut-down" run defenses. While the entire team continues to find ways to lose, McCoy finds ways to shine through. At least fans have something to look forward to every wee