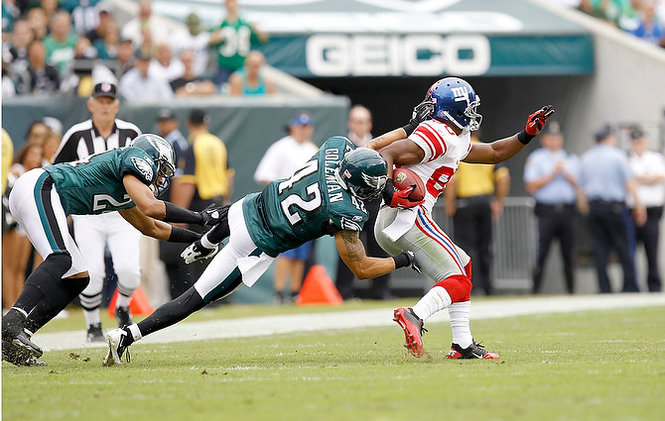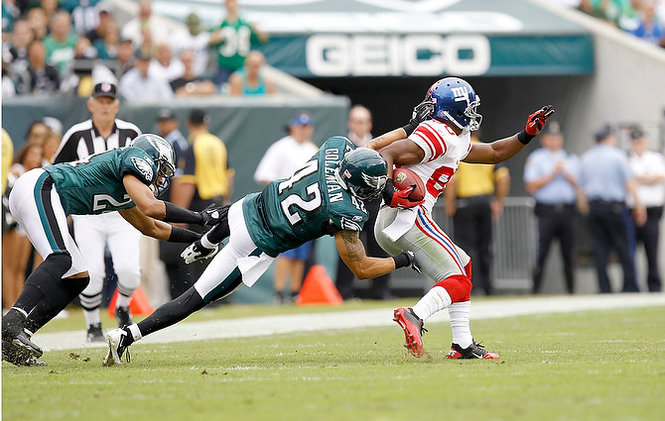 Who is Victor Cruz? I must say, I never heard of him until this year. But I bet Nnamdi Asomugha knows who he is. And so does Kurt Coleman. They both got to meet him up close and very personal on September 25th of this year. They actually didn't get to spend much time with him though as Mr. Cruz had something to do…like getting into the end zone… twice. I realize that the game in Philly was only the third game that this corner back/safety combo got to play together and Nnamdi didn't have his "Eagle" legs under him yet but… I really felt bad for the new number 24.
Nnamdi came, as we all know, with much fan fare and expectation.  I welcomed him myself with open arms! But if I'm being honest, at this stage I kind a' miss the "old" number 24… Sheldon Brown. There has been an overwhelming amount of pressure on Asomugha and Coleman as they continue to work at becoming part of the new face and identity of the Eagles defense. I thought we had that shutdown guy to perfectly compliment Asante Samuel on the other side. Hasn't happened yet, not with any kind of consistently at least.
Victor Cruz caught one ball for a measly eleven yards in the first meeting but shredded the Eagles tandem for 102 yards on only two more receptions making clowns of Nnamdi and Kurt in route to two touchdowns. One, a 74 yards dance number that made an "All World" corner and  in my opinion a future All Pro, look like (as my high school football coach Steve Kane, of University City used to say)  the Sisters of the Poor.
Nnamdi has seemed out of sync for much of the season while Coleman has more than held his own and, as a work in progress, is growing. Nnamdi though, has shown those flashes of his days in Oakland and Kurt has that instinct for the ball, a sign of a good safety. They're going to need to be at the top of their game as they go up against a Giants ball club that has developed into one of the best teams in the league and the boys from N.Y. want to prove that the 49er's game was nothing more than a fluke.
So what does this secondary want to do differently against the Giants' Cruz, Hakeem Nicks and Mario Manningham in their second matchup Sunday Night? The Eagles DB.'s need to send a message, our defense in general has to get back to smash mouth football… a lost art in Philadelphia. Simpler though… play the ball and tackle it! The same things they've been doing for their whole football lives. Now, I've never played on a professional level and I don't pretend to know the ends and outs of a game plan nor the high tech schemes and such. But one thing I do know that is taught from Pop Warner and that is "PLAY THE BALL"! The eyes are the window to the football. The receiver turns his head; the eyes get wide… the ball is in the air… turn and make a play!
I do believe though that some of the hardest reads in football belongs to a defensive back or safety. He's got to read run and play action and he can't get caught with his eyes in the backfield for more than a second or… Mr. Cruz is doing that dance in the end zone again.  But this game I think will be different. I already said that the Eagles would tear up the league after the Dallas game only to see them lose their rhythm to the Bears Getting beat all game by some guy named "Bennett" and self destruct against a woeful Cardinals team but a stellar Larry Fitzgerald.  But these men, still seeking to become a team, believe they are still in it, though there are still many questions. Is it too late to make a run? Is there even a run left in them? Is it too late to develop chemistry?
Never say never, right? We are talking about the Eagles and we are talking about Philly! Does this new group of guys have that same character we've been used to (for the most part) on our Eagles teams? Do they really have our Philadelphia heart? Philly needs these guys to look at each other and determine that they can't, that they won't have another letdown again, for this town or for themselves. "Hey Nnamdi!" "Yo Kurt!" Let's keep Cruz and Co. dancing in the New York nightclubs, not in the Philadelphia end zone this weekend!