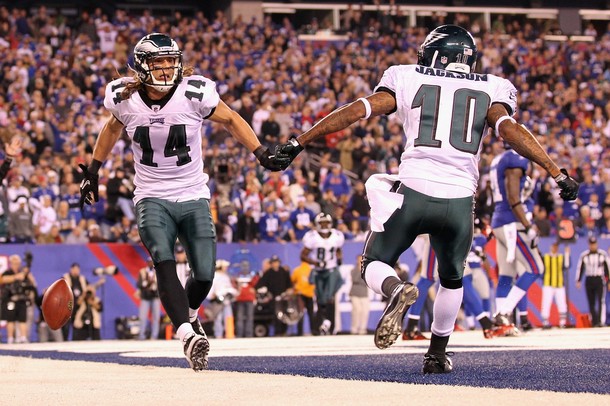 Vince Young was about what everyone expected him to be against the Giants.  There were some good flashes, bad flashes, and that one game-winning touchdown drive that has eluded the Eagles all season long.  Last year, it was a refreshing change of pace as
Michael Vick led the Eagles on game-winning scoring drives late in the 4th quarter more than Donovan McNabb ever did in the previous five years at least.  This year, Vick has led zero such drives.  The Eagles gave up the lead in the 4th quarter, yet again, but a drive that had Vince Young complete seven passes for 67 yards that ended in a Riley Cooper touchdown.  The defense was able to get Eli Manning to fumble the game away for the Giants to hold on for a 17-10 victory in the Meadowlands.
After the Giants tied the game 10-10 early in the 4th quarter, all hope seemed lost for an Eagles win.  The Eagles had given up five 4th quarter leads this year leading to losses, and many of us just thought the Eagles would at least wait to lead us to heartbreak late in the 4th quarter.  It was exactly the opposite, as Vince Young quarterbacked a drive that rivals John Elway's drive in the 1987 AFC Championship Game.  OK, that's pushing it maybe a little.  OK, maybe a lot.  But Vince Young, with the help of his offense that included Riley Cooper, Ronnie Brown, and Jason Avant making big plays, orchestrated the game-winning drive with poise and great leadership, something he has shown before while playing for the University of Texas and in the NFL with the Tennessee Titans.
Brent Celek was not as visible as he's been in recent weeks making big plays, but he still caught six passes for 60 yards, with a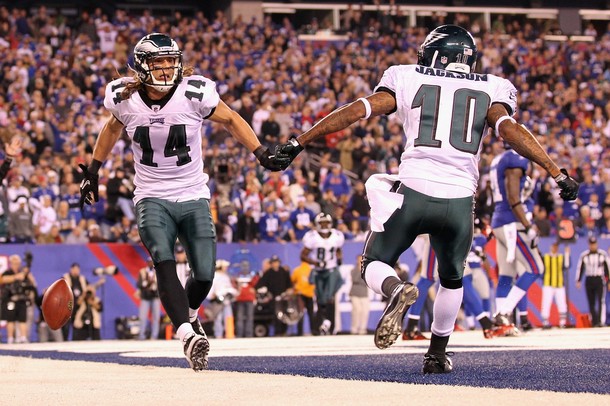 couple of big catches on scoring drives.  He also blocked more this game than he has in the past few weeks, and it gave Vince Young plenty of time in the pocket.  If Michael Vick was back there, the chances he would run around and put himself in a position to get hurt would be a lot bigger than what happened last night with Young.  Young looked calm and poised in the pocket as the offensive line stepped up and gave him every reason to feel comfortable.  Young looked to spread the ball around to everyone, even targeting DeSean Jackson more than any other game this season, it seemed.  DeSean made a big catch for 50 yards with the Eagles deep in their own end of the field, but it was negated by a taunting penalty when DeSean flipped the ball to the sidelines at one of the Giants' coaches.  He then didn't return the next Giants punt, but he showed why he can be such a valuable commodity for the Eagles during a 51-yard punt return that would've went for a touchdown if he didn't step out of bounds at the 14-yard line.  Ultimately, it's plays like the catch and taunt that have soured Jackson to many fans and maybe even some of the coaches on the team.  It didn't cost them the game, but that's not really the point.  It's clear DeSean still hasn't grown up fully yet, and that may spell the end of his tenure in Philadelphia after this season.
The running game wasn't as explosive as it's been in recent weeks, but LeSean McCoy broke a big run for 60 yards to seal the game as Vince Young took a few knees to run the clock out.  McCoy wasn't the go-to weapon that he's been all season in this game, and it's probably due to Andy Reid's gameplan to limit McCoy's touches because the Giants were going to focus on McCoy and his explosive playmaking ability.  It looked like the run was not working, and as expected, Reid went pass-happy, even with Vince Young behind center.  It's clear that whoever Reid plugs in at quarterback, he's going to ask them to pass, pass, pass.  I firmly believe that if Mike Kafka or Michael Vick were the starter, the game plan would've been exactly the same.  This is why Andy Reid has lost this fan base.  He does not game plan based on his roster.  He does it based on what he wants.  And maybe he expects his players to step in and do exactly what he wants, and that's fair to expect when you're a head football coach in the NFL.  However, it's clear a lot of these players cannot just step in a fill a void without struggles.  But the Eagles offense did it last night.
It almost makes me want to see Vince Young start next week.  Or at least play the 4th quarter.
The defense was OK, but the Giants offense was pretty bad.  Dropped passes, Eli's terrible throws, and their rushing game was nonexistant.  The Giants definitely helped the Eagles out last night, but a win is a win is a win is a win.  Or something like that.  Next is the Patriots.  A win against them and a Giants loss against the Saints and a Cowboys loss against the Dolphins (pipe dream) would pull the Eagles to one game out of the divisional lead with tiebreakers over both the Giants and Cowboys.  It'll be an interesting week to say the least.