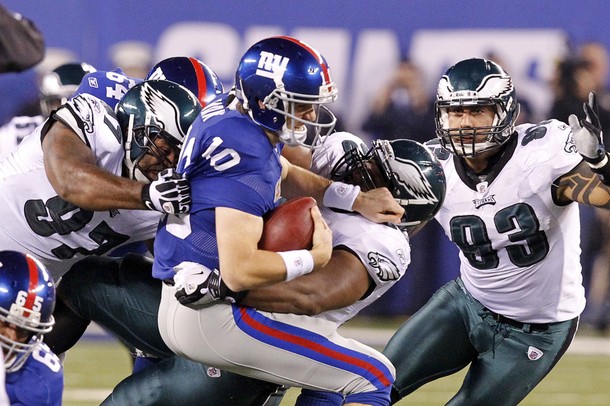 Oh, those Eagles. Just when you think you're out, they find a way to suck you back in. Last night was everything this team was supposed to be when they went out and signed just about every big name free agent known to man back in late July. They played with a physical toughness not seen in these parts in a while. They thoroughly dominated the Giants in the trenches and ran a balanced, effective offensive attack.
If Andy Reid coached every game the way he did this one, there wouldn't be nearly as many calls for his job. That 18 play, nine minute drive was a thing of beauty. After Vince Young threw the touchdown to Riley Cooper I texted a friend of mine that it had to be the most efficient drive the Eagles had run since Jeff Garcia was here. Turns out I was wrong. The last time the Eagles had a drive that lasted 18 plays was in 2002. Incredible. And just like that, the city of Philadelphia has fallen back in love with a team that was left for dead just a week ago. The task at hand is still pretty much insurmountable, but last night the Eagles showed us what could have been had they played at this level all year.
Most of the success started with both lines. The defensive line kept Eli Manning uncomfortable all night, and the five sacks weren't nearly as impressive as holding the Giants rushing attack to 29 total yards. Brandon Jacobs usually gives the Eagles fits with his physical style of running, but last night the Birds were usually gang tackling him before he could even garner a head of steam. The much debated "Wide Nines" is a lot more successful when the other team isn't picking up 8-10 yards per carry on the ground. Definitely a move in the right direction.
On the offensive side of the ball, the line gave Vince Young more than enough time to find his targets, especially on the last drive. Young's overall numbers weren't anything to write home about, but he got the job done when it mattered most. Moving the sticks has been an issue with the Eagles all season. So, of course, they pick up six first downs during the 4th quarter drive. As someone who has hammered Reid all season, I applaud him for finally realizing that at least attempting to run the ball can be a benefit to the offense.
LeSean McCoy didn't have his best night rushing, as the Giants usually bottled him up until he broke off a game clinching 60-yard run in the games final minute. But the fact that the Giants had to at least respect the run definitely benefited the Eagles passing game. Why it took 10 games (actually 13 years) for the coaching staff to realize this is baffling? Whether or not they continue this trend once Michael Vick returns from injury remains to be seen, but for one glorious night in North Jersey it was fun to see the Eagles win a football game in the fourth quarter mostly by sustaining a drive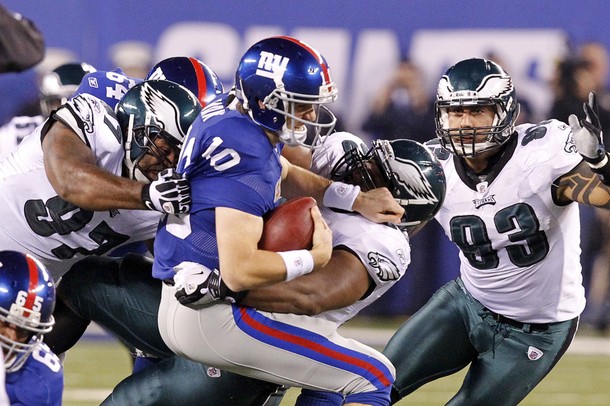 and killing the clock.
Now comes the hard part. Actually it's more like the impossible part. For this team to somehow make the playoffs (insert laugh track here), they basically have to run the table and finish 10-6. I don't see it happening. New England comes to town next week, and even though the Patriots can be beat, it will be tough to get the best of Tom Brady. The defense played good last night, but the defensive backs were helped at times by some key drops from the Giants' receivers. Chances are the Patriots don't make those mistakes.
It will be key for the defensive line to pressure Brady like they did Manning. If they can get him to force some throws and make mistakes, then maybe the Eagles can take advantage. Again, it's a near impossible task. This team does this to us every year. Usually it's in January, but nonetheless it always happens. Part of me was actually a little relieved that the Eagles would be playing meaningless football by Thanksgiving. So, obviously, they go out and play a terrific game that has me still dreaming of postseason football.
Regardless of what happens the rest of the season, the Eagles showed us last night what they are capable of. If nothing else, they've played marvelous games against their two most hated rivals. I know that doesn't mean much to a fan base starving for a championship, but for now it will have to do. Maybe they can pull off the unthinkable and run the table. Stranger things have happened. However, the history of Andy Reid tells us that at some point they will slip up and break our hearts again. Oh, those Eagles. They do this to us every year……