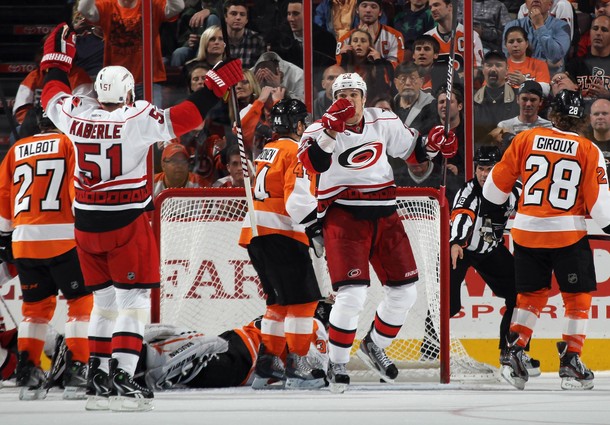 In a less-than-inspiring effort last night the Flyers fell to the hapless Carolina Hurricanes 4-2 at the Wells Fargo Center for their second straight loss in regulation to a non-playoff team.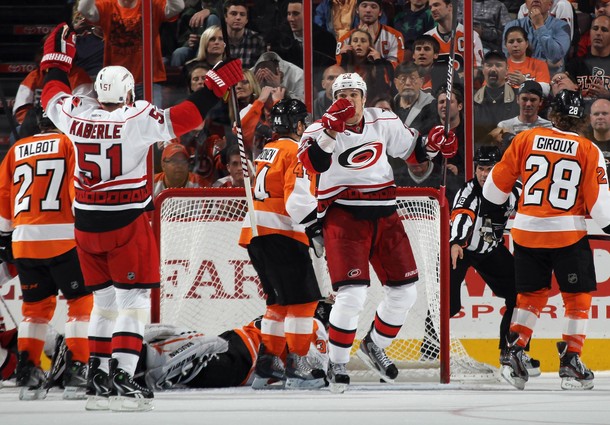 The Flyers played without key defenseman Chris Pronger and Braydon Coburn and resurgent foward Jaromir Jagr. They dressed two AHL defenseman—Marc-Andre Bourdon and Kevin Marshall—who, for my money, were our best D-men for the game.
These are factors that any NHL player could use as an excuse for a poor showing but there is something alarming about these losses. The Flyers have yet to reach the quarter-pole of the season but they may already be gaining a reputation as an inconsistent team.
The Flyers started the season 4-0-1 with big wins over the 2011 Stanley Cup finalist Vancouver Canucks and Boston Bruins. The next five games they went 1-0-4 (albeit one of those losses was to the powerhouse Washington Capitals).
They were able to turn it around, however. Through the course of November they went on a tear losing only twice—both times in overtime or shootout—in 8 games.
Then came these past two losses to the woeful Hurricanes and Jets.
So what gives?
"I think [The Hurricanes] buried us," said Flyers head coach Peter Laviolette after last night's game. "We were a second everywhere and when we did get there late, we weren't strong enough in the battles."
It's never a good sign when a team like the Hurricanes is burying you. Overall, almost every Flyer looked lost on the night, save for Claude Giroux and James Van Riemsdyk. Flat on their feet, the team fell behind 2-0 early and save a surge in the second period never really got back into the game.
When a Laviolette-coached team, which thrives on a ferocious fore-check and hustle, looks flat, that almost always will lose.
The Flyers best offensive player, Claude Giroux, seemed as if he was all on his own at times.  Giroux held the puck for most of his shifts, making breath-taking moves to evade defenders, but with few results. And who can blame him? When your LW Scott Hartnell is falling into nets and crashing into the boards every 30 seconds, it becomes hard to score goals on your own. Kudos
The idea of trading Jeff Carter and Mike Richards to sign an elite goaltender was accompanied by the idea that the said goaltender would steal a few games when the offense wasn't as sharp.
It seemed to me that Monday night was a perfect example of one of those games.
On a night when Sidney Crosby returned to the Penguins with 2-goal, 2-assist night the Flyers shouldn't simply shrug off these two losses. The Pens have the look of a dominant team and if the Bullies want to win the Atlantic Division for the second consecutive year they are going to need to put a halt to the streaky play before the Pens pull away.
Give the Flyers some credit; they said all the right things after the game. No finger was pointed. No excuses were made. No Russian Goaltender was bellowing out self-loathing. But to stay an elite team in the Eastern Conference they will need to correct this streaky play.