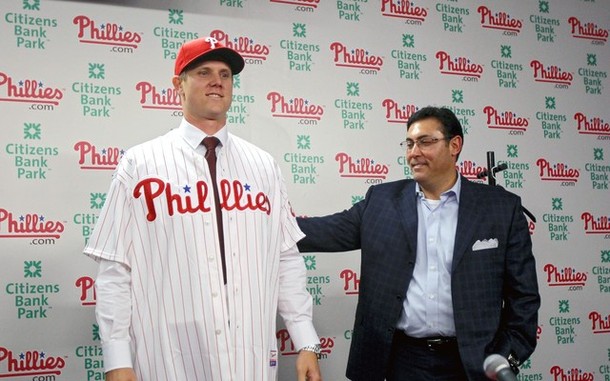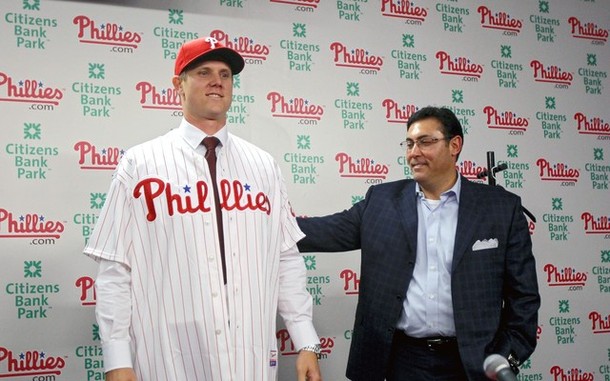 In recent years, the Phillies have spiced up the offseason by pulling off unexpected moves that have caught some fans off guard. Whether it was the Brad Lidge trade in 2007, the Roy Halladay/Cliff Lee deals in 2009, or the "Mystery Team" signing of  Lee in 2010, the Phils have been known to pull some kind of rabbit out of their hat. While this offseason hasn't been much different so far, there is still work to do.
Let's start with the move of the offseason so far, Jonathan Papelbon. The Phils and Papelbon agreed to a four-year, $50 million contract with the former Red Sox closer making him the highest paid reliever in the history of Major League Baseball. This news came as a bit of a shock as reports earlier had the Phils and incumbent closer Ryan Madson agreeing to a deal which ultimately fell through.
I'm on the fence on this move. My reasoning is twofold. For one, I was a Madson guy. I still am. I feel that his fastball/changeup combination is among the most lethal in the game. Due to injury, he finally got his chance to close last year and did very well compiling 32 saves. Whichever team picks up Madson will be getting a blue-chipper.
Secondly, they paid a king's ransom for Papelbon, who I'm not sure is worth that much money. Don't get me wrong; I think Papelbon is an excellent pitcher. He's got great stuff. But I don't think any reliever outside of Mariano Rivera is worth that kind of dough. I understand $50 million was going to be the price tag for a guy like Papelbon, but that number makes me do a double take every time I see it.
The one advantage Papelbon has over Madson is experience, an invaluable advantage. In his seven seasons, Papelbon has 217 saves and a 2007 World Series ring. That is even more impressive when you realize that he compiled those stats in the pressure cooker that is Boston. He won't be fazed by the tough crowds here in Philly but he better perform well early in the season or else the boo birds will be chirping loudly.
Sure, he had a tough end to the 2011 season, blowing that last game in Baltimore. But that whole Red Sox team, not just Papelbon, was a mess and went down the toilet in September. I expect Papelbon to come out of the gate in 2012 fired up and ready to live up to the lofty expectations that come with his massive contract. But will he live up to those lofty expectations? Only time will tell.
Grade: B+
The Phillies bench was particularly bad last season accumulating a .235 average with four home runs and 21 RBI. Ruben Amaro, Jr. wasted no time in signing beloved former Phillie Jim Thome to a one-year, $1.25 million deal to improve that bench.
It's an interesting move because most would see Thome, 41, as an American League DH at this point in his career. But how could you ever go wrong in signing a guy like Thome? He's a five-time All Star and eighth on the all time home run list with 604 dingers. Stats aside, he's the consummate professional and a great clubhouse guy. While the Phils aren't a particularly young team, palyers can always learn from a grizzled vet like Thome.
As mentioned above, the Phillies' bench production was particularly putrid in 2011. Outside of John Mayberry, Jr., who was more of an everyday player last season, nobody on that bench struck fear into a pitcher. No matter how old he is, Jim Thome will strike fear into any pitcher. Sure, he may be past his prime but he can still hit the ball into the next zip code. Plus, he might even pick up a few starts at first with Ryan Howard on the shelf. Speaking of Howard, Thome can be a guy for Howard to lean on and help get him going back to the opposite field. Simply put, I love this move. Nothing but good can come from it.
Grade: A
The Phillies also acquired utility man Ty Wigginton from Colorado in exchange for cash or a player to be named later. Wigginton is a career .265 hitter with 158 home runs and 548 RBI.
Not a bad move at all. He will be another bench guy who figures to get solid time spelling Placido Polanco at third or whoever is at first. Wigginton can also play the corner outfield positions if necessary. The downside to this deal for Wigginton is that it seemingly eliminates the Phillies from the Michael Cuddyer sweepstakes. Cuddyer, who many saw as a perfect fit here with his versatility and high batting average, likely won't find the money or years he wants in Philadelphia. Wigginton is basically Cuddyer lite with a lower batting average and lower salary.
Grade: B
In a minor move, the Phils resigned backup catcher Brian Schneider to a one-year deal. Though he doesn't have much of a stick and only threw out 3 of 23 base stealers last season, his work with the young pitchers was held in high regard. I mean, look at the work he did with Vance Worley last season. At $800k, his salary fits for his position.
Grade: B
As I mentioned in the opening paragraph, Ruben Amaro, Jr. and the rest of the Phillies' brass still have work to do, most notably at shortstop. Jimmy Rollins should be the main target. I fully expect Rollins to wait for Jose Reyes to sign somewhere and set market value before entering heavy negotiations. I still don't see Rollins leaving Philadelphia but I still don't see him getting the five years he seeks.
The other question mark is in left field. John Mayberry, Jr. will likely fill in at first base so the spot is open. Is it Dominic Brown's spot? Or will the answer come from outside the organization. Raul Ibanez could be brought back for insurance. Comcast Sportsnet's Jim Salisbury has specifically mentioned Minnesota's Jason Kubel as an option. I really don't know what to think here. I trust Amaro and the rest of the brass to do the right thing.