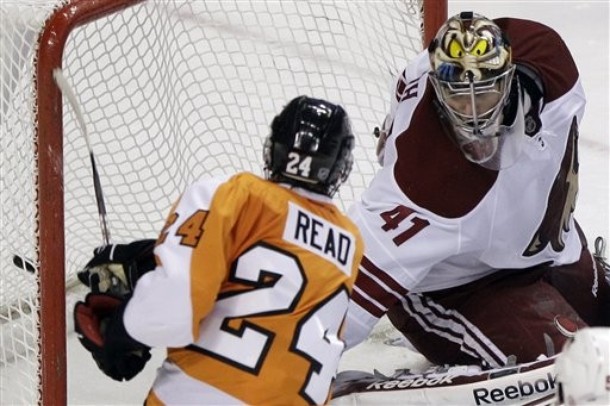 Matt Read is making a case for himself to be a Calder Trophy candidate, for the best rookie in the National Hockey League.
Read played 11 games with the Flyers' affiliate, the Adirondack Phantoms, last season.  He had 13 total points in the games that he played, and made it onto the Philadelphia roster after having a strong training camp and preseason.  Read has been proving that him making this team was no fluke.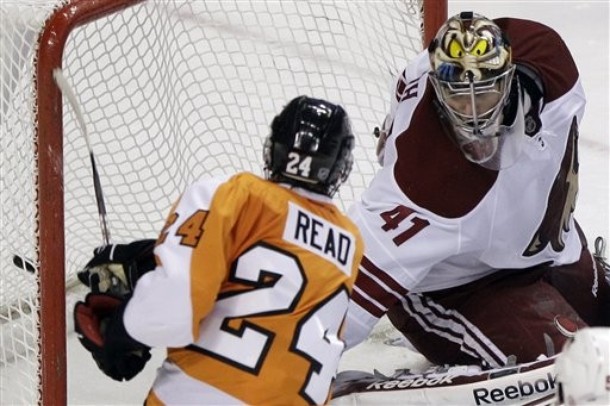 The right winger is making a name for himself, at least among Flyers fans, and maybe even across the NHL.  In the 17 games he has played he has nine goals, five assists, and is a plus seven.  Coach Peter Laviolette has used Read in every situation possible.  He plays even strength, on the penalty kill, on the power play and has even played a game on the top line with Jaromir Jagr being out hurt with a groin injury.
Read is in the top five in every offensive category for rookies and has played less games than his fellow rookies that are above him in the statistical category of total points.  The right winger is first among rookies in goals (9), tied for fifth in assists (5), third in total points (14), and second to only his teammate, Sean Couturier, in plus/minus ( plus 7).
Ryan Nugent-Hopkins, or RNH, leads all rookies with 20 points in 20 games played.  He also has eight goals, 12 assists, and is a plus one at even strength.  RNH has two goals, eight assists, and ten points on the power play; while having no points short-handed.  He was the number one pick overall for the Edmonton Oilers in the 2011 Entry Draft, so he's doing what he was drafted to do.
Read is only one of three rookies with a short-handed goal since most coaches don't trust their rookies enough to have them out on the ice while a man down.  He is solid enough defensively and knows where he needs to be on the ice at all times.  His penalty kill partner is fellow rookie, Sean Couturier, and they seem to handle the pressure while a man down pretty well.  They don't look like rookies, more like veterans when they are out on the ice killing penalties.
Laviolette has also used the right winger as a defenseman on the power play unit.  He knows when to sneak in from the point and when to stay home.  He plays hard every game and never gives up on the play.  The forward has developed some chemistry with line mates Jake Voracek and Max Talbot, and it's showing on the stat sheet.  He has seven points in his last five games played, while being a plus four.  His average ice time has also increased in every game.
If Read manages to stay healthy for the rest of the season, he is projected to play in 79 games, have 41 goals, 23 assists, 64 total points and be a plus 32.  It's unlikely he'll have those stats since there's still a long way to go, but you never know what can happen during a hockey seas