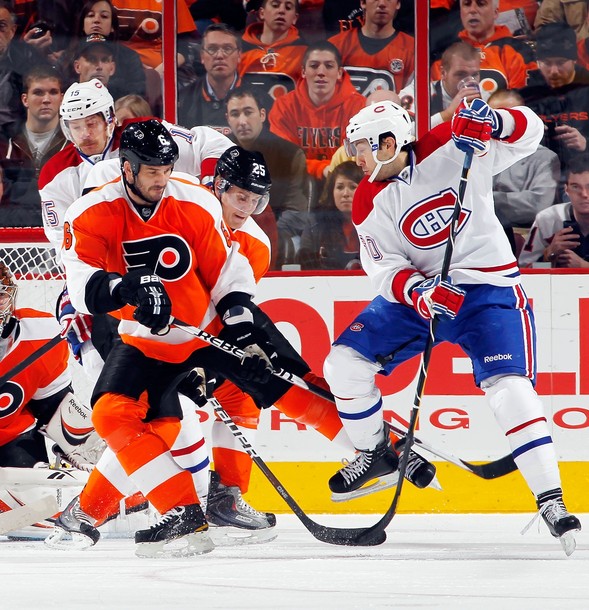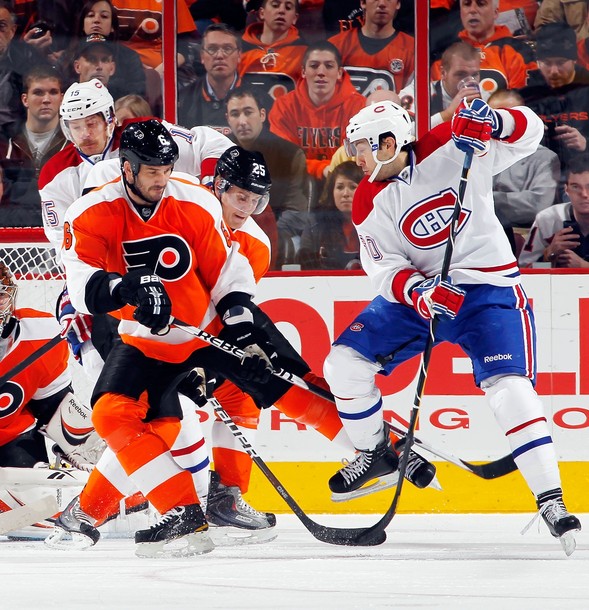 Flyers general manager Paul Holmgren announced after Friday's win against the Montreal Canadiens that Andreas Lilja would be out for six weeks with a high ankle sprain.
He also stated that Chris Pronger is still out with a virus that, "We're not sure what it is."
"Best case scenario, it would be… Friday at Anaheim. Chris is feeling better, but he's still not feeling himself just yet."
Holmgren was coy on who would be called up for today's tilt against the New York Rangers, but defenseman Kevin Marshall was made a late scratch yesterday evening in the Adirondack Phantoms' game with the Springfield Falcons (which ended in a 5-1 victory for the farm team,  by the way).
Marshall made his NHL debut along with Marc-Andre Bourdon this past Monday before being sent down again. As Tim McManus of the Post Star wrote on twitter, "Hockey can be a funny game. Marshall had his worst night of season last night (minus-3, slashing game misconduct), now likely back to NHL."
While Marshall makes sense for one game, he is not the answer indefinitely. Following Saturday's matinee with the Rangers, the Flyers don't play again until the aforementioned road game against the Ducks, meaning Pronger should be good to go by then.
However, they will need to be prepared for an NHL ready call-up. Erik Gustafsson is out for at least anther five weeks following his wrist surgery, leaving Oskars Bartulis and Matt Walker as the only legitimate 6th/7th defensive options.
The catch here is that both are subject to re-entry waivers, meaning that another team can claim them for half the price of the contract for the remainder of the contract. In this case, that means the Flyers risk $300K on the salary cap this year if they were to lose Bartulis and $850K for the next two years if they lost Walker.
At this point, the organization really has to attempt to recall Bartulis. The cap hit is negligible if claimed and, in this worst case scenario, losing Bart would free up contract space to sign a free agent defenseman more capable than any of their existing 6th/7th defensemen.
If the Flyers could coax Bryan McCabe from South Florida, how great would that be?
In any event, the team is going to continue playing as if nothing has changed.
"There's nothing you can do about it. It's part of the game," said Kimmo Timonen. "Now some other guys can get some ice time. It's one of those things… we can't feel sorry for ourselves. It's not gonna do us any good. Now we gotta go to New York and whoever's in the line-up has to do their job."
For the latest Flyers news and updates, you can follow me on twitter (@JoshJanet).