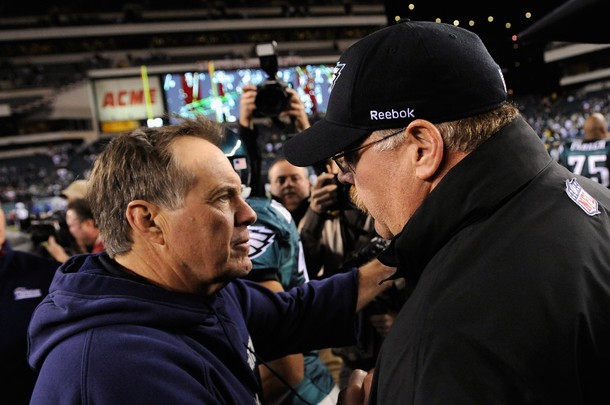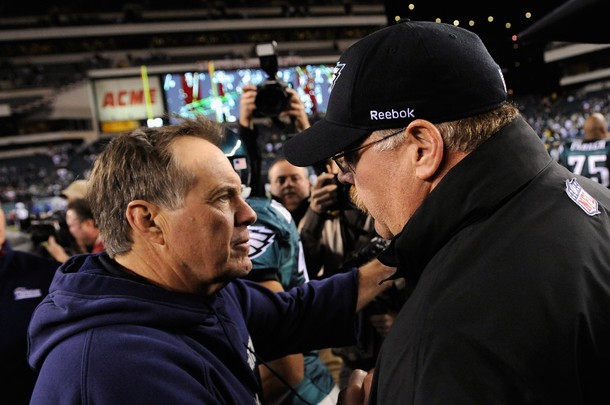 The chant was loud.  "Fire Andy".  "Fire Andy".  He said he didn't hear but everybody else did including his players. Bill Belichick are the reason that Andy Reid doesn't have a Super Bowl title, but he may also wind up helping to get him fired.
This was one of the most embarrassing situations Reid's Eagles team have ever been in.  It wasn't even half way through the fourth quarter and most of the fans had filed out.
The Eagles were blown out at Lincoln Financial Field.  They are 1-5 at their home field this season and 1-8 in their last nine games at home.
Yes the boo birds were out at Lincoln Financial Field and deservedly so. The Patriots took the Birds apart in every phase of the game.
The Eagles came out and got everybody all charged up by scoring a touchdown against the Patriots before the fans could get comfortable in their seats.
Unfortunately, just as quickly as they got the lead, the Eagles defense coughed it up and went on to get manhandled by the New England Patriots.  This was a laugher has been a very disappointing game full of bad performances.
This a talented football team, but this is not a good football team.
They were pounded by Tom Brady and the New England Patriots 38-20 and it could have been worse.  Brady and the Patriots offense totally overmatched Juan Castillo and the Eagles defense.  The future Hall of Famer easily carved up the Birds secondary.
Safety Nate Allen made a couple of horrible plays, the worst of which was making the mistake of biting on a play fake and letting Wes Welker get open deep down the middle.  This was a foolish because the deep safety isn't going to be a major factor on dives up the middle.
Wide receiver DeSean Jackson also had a bad game.  He let a couple of passes go through his hands which could have been caught.  It looked like he turned down those catches because he knew he was going to get nailed.
Jackson also let a bomb which Young threw that was right on the money, slip through his hands in the end zone.  Reid took him out of the game, which was in a way a benching but he refused to call it that.  Reid said, "I was giving the other guys a chance to play".
Vince Young did some good things during the game, but he didn't play well enough to put enough points on the board to even stay close to the Patriots.  Young and the Birds offense piled up 466 yards but they couldn't get them when they were in position to score touchdowns.
I'll be talking about the game at 10pm-2am tonight on 94WIP.  Check it out.