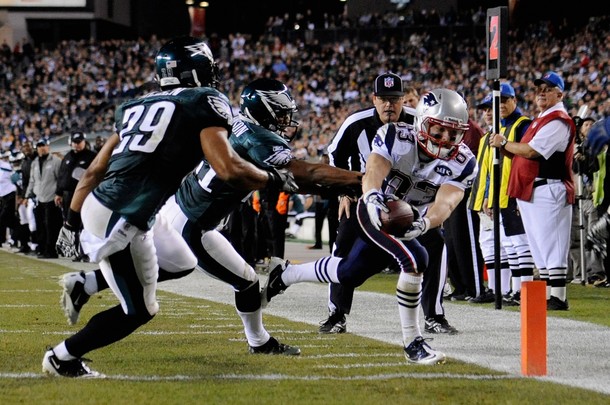 It was almost a decade ago Bill Belichick, Tom Brady, and Deion Branch torched the Eagles in Super Bowl XXXIX. On this November evening in Philadelphia, it happened again. No matter what Juan Castillo's defense threw at Brady, he responded by making them look silly.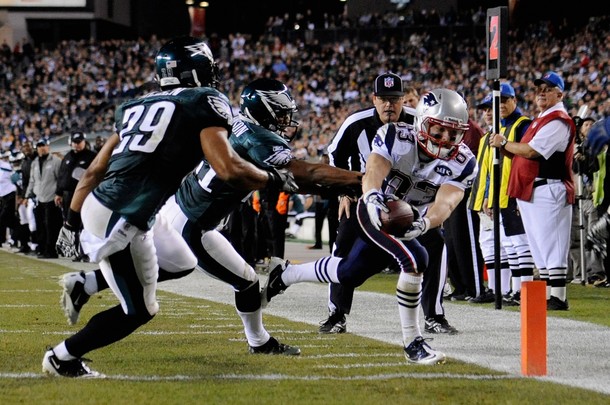 Over and over again. Of course, the Birds made their own selves look awful, too, with all the missed tackles and blown coverages. The shorthanded defense did itself no favors and now the once-promising season is all but over after the blowout loss to New England.
The vast array of weapons the Patriots have was far too much for a depleted Eagles secondary. With Dominique Rodgers-Cromartie inactive and Nnamdi Asomugha unable to play, Tom Brady and friends were able to embarrass the Birds in front of the home crowd.
Despite a lack of a deep threat on the outside, the Patriots' receivers had a huge day. Wes Welker torched Joselio Hanson to the tune of eight receptions for 115 yards and two touchdowns. The Texas Tech product's crisp route running was more than the uninspired defense could handle. Veteran Deion Branch produced one of his best games this season, six catches for 125 yards, in a performance sure to resurrect the haunting memories of Super Bowls past.
The vaunted tight end combination of the Pats also caused the defense fits. Aaron Hernandez, a second-year man out of Florida, was targeted early and often by Brady. No linebackers had the speed to keep up with the Connecticut native, who accrued six receptions for 62 yards.
Former Arizona Wildcat Rob Gronkowski was targeted only four times, but he caught the ball each time
for 59 yards and a touchdown. Jamar Cheney and the linebacking corps could not cover the dangerous duo, and neither could Kurt Coleman nor Nate Allen. Allen looked lost all day, getting beat deep several times and missing key tackles.
The defensive line had absolutely no effect on this game. They needed to pressure Brady, but the Patriots veteran offensive line kept them at bay. The future Hall of Fame quarterback was hit only twice, once on the Eagles' only sack of the game by Mike Patterson, and had all day to throw.
Jason Babin continued his up-and-down season with only three tackles in a disappointing performance. His partner in crime Trent Cole seems to be hitting his annual second-half swoon. The seventh-year man out of Cincinnati had zero tackles in this one.
The amount of mistakes made by this defense would have been astonishing, if not for the fact that it has been happening all season. It wasn't turnovers this week, the only was a Vince Young interception, it was third down conversions caused by penalties and mental mistakes. The Birds committed killer penalties that extended drives and shortened the field for the Patriots. The lack of chemistry also showed in several blown assignments by the secondary.
There is not much to say about this one. The Patriots did all they wanted against the Eagles defense that didn't even seem like they wanted to be there. Brady threw for over 360 yards and three touchdowns against the injury-plagued secondary, having his way with them all day.
It was the same Eagles team we have seen most of the season. Flashes of brilliance are shown, but overshadowed by excruciatingly long periods of terrible football. The Andy Reid Era may be coming to an end in front of our eyes. The most consistent stretch of success in Eagles history may finally close due to a season of inconsistency.