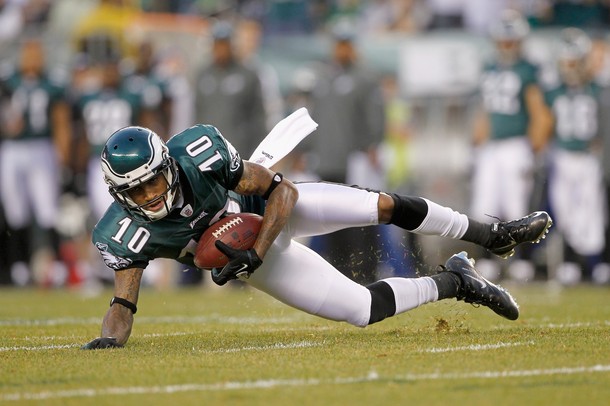 Disappointment is an understatement after this one. This game was flat out embarrassing not only to this team but to this entire city and everyone associated with it. We all figured it would be an uphill battle without Michael Vick starting at quarterback and Jeremy Maclin sidelined but the way this game started we all had hope. The offense came shooting out of the gate and seemed to be firing on all cylinders.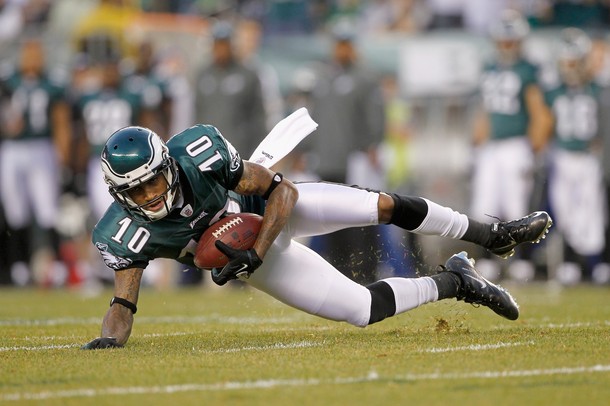 Vince Young had a chip on his shoulder and wanted to make everyone realize his previous start against the Giants wasn't a fluke. I even went as far as saying we have a quarterback controversy once we went up 10-0 because Young looked fantastic to start the game.
Vick himself hasn't even provided a start like that all season so for Young to come out like that showed me he was ready to play today. He finished 26 for 48 throwing for a career high 400 yards and it could have been a lot more if DeSean Jackson didn't drop any passes. Young threw for only one interception but all of this wasn't enough for the birds.
The glaring number of Young's stats for the day isn't the 400 yards but the 48 pass attempts. That number is absolutely ridiculous for a number of pass attempts. Andy Reid should be downright ashamed of himself for making his backup quarterback throw the ball 48 times in one game. Coming into the contest the Eagles had the top running back in the league and they chose to ignore him for the most part.
Whether it's Young, Vick, Donovan McNabb, or Kevin Kolb you don't make your quarterback throw the ball 48 times when you have the top rusher in the league. It's a flat out crime what Reid did this afternoon with his game plan.
LeSean McCoy finished the game with 10 carries for 31 yards which is downright disgusting. McCoy's longest run of the day was 22 yards and right after that run they should have been feeding the beast. Instead Reid chose to put the game in the hands of Young.
The former Texas quarterback ran 6 times himself during the afternoon. For your running back who is the top rusher in the league to carry the ball only 4 more times than your quarterback is just a travesty. I feel like every week after a loss I repeat myself but it's the truth when this team has an atrocious offensive performance a huge part of it is the lack of involvement from McCoy which is not his fault in any way.
Reid and offensive coordinator Marty Mornhinweg should not only be embarrassed but should be taken out of the Linc in handcuffs because they both committed a top notch crime according to NFL standards. No coach in their right mind that has the top rusher in the NFL on their team would ever give him the ball only 10 times in one game especially against a team as talented as New England. Once the Eagles went up 10-0 it should have been time to start eating up clock with McCoy.
On the receiving front Jason Avant led the way with 8 receptions for 110 yards and a touchdown which came late in the game during garbage time. I give Avant credit for his performance today because he was beaten up badly out there today and he kept fighting. Brent Celek chipped in with 5 receptions for 75 yards after being targeted 6 times. The lone incompletion came on a 4th and 1 from the Patriots 2 yard line.
Young tried a play action call and threw the ball up for Celek. Even if he did catch it there was no way he would have come down in bounds. The play call was awful and should have never been made to begin with. Riley Cooper came up with 3 receptions for 71 yards with his longest being a 58 yard pass on the first drive of the game. The offense clicked on this opening drive and many including myself thought we actually had a shot to pull out a win.
The biggest story on the receiving front came from DeSean Jackson and it was not a good story. DeSean was benched late in the game and rightfully so. His head wasn't in the game and he clearly wanted no part of any passes over the middle. Last time I checked a wide receiver needs to make a few catches over the middle. Avant took a huge hit over the middle and came back to fight his way through the game which is why I applaud him for coming up with a meaningless touchdown late in the game.
Jackson finished with 4 receptions for 73 yards but was targeted 10 times. For a guy that is trying to receive a contract extension it sure looks like the hole is being dug deeper and deeper. DeSean had all the momentum in the world coming into this game after his brilliant performance last week against the Giants but he couldn't keep it going.
He dropped two touchdown passes that were sure things. One was a short pass over the middle which he clearly wanted no part of with a possible hit coming his way from a New England defender. The other was a fantastic bomb thrown by Vince Young that landed right in the breadbasket of DeSean and was just dropped. DeSean is now among the league leaders in dropped passes. Again it's not a good for someone looking for a new contract to be in that category.
The chants of "Fire Andy" could he heard loud and clear today on the television set. For those of us watching the game in an out of Philly market it even got to the point where CBS deemed the game uncompetitive and switched half way through the 4th quarter to the Denver/San Diego game. The Eagles were pulled off national television and just like in the stands viewers across the nation began pulling the plug on the Eagles.
This team has no heart what so ever and it starts with the coaching staff. You can't teach heart to a team that doesn't have it and a coach that doesn't have heart can't engage his players with a winning environment. The New England Patriots finished off the Eagles season in 2004 during the Superbowl and once again they finished off the Eagles season in 2011 and possibly an era of Philadelphia football that will be just short of glory.
At this point it's time to look towards the future for this franchise and I full heartedly believe with the amount of talent coming out of the draft this year at the quarter back position it's time to draft the future quarterback of this team. As much as it hurts to watch this team lose, tanking games from here on out will be the best thing going forward because the higher draft pick this team can get the better quarterback they can draft in the first round and hopefully make a head coaching change. The Eagles are now 1-5 at home for the season.
When teams are coming into your house and owning you and your fans begin chanting to fire the coach and seats are empty half way through the 4th quarter it's time for a major change. I noticed on television Jeff Lurie was using his binoculars to scan around the stadium. Who knows maybe he was looking for his next head coach in the stands at Lincoln Financial field because clearly he didn't have one on the sidelines during this game.