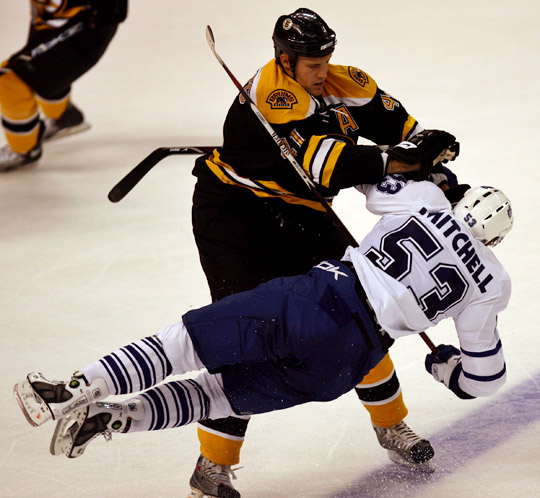 While rookies Marc-Andre Bourdon and Kevin Marshall have filled in admirably for the last week, without defenseman Chris Pronger and Andreas Lilja for at least the next 4 weeks, will probably mean the Flyer's will look to add a defenseman via trade or free agency. The Flyer's need to acquire a defenseman who can replace the minutes Pronger would play and who has the grit and physicality that the big defenseman possesses.
It would certainly be more difficult to acquire the answer by trade since it is so early in the year.  Teams are more reluctant to trade away talent early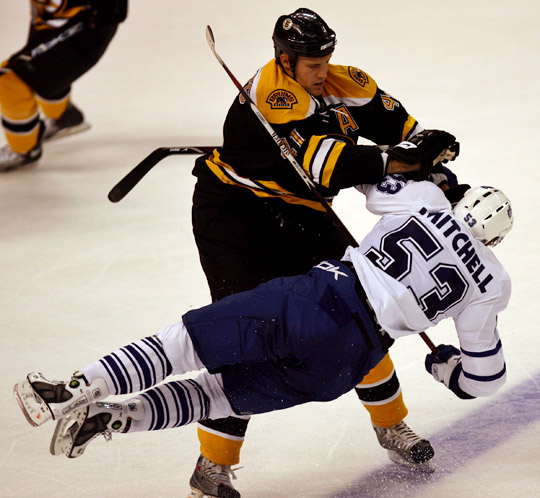 in the season while they still have a chance to contend for a playoff spot. On the Flyer's side is the fact that they have a solid amount of draft picks that they are usually willing to trade to help acquire talent. While the options are certainly limited going this route there are a few interesting options that the Orange and Black could easily fit under their salary cap—which now stands at $59.55 million, $4.75 million in available space with Pronger and Lilja now on Long-Term injury reserve.
The first option, Andrew Alberts, played one year for the Flyers back in 2008-2009. While not a top pair defenseman, Alberts' certainly provides the grit the Flyer's defense needs. He currently plays for the Vancouver Canucks and carries a cap hit of only $1.25 million for this year and next. He would not help the power play, but can easily play 15-20 minutes on any given night. A few years ago Alberts was guilty of getting caught out of position when going for a big check, but since joining the Canucks has worked hard at improving his defensive game.
The next option, John Erskine is a rough and tumble defenseman currently playing for the Washington Capitals.  While currently recovering from a minor shoulder injury, Erskine would add a significant amount of force to the Flyer's depleted defensive unit. The 6'4 224 lb defenseman is one of the toughest out there. His current salary $1.5 million for this year and next year.  He could certainly make up for the minutes that Pronger played every night. The only downfall here is that Erskine is not the best of skaters and sometimes takes himself out of a play by going for the big hit.
The final option by trade that I will talk about is Carolina Hurricanes defenseman Tim Gleason. Gleason may be the most well known of the 3 because he played for the U.S Olympic team in 2010. Gleason is the best defender of the 3 mentioned so far in the article. Gleason stands at 6'1 and weighs in at 214 lbs. Gleason is a solid, but not outstanding skater who rarely is found out of position. Gleason is also an outstanding penalty killer which would help save Kimmo Timonen from being worn-out over the next month.  His cap hit stands at $2.75 million dollars and is a free-agent after this season. Out of the 3 defenseman listed above, Gleason would certainly cost the most in terms of what the Flyers would have to give up, but would be the best fit.
While it would certainly be easier for the Flyers to offer a free agent defenseman a contract because it would not require them to give up anything, it is tougher because the quality defenseman are usually already on a team.  The free agent pool certainly has a lot of quantity, but lacks quality.  Signing a free agent to come in and replace Pronger and Lilja would be a little bit of a shot in the dark, but there are a few intriguing names that stand out.
First on the list is Bryan Berard. While he was never quite the same after suffering a horrific eye injury, Berard showed he was still capable of playing solid defense in his try-out with the Flyers a few years ago. His skating was always solid and his defensive awareness would be a welcome addition to the Flyer's blue line. However, he has not been invited to any training camps since his audition with the Flyers. He would probably need a week or
two of conditioning with the Phantoms before returning to the NHL. He is 34 years old, so he certainly has some gas left in the tank if the Flyer's think he could help out while Pronger and Lilja are out. While he would certainly help on defense, I don't think Berard would be able to handle more than 10-15 minutes each night.
Next up is Paul Mara.  Mara most recently played for Anaheim and Montreal last year, but remains unsigned so far this year.  Mara is a big man standing at 6'4, but isn't known for his physical play.  He is more known for his puck moving abilities—he has 21 goals on the power play. Mara has a leg up on Berard due to the fact that he has played much more recently in the NHL. At the age of 32, Mara certainly would be able to handle the demand of playing 15+ minutes each night in the NHL.
Finally, former Maple Leaf Bryan McCabe rounds out the list of free-agent defensemen that may be able to help the Flyers.  McCabe played for the Panthers and Rangers last year.  McCabe, at 6'2 223 lbs certainly brings the physicality the Flyer's need with Pronger out of the line up. In addition to being a physical player, McCabe would also be able to help out on the power play. At the age of 36, he is the oldest out of the 3 free agents here. However, since he has played as recently as last season, his conditioning should not be an issue. I believe McCabe offers the most upside between him, Berard, and Mara. McCabe is better in the defensive zone than Mara and most likely has better conditioning than Berard.
My prediction: Welcome Bryan McCabe to the 2011-2012 Philadelphia Flyers very soon and get ready for an interesting 4-6 weeks.