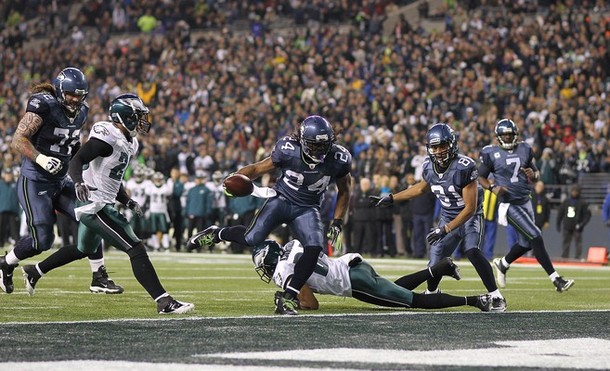 Pathetic. It is the first word that comes to mind after seeing the Eagles put together one of the most uninspiring and disappointing performances in years. The Seahawks, another team with little to play for, simply outworked the Eagles. The coaches were ill prepared, the players looked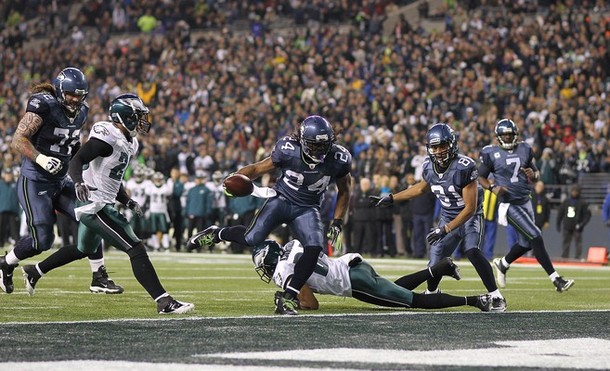 disinterested, and the effort on both sides of the ball was extremely depressing. Yes, they played 3000 miles across the country. Yes, they had a short week. But that does not excuse the fact that this team, with the exception of a few players, clearly mailed this one in.
Lets forget about the offense for now. They at least have the excuse of missing key starters. The defense on the other hand, just had no interest in playing on Thursday. We have been forced to watch this awful defense for 12 weeks now and its habitual mistakes are not getting fixed. Juan Castillo's group cannot tackle and they cannot stop the run.
The first touchdown run by Marshawn Lynch epitomizes the Eagles defense.  It looked like Lynch was stopped as he pushed the piled then came out of it on the other side to go into the end zone standing up.  The Eagles didn't seem to show any passion in tackling him.
"I thought he was caught up in there, and all of a sudden, he popped out", Trent Cole said afterward. "When he popped out, I didn't know who had the ball . . . He was on his way to the end zone and there was nothing we could do about it."
"It looked like there were a lot of guys around him," Reid said. "Obviously, none of them got a hold of him. I guess he squirted through, our guys tried to jump on him and grab him. Obviously, nobody grabbed him."
Defensive Line
Jason Babin was one of the few bright spots on the night. The former Titan's relentless effort helped him hit Seahawks quarterback Tarvaris Jackson three times, including two sacks. Trent Cole also recorded a sack, but failed to do much else. Regardless of how effective these two tenacious pass rushers are they always give full effort.
Defensive tackles Mike Patterson and Cullen Jenkins were pushed off the ball a lot this week. Seahawks running back Marshawn Lynch tore through the middle of the Eagles' line to the tune of 148 yards and two touchdowns. No matter who tried to bring Lynch down, they seemingly could not do it. The amount of tackles the former Buffalo Bill broke was astronomical. He outworked every single Birds defender, not just the lineman.
Linebackers
Another week gave us another shoddy performance by the Eagles' linebackers. Jamar Cheney was his reliable self once again, but he seems to come up short on several big plays each game. He recorded 12 tackles, including one for loss, chasing around Lynch most of the night. The outside linebackers, though, struggled mightily.
Seattle tight end Zach Miller had two long receptions because of poor coverage. The combination of Akeem Jordan, Brian Rolle, and Keenan Clayton just do not currently have the ability to be starting for an NFL team. If the Birds had put together a capable linebacker corps, all three of them would be playing solely on special teams right now.
That being said, until Andy Reid and the management realize this position needs to be addressed, this team will never win. Every dominant defense in the NFL right now (Ravens, Steelers, 49ers) has a stud linebacker or linebackers leading their defense. Alas, the Eagles do not. And they are 4-8.
Secondary
The secondary did not have much work, Jackson only threw 16 times, but they also failed to their job when he did. The former Viking completed 13 of his 16 attempts for 190 yards and a touchdown. Seahawks head coach Pete Carroll put his quarterback in a great position to succeed. All kidding aside, allowing that kind of success to such a mediocre quarterback is not acceptable.
Joselio Hanson was victimized on the only touchdown pass, an 11-yarder to Golden Tate. It was also clear Asante Samuel did not play with his normal swagger, another sign Andy Reid has lost his locker room. Nnamdi Asomugha, still hampered by a nagging injury, played well through the pain. Kurt Coleman and Nate Allen had 10 and 11 tackles, respectively, a sign that runners were making it into the second level.
All in all, it was just another disappointing game for the Eagles. It is clear this team has quit on its coach, on each other, and on its fans. The players and coaches alike should be ashamed of the effort displayed on Thursday night. This team, despite being 4-8, thinks they are superior to every team they play. It is about time this over-hyped Dream Team comes back down to Earth and plays like the underdogs they actually are.