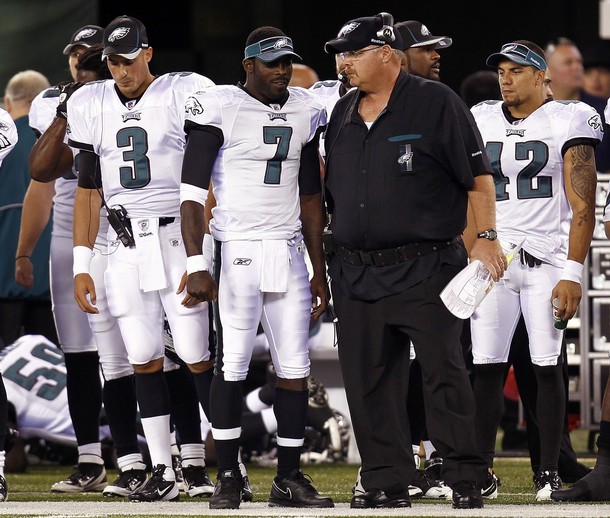 The Eagles offense could be back to full strength on Sunday when they travel to South Beach to take on the Miami Dolphins. Jeremy Maclin plans on practicing Wednesday, and Michael Vick all but guaranteed that he will play this week when he met with the media on Monday. Vick's ribs still aren't at 100%, but he feels they could be close to it by the time Sunday rolls around.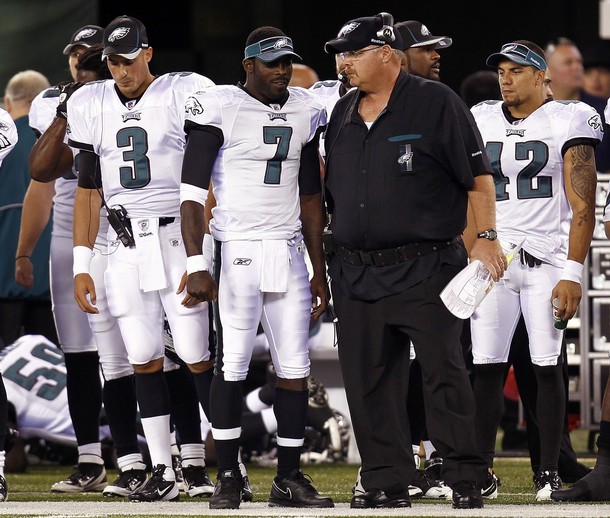 The quarterback found it tough to watch the Eagles struggle the last two games and is hoping his return is the spark the team needs. He also said there's no burden to go out and try to save Andy Reid's job over the next four weeks.
"The most important thing is to go out there and have fun and play the game," Vick said. "I'm not concerned with Coach Reid's situation; I think everything is going to be just fine. I mean, we had our bad breaks this year, let's be honest and let's be candid right now.  We've had bad breaks, games that we should have won, put ourselves in awesome positions to be in a ballgame and just couldn't pull it out whether we did it on offense or defense. Honestly, I just don't think Coach Reid had anything to do with that."
Many Eagles fans would disagree with Vick backing up his coach, but one thing most won't argue is having him back helps the offense tremendously. While Vince Young managed to throw for over 850 yards during his three starts under center, he was a turnover machine who didn't have that extra dimension of running the ball that Vick brings to the game.
While Vick has struggled himself at times this year turning the ball over, opposing defenses will respect his cannon arm and swift feet a bit more than they worried about Young.  The result could be big plays and more scoring for a unit that has struggled since the starting quarterback hurt himself on the second play of the Arizona game.  Vick's return could also open things up for LeSean McCoy, and as long as the Eagles decide to the run the ball (no guarantee), McCoy should prosper.
Although the Eagles are 4-8, Vick feels the team can still rally and win the NFC East. It may sound absolutely crazy to everyone else, but as the leader of this team, Vick is trying to get his team to believe they can still make the playoffs.
"Absolutely", Vick said on Monday. "That's why we've got to keep our heads up high, we've got to keep playing hard, keep trusting and believing in one another, keep believing in our coaches and the philosophies that are being taught here, and make the most out of this. We've still got an opportunity after everything that we've been through, even though I think our situation should have been different, and we all know that, but it is what it is. We've still got a chance and we're going to play it out."  The quarterback sounds a little overly optimistic to me. Actually, he sounds downright insane.
The Eagles have shown nothing this year to make anyone think they can win their last four games. The offense hasn't been nearly as prolific as everyone thought it would be, and the defense has been in absolute shambles. Not to mention, they've put themselves in a position where they need the Giants and Cowboys to both collapse between now and New Year's. So chances are Vick's bravado about playing postseason football is a bit extreme. But the fact remains that the Eagles are a much better football team with #7 on the field.
In a perfect world he will recapture the magic that made him so breathtaking at times in 2010, and help the Eagles set the tone for next season. At this stage of the game, that's all the Eagles can really hope to do. In the meantime, Vick's play could help Andy Reid keep his job for at least another year. Hey, no one said his return would be perfect.