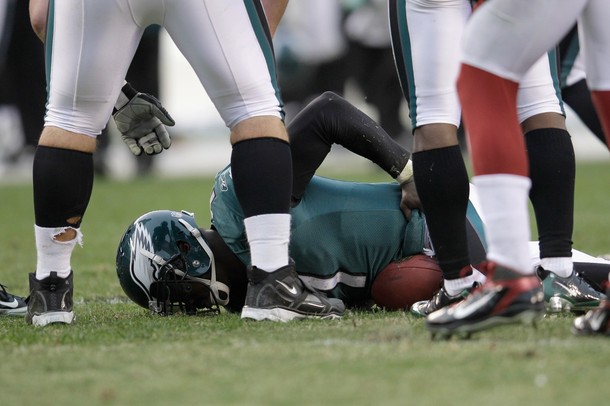 Michael Vick is without a doubt one of the most electrifying quarterbacks of our generation. His speed and agility make him a special player. His play-making ability alone can change the outcome of any game but it's that same play-making ability that also makes him a risk to any franchise.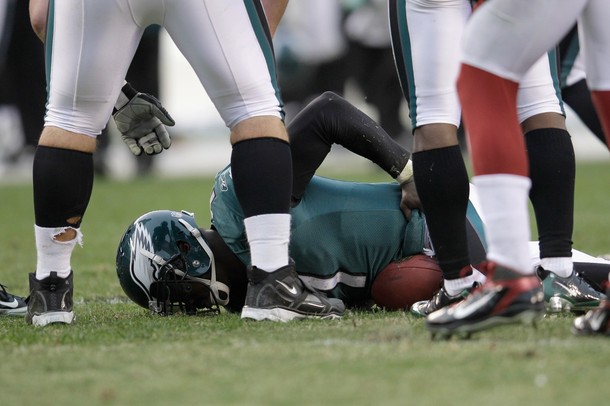 The Eagles are finding this out right now as Vick has missed the last 3 games due to broken ribs he suffered against the Arizona Cardinals 3 games ago.
Coming into the season many questioned Vick's style of play and how it affects his ability to get through an entire season without suffering an injury. It's a valid question when you're dealing with a quarterback that has a style of play like no other in the league and has only completed one full season since entering the league.
At age 31 can Vick ever really change his style of play for the sake of staying away from injuries? Going into the Cardinal game Vick's performance to date in 2011 was less than stellar but you have to wonder if he never suffered the injury would it have been enough for the Eagles to get at-least one more win over the past 3 games against either New England or Seattle to at-least keep it interesting for Eagle fans. Certainly that's all in the past now and the season is a lost cause but going forward the front office needs to really ask themselves did we just make a mistake signing Vick to such a lucrative contract in the off-season and if he truly is the man for years to come can he change his style of play to be less injury prone?
The saying is you can't teach an old dog new tricks and it seems that Vick is falling into this category after his performance this season. His 2011 statistics to date include 11 touchdowns, 11 interceptions, 2,193 yards passing and a QB rating of 79.8. He's currently ranked 22nd in the NFL this season in passing yards and 20th in the league in quarterback rating. Those aren't exactly the type of numbers or rankings a $100 million quarterback should be displaying. Someone with his type of contract should be in the top 5 in pass yards and quarterback rating. He's certainly had an issue with interceptions this season which doesn't help his case.
The former Atlanta Falcon clearly made strides last year to be more of a quarterback first. His game showed it and because of his effort he was rewarded with the big contract in the off-season. Towards the end of last season he began to regress and his quarterback play went back to run first style which lead to greater opportunities for injury. Last season in Vick's reemergence he had the 4th best quarterback rating in the NFL at 100.2 only behind Tom Brady, Philip Rivers, and Aaron Rodgers.
The former number one pick in the draft has the ability to play the position with a quarterback first mentality. He showed it to everyone last season
and when he did play with that style he was successful and healthy but at this point in his career he seems unable to make a full time transition with his style of play. Earlier in the week Vick returned to practice. He's had time to sit back and reflect on his performance and the teams' performance this season and he said "I wish I could have done more this year, like I did last year."
Vick didn't need to do more but rather he needed to just play the game smarter. He's held on to the ball way to long this season which has led to him getting pummeled left and right. Every play it seems as if he's on the ground. Granted having an offensive line that has two rookies and on it and an offensive coordinator and head coach that fail to realize they have the best running back in the league didn't help Vicks situation in 2011. But as a quarterback you need to be smart with your playing style. Vick knows he's a key part of this team and if he's getting drilled on every play logic says get rid of the ball quicker instead of running around in the backfield or taking off downfield and risking an injury. Even if no one is open throw the ball away. By doing that more often Andy and Marty may have gotten a clue that the plays they are calling aren't working.
At 31 years of age, Vick isn't getting any younger. The time to start playing smarter is right now otherwise he runs the risk of being knocked out of the league within the next season or two. Unfortunately as I said you can't teach an old dog new tricks. Vick is clearly unable to stay away from a playing style that risks injury.
He's now had two full seasons as a starter under Andy Reid and a 3rd season on the bench behind Kevin Kolb and Donovan McNabb who at the time was a well respected veteran of the league. Between McNabb, Reid, and Marty Mornhinweg, Vick has been provided with the knowledge on what he needs to do in order to play a safe, successful style of football but for whatever reason he won't adjust.
After what we all witnessed this season its pretty clear Mike Vick is a walking injury waiting to happen.
Every game his health is surrounded with drama and whether or not he sustains a serious injury he always manages to put a scare into teammates, coaches, and fans of this team. The Eagles should strongly consider drafting the quarterback of the future in this year's draft. I wouldn't mind seeing the Eagles lose out so they can have the best possible draft position and hopefully grab one of the stud quarterbacks available in this year's draft such as Matt Barkley out of USC or Robert Griffin III out of Baylor.
With the reckless style of play Vick so stubbornly exhibits every week it would be a very realistic possibility that this future quarterback may be taking snaps as early as next season. The time is now to start thinking about the future and Vick has clearly been given every opportunity to play a safer style of football. But let's face it folks, you can't teach an old dog new tricks.