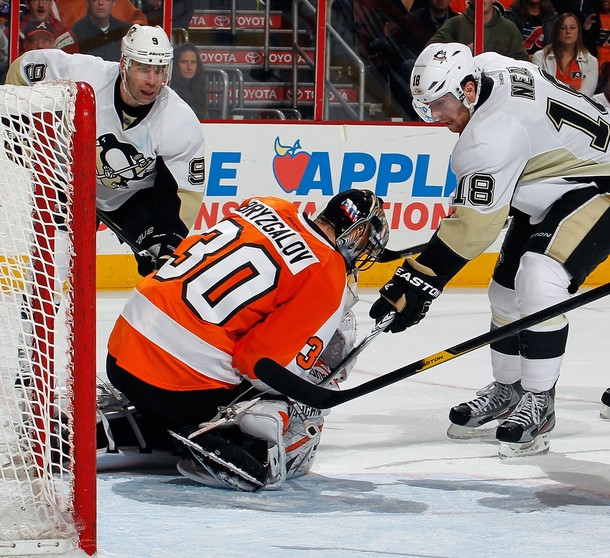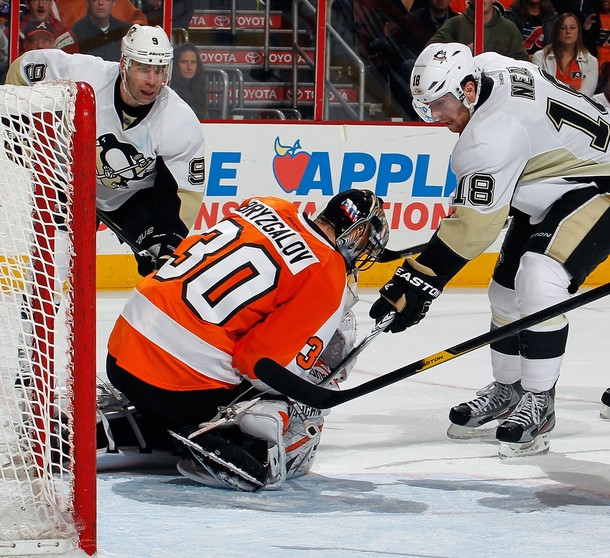 I will make this simple; I owe Ilya Bryzgalov an apology.
The Flyers had to come back from a 3-0 deficit last night against the Buffalo Sabres and I placed a lot of blame on Bryzgalov's shoulder for the early hole. Tonight, Bryz bounced back with a very strong outing against a tough Pittsburgh Penguins team, stopping 25 of 27 shots for the 3-2 win.
The Flyers didn't mince words when praising their goaltender.
"Well, obviously I think he's our #1," said Scott Hartnell. "I don't read the papers, but he's a solid goalie. He's tough to score on in practice. I know he had a little confidence issue and was 'lost in the woods' there for a little while, but he's been great for us and we have all the confidence in the world here."
Coach Peter Laviolette candidly elaborated on his decision to start Bryzgalov instead of Sergei Bobrovsky as well.
"Had maybe it been a different opponent, maybe I would have considered something different, but we wanted to get him going, get him playing, get him some games, and it was a big game. It was for first in the conference tonight and we wanted to make sure that our guys were ready and our goaltender was ready.  We put the line-up on the ice that we wanted to, we wanted to go after a win and we got it. Bob will get games coming up, but this was a big game tonight."
Both teams came out of the gate with a lot of energy, but the Flyers finished the period with 15 shots compared to Pittsburgh's 8 and grabbed an early lead off a fluky goal from Danny Briere.  Briere shot the puck on net, but it took two 90° turns off of Penguins' defensemen before sliding past the unsuspecting Marc-Andre Fleury.
The 1-0 lead doesn't reflect the anxiety that percolated the first period as the orange and black took several penalties that could have cost them.  During a 5-on-3 powerplay following penalties to Hartnell and Claude Giroux, both Kimmo Timonen and Max Talbot broke their sticks, effectively creating a 5-on-1 situation.  An ill-timed cross-checking penalty from Chris Kunitz saved their skins.
The Flyers padded the lead in the second period off a beautiful tic-tac-toe powerplay goal.  Giroux passed the puck through several bodies in the crease to Jake Voracek, who drew attention away from Wayne Simmonds at the goal post.  Voracek then made a quick pass to Simmonds who banged it in to the wide open net.
Five minutes later, defenseman Andrej Meszaros deked his way through two Pittsburgh defensemen and backhanded the puck to a careening Hartnell for the third goal of the game.
"He made a great move at the blue line, the deke," said Hartnell. "[It was a] nifty little move to get away there as he was driving back post.  I was screaming 'back post' and he made a good little pass through the d-man's stick and I was able to beat Fleury across."
James Neal put the Penguins on the board with a late powerplay goal.  In spite of the outcome, the Flyers were very dangerous on the penalty kill throughout the evening and applied a lot of offensive pressure, even during the 5-on-3 situation.
Evgeni Malkin brought the Penguins back to within one goal in the third period, when the Penguins ultimately applied their best pressure, but Bryzgalov and the rest of the defense were able to lock up the win.
Laviolette was pleased with the efforts, especially when considering they played such an intense game the night before.
"I think any time you have to climb back into a game and dig in extra, there's a physical toll to it as well as an emotional toll just to get back into a game when you're down by two goals, three goals," said Laviolette. "You come back and you're able to win, you have to do more to get there, and then there's a little bit of a dip once it's over.  I guess in one sense were fortunate it was the Penguins tonight because it automatically builds things back in for you."
The Flyers play their second game against the Tampa Bay Lightning on Saturday.  It will be interesting to see if Laviolette attempts the "wait for the forecheck" strategy again, but there's a good chance that Bryzgalov gets the nod as he (hopefully) grows into the goaltender many expected him to be.
For the latest Flyers news and updates, you can follow me on twitter (@JoshJanet).