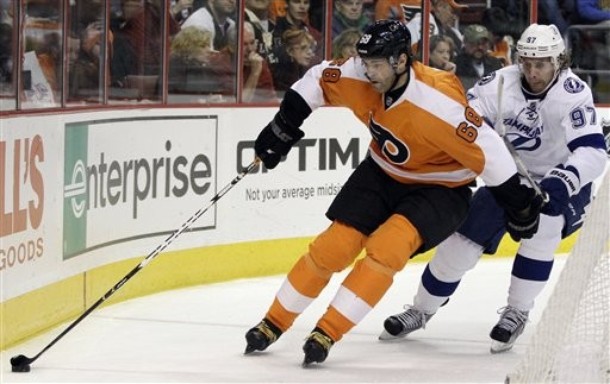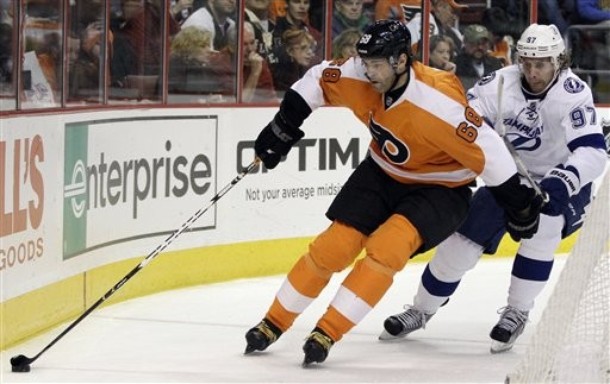 When the Flyers signed Jaromir Jagr on July 1, the collective outrage from both fans and the media of the Pittsburgh Penguins was through the roof. Like jilted ex-girlfriends, the prevailing attitude directed towards the former Penguin was that of "Well, we didn't want you anyway."
Ron Cook, of the Pittsburgh Post-Gazette: "The Penguins will be competing for the Stanley Cup and an immature, erratic Jagr will be pulling his usual Operation Shutdown routine with the Flyers. You bet Shero will thank Jagr for not coming back to Pittsburgh. Let him be the Flyers' problem. They deserve each other."
If Jagr and the Flyers deserve each other, it's been a mutually beneficial relationship.  With 10 goals and 24 points in 24 games played, Jagr's time in Philadelphia has been nothing less than exhilarating.
The concern with Jagr heading into the season was his age and his health, but the 39 year-old only needed eight games to shake off the cobwebs before netting his first official goal as a Flyer. Since that time, he has been a significant contributor on the top line with Claude Giroux and Scott Hartnell.
Jagr told Sarah Baicker of CSNPhilly in November, "I love to play with [Claude].  I think he's the top – I don't want to say he's the best right now in the league, but he's top three for sure. I never thought at the end of my career I was going to play with a guy like that. And that's what's made me happy."
When discussing the potential head injury to Giroux from last night's 5-2 win against the Tampa Bay Lightning, the concern in his voice was tangible.
"I don't even want to think about it, but I don't think he's going to be off. That's my prediction," said Jagr.  "If he is, maybe one or two games, no more.  I think maybe they just wanted to be careful, hopefully. I thought he was going to play, I didn't know he's not playing in the third period. Hopefully I'm not wrong."
For Jagr, it appears that this latest stint in the NHL was never about "going home again." He wasn't on the market just to score another big paycheck or stave off a mid-life crisis by re-living his youth.
He wanted another shot at winning the Stanley Cup.
He would have had that opportunity in Pittsburgh, but general manager Ray Shero looked at the risk of signing Jagr with a magnifying glass instead of rose-colored glasses and the risks appeared to outweigh the benefits.  For the Penguins, there wasn't as flagrant a need for scoring depth if Evgeni Malkin and Sidney Crosby were both healthy.
For the Flyers, though, a replacement for Ville Leino would be needed if he scored big on the free agent market.  Give Paul Holmgren credit for performing his due diligence and taking a chance on Jagr, who tied Brendan Shanahan's record for the 11th highest goals scored in the NHL with his 656th goal in last night's win.  According to NHL.com editor Adam Kimelman, Jagr joked that Shanahan, who is currently the head disciplinarian in the NHL, "Said he wanted to suspend me. I said, 'How are you going to suspend me? I don't have a hit this year."
Jagr also joked on Thursday that he "makes everybody happy" when the Flyers won the game against Pittsburgh but he missed the empty net goal. I don't know if Penguins fans feel the same way, but for the Flyers, every "salute" from Jagr has been a blessing.
For the latest Flyers news and updates, you can follow me on twitter (@JoshJanet).