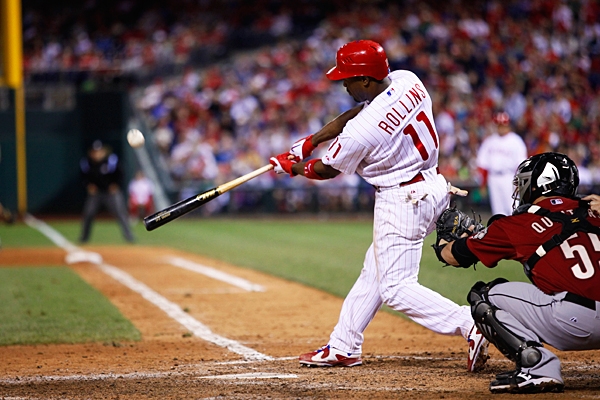 As you already know the Phils have signed J-Roll to a three-year deal worth around $33 million. There is a four-year option also in there. So who is happy? Some might be and some maybe not. The Phils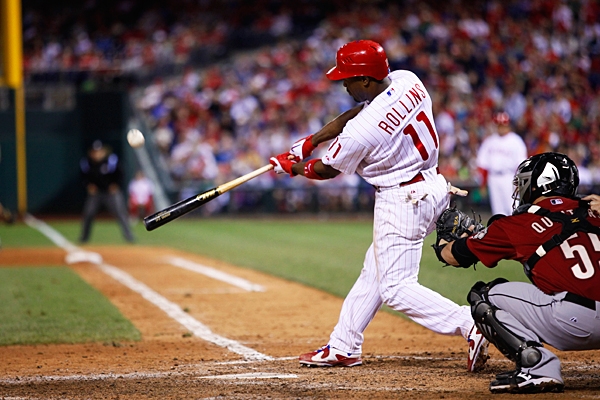 talked about a change of philosophy in their approach. Is this it? I mean, I love Jimmy for what he brings to the Phils on the field and in the clubhouse.
If you talk about changing your approach at hitting this is not it. The Phils would have to be kidding themselves if they think Jimmy is going to change his approach after all this time. Let me get this straight, I like the deal for the Phils especially for three years. That is what they wanted from the beginning.
I have to give major kudos to Amaro for not budging. He stared down J-Roll's camp with that Clint Eastwood stare. I was not crazy about giving Jimmy a five- year deal. I guess you could call me a "homer', I thinks it's cool that he has a chance to end his career in Phillies pin-stripes.
So what were the other options out there? Aramis Ramirez? Were they ever that serious about him? To me it seemed more like smoke screen to me. Cuddyer? Cuddyer seemed to fit their style of play and they seemed very interested in him. They brought him to Philly for a visit and I think that is why it took so long for Cuddyer to sign somewhere else because it seemed as if he was waiting to se what happen with Jimmy's situation.
Did Amaro or as I like to call him Ruben Amaro Jr. have something up his sleeve at any point? You never really know with Amaro. He is always looking for the home run. Say Pujols? You can guarantee that he made contact with him at least once. Are they really any different than they were in the past two seasons? One thing is the fact that they are stronger on their bench with the additions of Thome, Nix, and Wigginton.
Ruben, my bad RAJ talked about getting younger. Well, they definitely did not get any younger that's for sure this off-season. So now in the different philosophy Amaro Jr. talked about what it means to move Jimmy out of the lead-off spot.
So who leads off then? Victorino? He brings almost the same approach as Jimmy does. He is more of free-swinger. Polly? I mean the guy can not stay healthy anymore. That is why they brought in Wigginton. I would say that Polly really does not take enough pitches to be a lead-off man though he hardly punches out.
Utley is the only one on this team that works the count. Do you really want Utley to lead off? Maybe that is what Utley has become. They say when a player loses his bottom half he loses his power. Does a full season of Pence and Mayberry in lineup everyday change their style?
When it comes down to it, with Jimmy being back it only makes sense to put him back in the lead-off position. Well, at least to me it does. He still will bring that great defense with him and is still a solid hitter.  I am cool with the three-year deal, not with a five-year deal.  Like I said before some people might not be.